St. Patrick's Day in Poland: The Greenest Day of the Year!
News
14 February 2019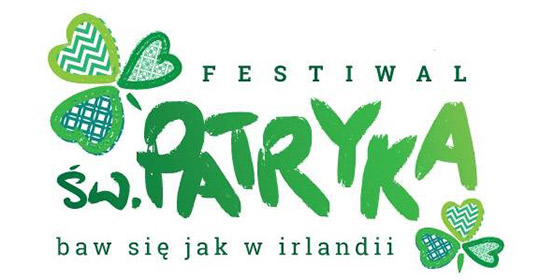 Festiwal Świętego Patryka will take place across Poland to celebrate Ireland's national day
on 17 March.
St. Patrick's Day is celebrated in Poland and around the world every year. As part of Festiwal Świętego Patryka, events – concerts, exhibitions, lectures and "Irish Days" – will take place all across the country. Polish cities will join the Global Greening campaign and celebrate St. Patrick's Day by lighting up famous buildings in green on 17 March. Minister Kevin Moran will visit Poland to represent the Irish Government over the St. Patrick's Day period.
Festiwal Świętego Patryka
An online calendar of events taking place around Poland for St. Patrick's Day is available now and will be regularly updated. Click on Kalendarz Wydarzeń to find an event happening near you! You will also be able to follow news about Festival events on Twitter and Facebook using the #swPatryk hashtag.
Global Greening
Cities across Poland will turn landmarks green for St. Patrick's Day. Polish landmarks will join the Empire State Building in New York, Niagara Falls, Sacré-Cœur Basilica in Paris, Leaning Tower of Pisa, the Sydney Opera House, as well as many other iconic sites around the world.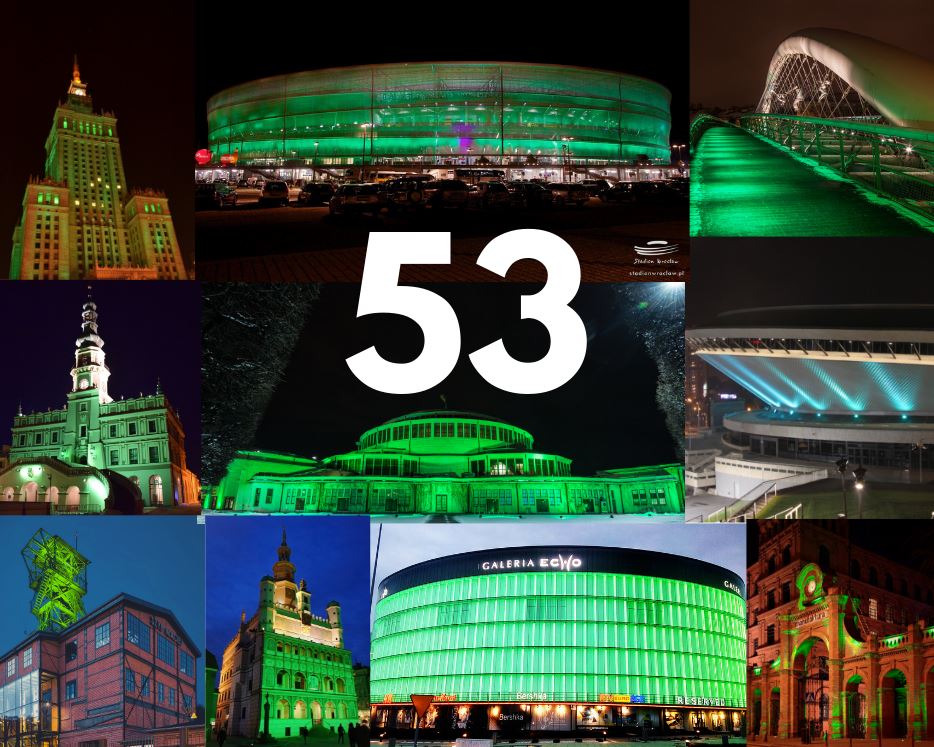 53 landmarks in Poland taking part in the famous Global Greening campaign in 2019:
Warsaw
Palace of Culture and Science
Bielsko-Biała
Hotel President
Bydgoszcz
University Bridge
Gdańsk

Uczniowska Street flyover

Kościuszki Street flyover

Kalisz

City Hall

"Dorothy" Tower

Centre of Culture and Art

Katowice
Spodek Sports and Entertainment Arena
Kielce

City Hall

Regional Cultural Centre

Echo shopping centre

Kraków

Father Bernatek Footbridge

Lipska-Wielicka Street flyover

Tauron Arena

Lublin

Centre for the Meeting of Cultures

Arena Lublin

Łódź

OFF Piotrkowska Center

Manufaktura

TME Office Center

Malbork

Museum of Malbork

Olsztyn

City Hall Tower

Astronomical Observatory Tower

Old Town's Amphitheatre

Opole
National Centre of Polish Song
Poznań

City Hall

Poznań Archaeological Museum

The Raczyński Library

Poznań Grand Theatre

Bishop Jordan Bridge

Adam Mickiewicz University Main Auditorium

Poznań Główny railway station/AVENIDA Poznań

MTP Spire

Honorary Consulate of Ireland

Przemyśl
Brama Przemyska Bridge
Rzeszów
City Hall
Toruń
City Hall
Włocławek

Browar B. Cultural Centre

Marshal Edward Rydz-Śmigły Bridge

Wrocław

Wrocław Stadium

Lower Silesian Governor's Office

Old Town Hall

Centennial Hall

Grunwaldzki Bridge

University Bridge

University of Wrocław

Wrocław Opera House

National Museum

Contemporary Museum

Krzesło Kantora (chair sculpture)

Wrocław Główny railway station

Zabrze
Szyb Maciej
Zamość
City Hall
Ireland-Poland Relations
Kevin Moran, Minister for the Office of Public Works and Flood Relief, will visit Poland over the St. Patrick's Day period as part of the Government's 2019 'Promoting Ireland' programme. Minister Moran will visit Warsaw and Kraków, taking part in business events to promote trade between Ireland and Poland.
Two-way trade was worth €3.75 billion in 2017. There are over 50 flights per week between Ireland and 11 Polish cities. Irish food and beverage exports to Poland were worth €167 million in 2017. St. Patrick's Day is the perfect occasion to try delicious and sustainable Irish food!
The popularity of St. Patrick's Day and Irish culture in Poland is helped by the strong people-to-people ties between Ireland and Poland. Up to 130,000 Poles live in Ireland, where they are very welcome.
Poland is home to a vibrant Irish community. The charity Irish Ball, organised by Irish volunteers in Warsaw, is one of the highlights of the St. Patrick's Day calendar and raises money for Polish charities. Warsaw is home to Poland's first Gaelic football club, Cumann Warszawa. The Irish-Polish Chamber of Commerce is a hub of business and social activities for growing Irish-Polish trade ties.
Happy St. Patrick's Day from the Embassy of Ireland!