Irish Ambassador to Zambia helps launch National Social Cash Transfer Programme
News
12 December 2017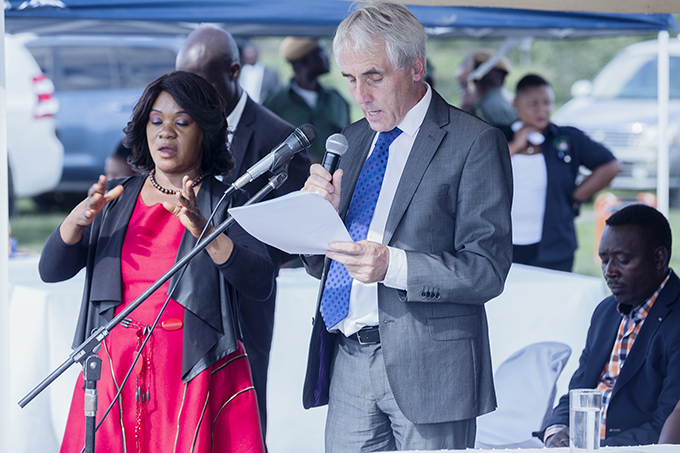 Social cash transfers are a social assistance programme which target the poorest and most vulnerable in society and aim to protect them from the worst effects of absolute poverty. While countries like Ireland can extend such a programme to all unemployed persons, the launch of this National Social Cash Transfer Programme marks a historic step in Zambia's efforts to reduce inequality and poverty in the country.
As much of the persistent poverty in Zambia exists in low-income rural areas, the social cash transfer programme also represents a vital boost to localised economies - with increased purchasing power supporting markets for local farmers and other producers, and increased household capital for productive investment. Studies in Zambia suggest that for every euro transferred, an additional 68 cent of value is produced.
Ireland was among a small group of donors that has supported social protection from a small pilot scheme in 2003. The pilot was up-scaled with the support of the Zambian Government to cover greater number of districts over the intervening years, and, in 2014, a decision was made to achieve coverage across all administrative districts in Zambia.
The national scale-up will increase the social protection reach (of €9 per month per family) to 590 000 households focusing on key vulnerable groups; poor households headed by women or children, chronically ill persons on palliative care, severely disabled and the elderly, over 65 years old. Since 2008 Ireland has contributed equivalent €14.1 million to the programme
Ireland's role in making this a reality was recognised by the national government, and the Ambassador of Ireland to Zambia Seamus O'Grady addressed the launch of the national programme on behalf of the Cooperating Partners. This programme is now mainly funded by the Zambian Government and is a massively vital programme for the protection of the most vulnerable in Zambian Society.
During the launch, the Irish ambassador also handed over to Emerine Kabanshi, Minister for Community Development and Social Services, equipment needed to implement the scale up in the new districts and officially launched the start of payments under the full national coverage. Receiving on behalf of the District and the community, Chilanga District Commissioner, Mrs Edith Muwana, promised to ensure the beneficial use of this equipment and to ensure all payments to beneficiaries are made in a timely manner.