Seán MacBride Fellowship 2023-2024 - Applications are now closed!
News
29 June 2022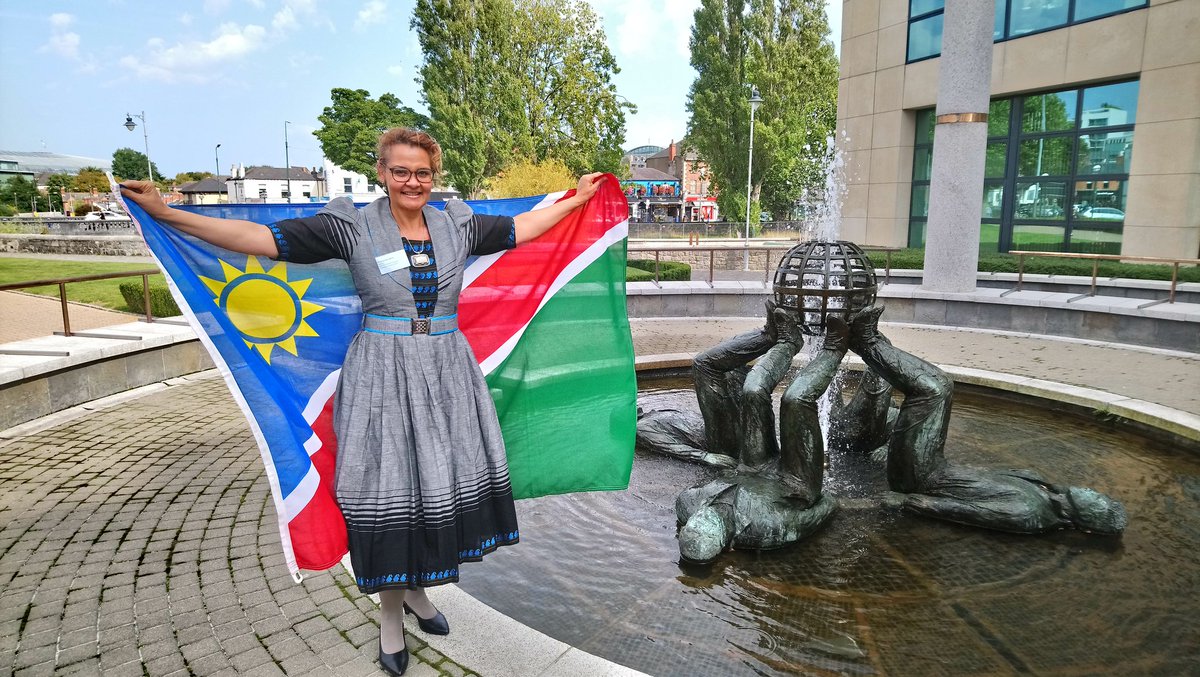 Sean McBride Fellow, Ms Evangeline Helu, arrives in Dublin at the start of her Masters programme in September 2019.
The Government of Ireland is working with the Ministry of International Relations and Cooperation in Namibia to provide capacity building in the area of international relations/conflict resolution.
Seán MacBride was a former Minister for External Relations in Ireland and also served as the UN High Commissioner for Namibia during an important period in Namibia's history pre-independence. In celebration and in memory of the contribution of Seán MacBride, and towards deepening the links between Ireland and Namibia, the Irish Department of Foreign Affairs – through the Embassy of Ireland in Lusaka – is offering one fellowship for master's degree level study in Ireland in the areas of international relations and conflict resolution.
This scholarship has been established as part of a broader range of initiatives and engagements to further strengthen collaboration and cooperation with the Government of Namibia across a range of mutual interests.
The scholarship award covers course fees, required flights, accommodation, monthly allowances, insurance and other incidental expenses. Eligible master's programmes in Ireland commence in the period August to September each year and, depending on the course, scholarships will run for between 10 and 16 months.
Eligible Countries:
Namibia
Eligible Courses:
A directory of eligible postgraduate programmes in the areas of international relations and conflict resolution are available in the Directory of Eligible Programmes - Section C only.
Applications for this fellowship are open only to those working with the Ministry of International Relations and Cooperation in Namibia.
Eligibility
Be a citizen of Namibia and be residing in Namibia.
Be working with the Ministry of International Relations and Cooperation in Namibia.
Have achieved the necessary academic standard to be accepted onto a master's level course of study in the subject areas of international relations or conflict resolution in Ireland.
Hold a bachelor's level academic qualification from an accredited and government-recognised higher education institution, with a minimum grade point average of 3.0 (4.0 scale) – i.e. a first class honour, or second class honour, Grade 1 (a second class honour Grade 2 may be accepted if the applicant has substantial directly relevant work experience). It must have been awarded in 2011 or later (i.e. within the last 12 years).
Have a minimum of two years' substantial work experience that is directly relevant to your proposed programme(s) of study.
Be able to demonstrate a strong commitment to the development of Namibia.
Be able to take up the fellowship in the academic year for which it is offered.
Be applying to commence a new qualification and not be seeking funding for a course they have already commenced or which will begin before fellowship awards have been notified.
Meet any relevant procedural requirements of the Government of Namibia.
Be able to demonstrate skills in academic English by achieving an appropriate score on a recognised test (e.g. IELTS 6.5).
An applicant will not be considered further in either of the following circumstances:
They already hold a master's qualification.
All successful applicants will be required to sign a commitment to return to their home country within 14 days of completing their studies in Ireland.
How to apply
Please read the Application Guidance Note which can be found on this page carefully before completing as eligibility criteria may differ from country to country.
The application process consists of three stages:
Stage 1 Preliminary Application;
Stage 2 Detailed Application;
Stage 3 Interviews.
Application forms can be downloaded from here. All Stage 1 applications must be emailed to Zambiafellowships@dfa.ie.
English Language Proficiency
Irish higher education institutions require a high standard of English language proficiency and this will be verified by English language testing. This is necessary for admission to all Irish Higher Education Institutions, with no exceptions. English language testing is normally through the International English Language Test (IELTS- www.IELTS.org).
You can apply through Stages 1 and 2 of this process without having completed an IELTS test; however, you must have noted the IELTS score required for your selected programmes and considered whether you can achieve this grade. If you have completed an IELTS test, provide full details as requested under question 2 of the application form and note that the test is only valid if completed in September 2021 or later.
The deadline for receipt of Stage 1 applications is 31st July 2022.
Please include "Sean MacBride" in the subject line of all emails