St Patrick's Day with a difference
News
06 March 2021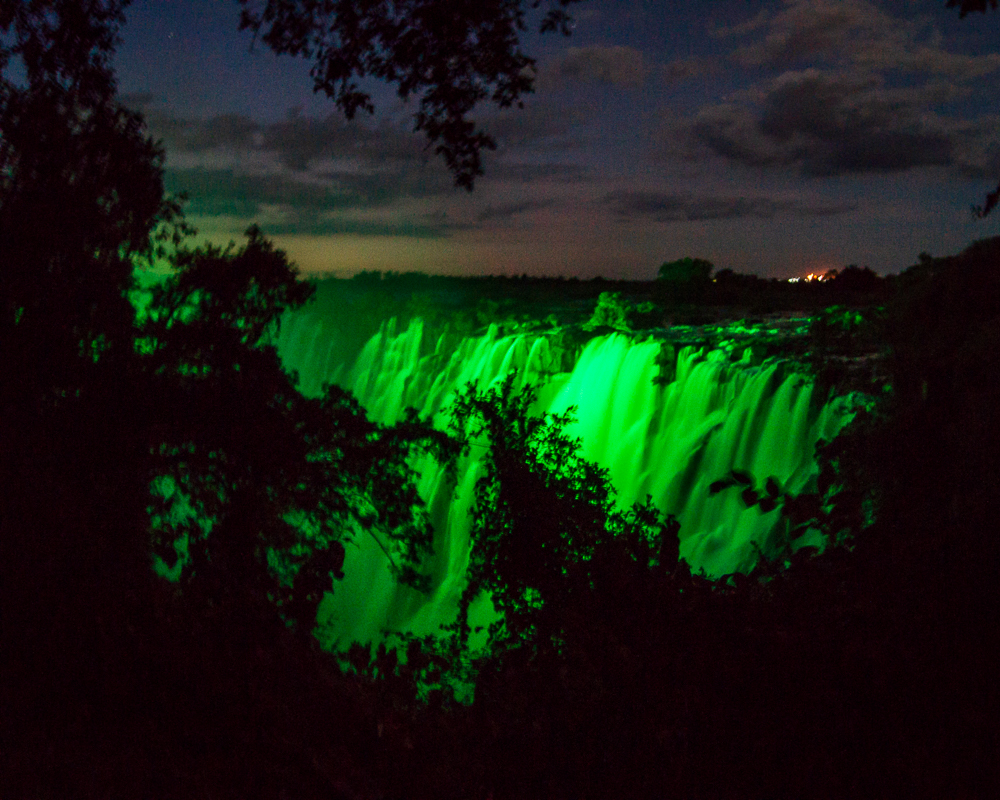 Photo of the mighty Mosi-oa-Tunya (Victoria Falls) illuminated greening for St Patrick's Day in 2019.
Public health restrictions as a result of the ongoing COVID-19 pandemic have forced the Embassy to re-think its traditional St Patrick's Day plans. Instead of in-person gatherings the Embassy has planned other promotions and events to promote Ireland in Zambia.
From the 8th to 10th of March the Embassy, in cooperation with Zambia's National Heritage and Conservation Commission, will turn Mosi-oa-Tunya (Victoria Falls) green as part of the Global Greening initiative. In 2019, the Victoria Falls were successfully "greened" and the images were shared on Zambian and Irish media. Coverage of the event on the Embassy's social media was also the most popular event of the year with tens of thousands of views. The Victoria Falls was the headline attraction in the global press releases by Tourism Ireland, and the initiative received great recognition in Ireland. Therefore the Embassy will once again "shine a light" again on this world-famous Zambian landmark.
On the evening of 17th March, Head of Mission Pronch Murray will host a "virtual" St Patrick's Day reception with a special message from An Taoiseach Micheal Martin as well as musical performances which will highlight the best of Irish and Zambia talent. If you would like to be added to the guest list for the virtual reception please let us know through the "Contact Us" form on our website.
In addition, for the whole month of March the Embassy is running a promotion in partnership with Gigibonta which has gelato shops in 9 locations between Lusaka and the Copperbelt. Visit a Gigibonta shop and taste one of the special themed products, whether it's a "Luck of the Irish" coffee or St Patrick's Pistachio flavour. Take and tag a photo with your ice-cream on social media and you could win a hamper of Irish goodies!