Ambassador meets with former President Kenneth Kaunda
News
11 November 2020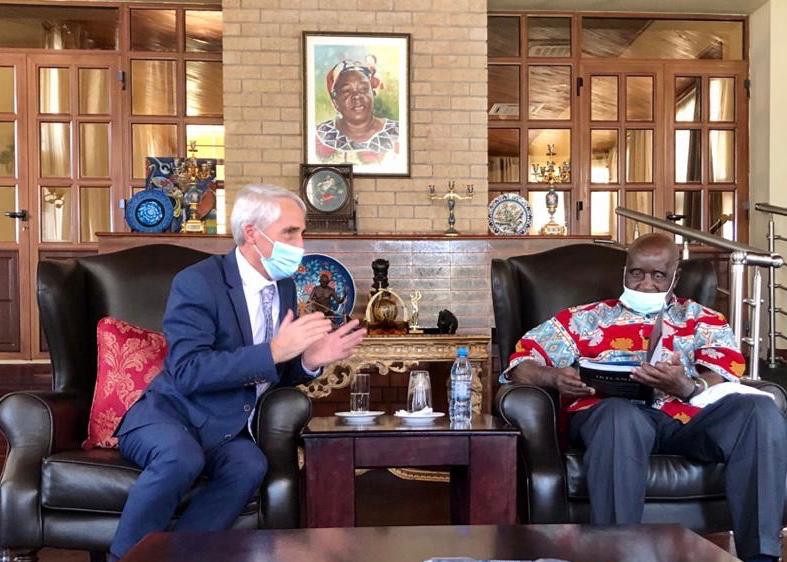 H.E. Ambassador O'Grady meets with former President of Zambia Dr Kenneth Kaunda, November 2020
On Friday 6 November, H.E Ambassador Séamus O'Grady paid a farewell visit to former President of Zambia Dr Kenneth Kaunda.
Ambassador O'Grady and former President Kaunda spoke of the long-standing and warm relationship between the two countries, which stretches back to before Zambian independence in 1964. Indeed Dr Kaunda acknowledged that Ireland was a supporter of Zambia's claim for independence at the United Nations and other international fora.
Signalling this strong connection between the two countries, President Kaunda's first official trip outside of Africa was to Ireland in November 1964 only three weeks after he was inaugurated as President. Ambassador O'Grady noted that Dr Kaunda had been made a freeman of the city of Limerick and that huge crowds has turned out to greet him. Dr Kaunda jokingly enquired whether he could still enjoy the privileges that come with being a freeman of the city!
The people-to-people connections between Ireland and Zambia are strong. In those early post-independence years many Zambian civil servants and army cadets travelled to Ireland for training. Dr Kaunda also reflected on the role of Irish missionaries and their contribution to the development of Zambia.
2020 marks 40 years since Ireland established a diplomatic presence in Zambia and 40 years of Irish Aid's work in Zambia. During this period, Ireland has invested in health, education, agriculture and urban renewal. For over thirty years Ireland funded a major regional programme in Northern Province focusing on provision of water and sanitation as well as improving rural livelihoods.
Speaking after the meeting, Ambassador O'Grady said:
"I was honoured to once again meet the first republican president and to hear his warm reflections on Ireland and Zambia relations. It is clear that Ireland has a special place in his heart.
Dr Kaunda is now 96 years old but retains a keen interest in domestic and international affairs. When I informed him I was moving to Malawi he wished me well and promised to visit me there when he is visiting his own family connections!"