Ireland-Africa Fellowship Programmes 2022-2023- Applications closed
News
02 June 2021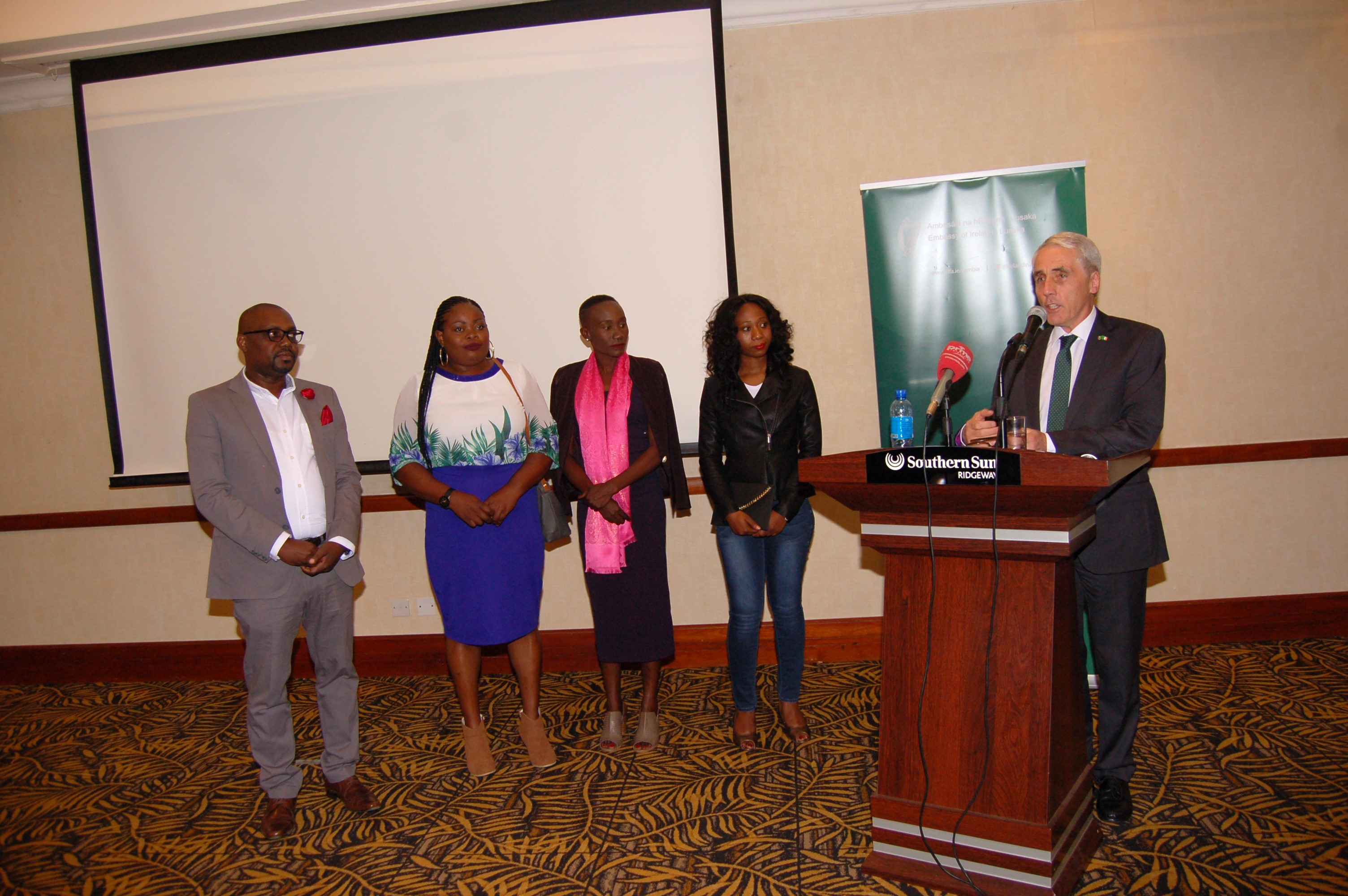 Former Ambassador Seamus O'Grady congratulates successful Irish Aid Fellows (from left to right: Julius Kampamba, Susan Nasilele, Bridget Chola, Sibonelo Jere)
The Ireland Fellows Programme enables early to mid-career professionals from eligible countries, with leadership potential, to benefit from a prestigious, world-class, quality education contributing to capacity building. It offers selected students the opportunity to undertake a fully funded one-year master's level programme at a higher education institution (HEI) in Ireland. The award covers programme fees, flights, accommodation and living costs. Eligible master's level programmes in Ireland commence in August or September each year and, depending on the programme, will run for between 10 and 16 months. The Ireland Fellows Programme promotes equal opportunity and welcomes diversity.
The aims of the Programme are to nurture future leaders; to develop in-country capacity to achieve national SDG goals; and to build positive relationships with Ireland.
Studying at postgraduate level in Ireland offers a unique opportunity to join programmes that are driving innovation and changing lives worldwide. Applicants can choose from almost 200 postgraduate programmes specially selected to enhance capacity in line with stated country development goals and the strategy of the Irish Embassy.
Eligible Courses:
Eligible courses are in areas such as agriculture, health, education, human rights, computer science, engineering, business and more, and are listed in a Directory of Eligible Programmes.
Applications are by invitation only to persons that are currently employed in the institutions/organisations listed below:
State Institutions
Ministry of Foreign Affairs
Ministry of National Development Planning
Ministry of Commerce, Trade and Industry
Ministry of Agriculture
Ministry of Finance
Ministry of Livestock and Fisheries
Ministry of Higher Education
Ministry of Health
Ministry of Gender
Ministry of Lands and Natural Resources
Ministry of Water Development, Sanitation and Environmental Protection
Ministry of Community Development and Social Services
Cabinet Office
Chief Justice Office
Office of the Auditor General
Zambia Environmental Management Agency
Zambian Development Agency (ZDA)
Bank of Zambia
National Food and Nutrition Commission
School of Agriculture Sciences, Department of Food Science and Nutrition
Zambia Bureau of Standards
Non State Actors
Sun Business Network
MUSIKA
Nutrition Association of Zambia
Civil Society for Poverty Reduction
Jesuit Centre for Theological Reflection
Economics Association of Zambia
Campaign for Female Education
Zambia Open Community Schools
Food Technology and Food Production professionals
Law Association of Zambia
Before starting your Scholarship application, you may wish to familiarize yourself with the eligibility criteria that applicants must meet:
In order to be eligible for an Irish Aid fellowship applicants must:
Be a citizen of Zambia and be residing in Zambia.
Hold a bachelor's degree in a related discipline with Merit or higher from an accredited and government-recognised higher education institution.
Not already hold a qualification at master's level or higher
Be applying to commence a new course at master's level in Ireland no sooner than August/September 2022.
Have identified and selected three relevant courses from the Irish Aid Directory of Eligible Postgraduate Courses, available at www.irishaidfellowships.ie and www.dfa.ie/zambia
Have a clear understanding of the academic and English language proficiencies required for both courses chosen.
Must not have applied for an Ireland Fellowship on more than one previous occasion.
Have a minimum of three years' relevant work experience.
Be able to demonstrate a strong commitment to the development of Zambia.
Meet any relevant procedural requirements of the Government of Zambia.
Be applying to commence a new qualification and not be seeking funding for a course they have already commenced or which will begin before fellowship awards have been notified.
How to apply
Please read the Application Guidance Note carefully before completing as eligibility criteria may differ from country to country.
The application process consists of three stages:
Stage 1 Preliminary Application;
Stage 2 Detailed Application;
Stage 3 Interviews.
Application forms can be downloaded from here. All Stage 1 applications must be emailed to Zambiafellowships@dfa.ie. Applicants who are selected to go forward to second stage will be required to sit an IELTS, or Duolingo English Test unless they are already in possession of an IELTS certificate or Duolingo test certificate that is dated 2020 or later at the time of application which shows the applicant has achieved the necessary score for the course they intend to apply to. Early preparation for the IELTS and Duolingo English test exam is strongly advised, even for native English speakers.
The deadline for receipt of Stage 1 applications was 1st August 2021.
Please include "Ireland-Africa Fellowship" in the subject line of all emails.