Ireland increases funding to the Zambian Social Cash Transfer from €1 Milllion in 2016 to €3 Million
News
08 June 2017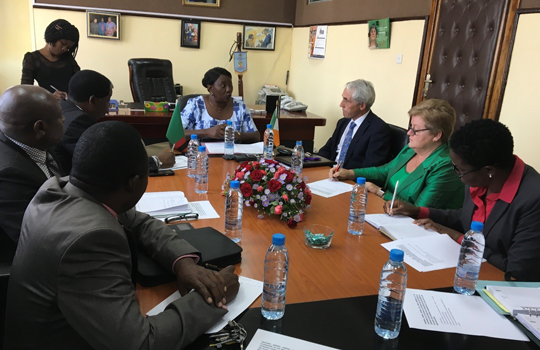 His Excellency, Séamus O'Grady, Irish Ambassador to Zambia meeting with Hon. Emerine Kabanshi, MP and Minister of Community Development and Social Services to announce Ireland's €3 million support for the Social Cash Transfer programme in Lusaka on 11th May, 2017.
Ireland supports the Government of the Republic of Zambia to provide social assistance (in the form of cash transfer of €9 per month per family) to over 242 000 families living in extreme poverty. Irish ambassador to Zambia Seamus O'Grady says this is in line with his government's commitment to help Zambia reduce poverty and hunger through its development co-operation programme. Mr. O'Grady says Ireland has a long standing relationship with Zambia since 1982 and has been partnering with Government in its poverty reduction agenda.
And Ms Kabanshi said the support will go a long way in complementing Government's agenda in scaling up the social cash transfer programme which is projected to reach 590 thousand beneficiary families by December 2017 from the current 242 000. The Minister said the financial support will speed up economic recovery and stabilization programme which prioritizes social protection programmes to protect the most vulnerable in society. Since 2008 Ireland has contributed equivalent €14.1 million to the programme.