Neutrality
Ireland's policy of neutrality
Successive Irish governments have followed a policy of military neutrality, which is characterised by non-membership of military alliances.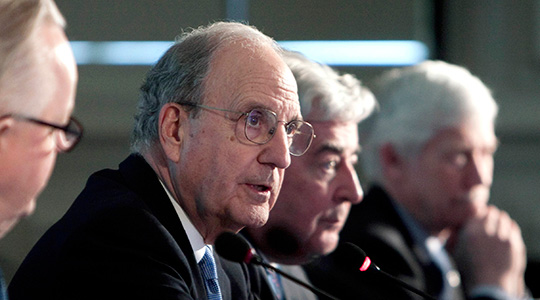 Irish neutrality goes hand in hand with our promotion of international peace and stability. We are committed to our obligations as members of the United Nations, including the obligation, under chapter 7 of the UN Charter, to assist in implementing UN Security Council Resolutions which aim to maintain international peace and security.
Over the years, our policy of military neutrality and the values it encompasses, coupled with our lack of a colonial past, have served us well in our endeavours to be a constructive member of the international community. Successive governments have not seen neutrality as meaning that Ireland should stand aside; rather, they have considered that it enhances our reputation internationally and enables us to engage more effectively in our efforts to promote peace and development through the UN, the European Union and our own bilateral actions.
This policy has been complemented by a set of values - including the protection of human rights, support for development, and the promotion of disarmament and the elimination of weapons of mass destruction - which we see as essential complements to the military aspects of neutrality.
Ireland is afforded guarantees under the Lisbon Treaty which maintain the country's traditional policy of military neutrality remains unchanged and unaffected by the ratification of the Treaty.
Read more about