Bloomsday
News
17 June 2021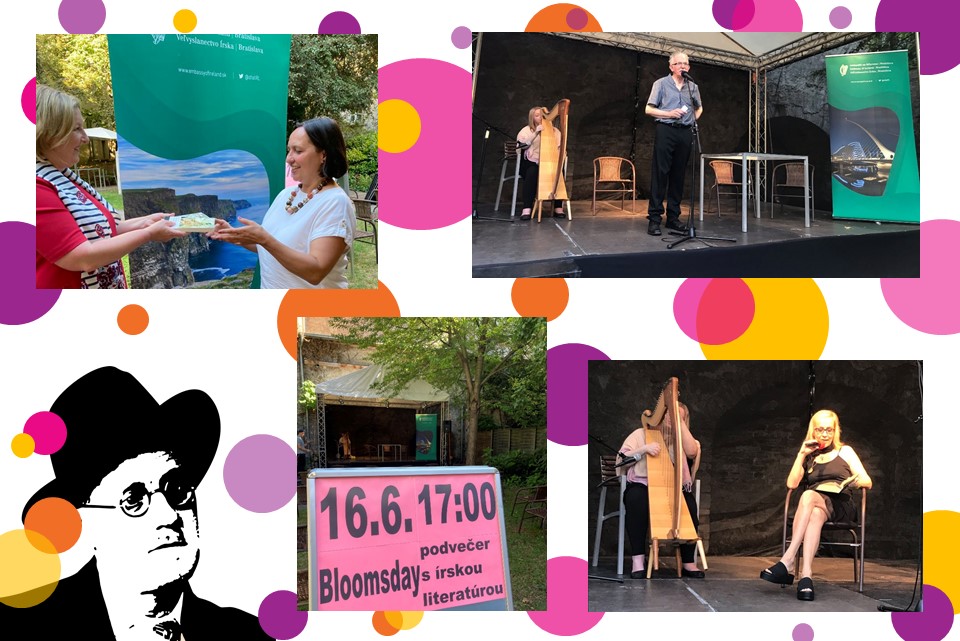 A celebration of Irish literature took place in Bratislava's beautiful summer reading room of the capital's municipal library on the 16th of June. Fans of James Joyce and other Irish authors, along with friends of Ireland accepted the Ambassador's invitation to mark Bloomsday with a glass of burgundy, harp music, a reading from the Joyce's masterpiece Ulysses and a talk on Irish literature.

Bloomsday celebrates Thursday 16 June 1904, the day depicted in James Joyce's novel Ulysses. The day is named after Leopold Bloom, the central character in Ulysses. The novel follows the life and thoughts of Leopold Bloom and a host of other characters – real and fictional – from 8am on 16 June 1904 through to the early hours of the following morning.

This year, the Department of Foreign Affairs, through its Embassies around the world, added an extra layer. In an initiative called "Global Joycean Book Giveaway" they distributed more than 5,000 copies of Joyce's works in over 100 cities and 18 languages to local partners such as libraries, schools, bookshops, literary cafés, cultural centres or broadcast media. In Bratislava, the first copies were given to the host of the event, the Municipal Library in Bratislava. Further copies will enrich the collections of other libraries, as well as Irish and English studies departments at various universities.