Ambassador McGauran meets Mayor of Trnava, Peter Bročka
News
15 March 2022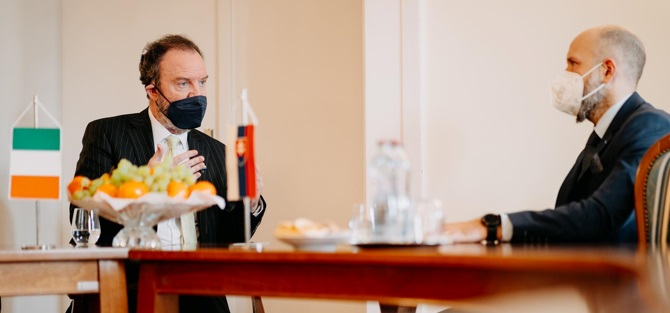 Ambassador McGauran met with the Mayor of Trnava, Peter Bročka at city hall on 15 March. The Mayor briefed the Ambassador on the many initiatives which he has undertaken to further enhance this outstandingly beautiful and historic city, justly called the Slovak Rome.
The Mayor is extending sustainabale urban transport, introducing more cycle lanes as well as providing additional social housing. Mayor Bročka also spoke of the city's efforts to welcome Ukrainians who have sought safety in Trnava from the conflict.
After their meeting, the two walked through the city to admire the recently-planted Irish Oak (Quercus Petraea) which the Embassy was proud to co-sponsor with the city authorities. This magnificent tree will be a living and enduring symbol of the friendship between Ireland and Trnava.