Ambassador joins Slovak President in support of global activism to prevent and eliminate violence
News
25 November 2021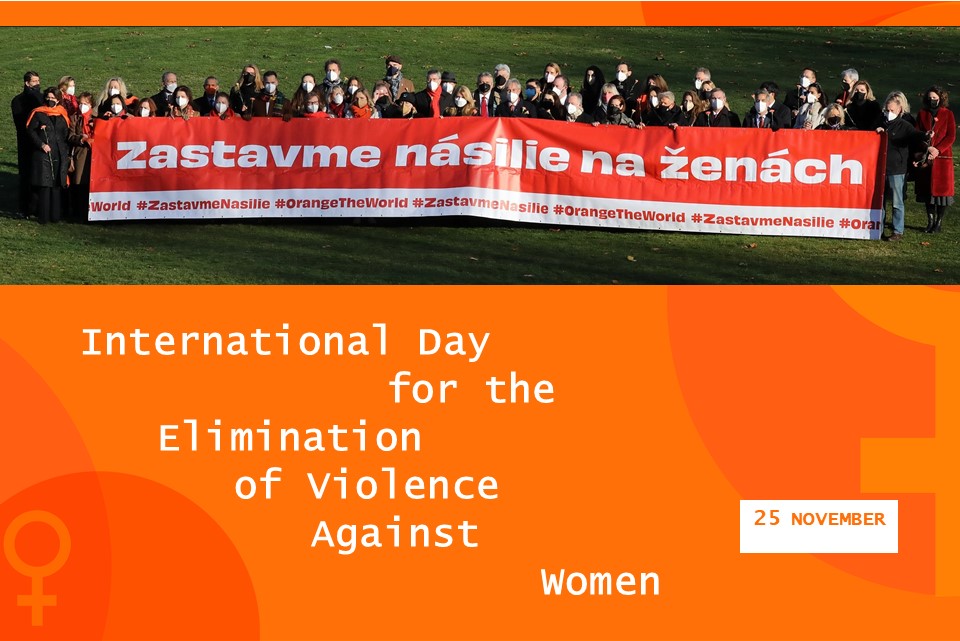 Ahead of International Day for the Elimination of Violence Against Women, 25th November, Ambassadors accredited to the Slovak Republic, including the Ambassador of Ireland Dermot McGauran, joined President Zuzana Čaputová, in a campaign to prevent and eliminate violence against women and girls.
The International Day for the Elimination of Violence against Women marks the start of 16 Days of Activism against Gender-Based Violence which runs from 25 November – 10 December. This is an important period for advocating of human rights and gender equality.
The scale of this abuse globally is staggering. Globally, 1 in 3 - an estimated 736 million women - experience physical or sexual violence. This situation has deteriorated during the COVID-19 pandemic, to the extent that this surge of violence is being referred to as 'the Shadow Pandemic'.
Ireland actively seeks to prevent and counter violence against women and girls, and to ensure that perpetrators are prosecuted. This is a policy priority. In 2018 and 2019, Ireland chaired the UN Commission on the Status of Women for the first time. Globally, Ireland works to ensure that an understanding of the root causes of violence against women and girls, and the measures needed to address and prevent it, is central to all our work. Ireland has been a longstanding champion of the Women, Peace and Security agenda at the UN, and it is a key priority for our membership of the Security Council. We are seeking to advance this agenda across all our work on the Security Council – including on country, thematic and peacekeeping files. We are placing an emphasis on ending the scourge of conflict-related sexual violence and ensuring that women are free to participate fully, equally and meaningfully in peacebuilding processes.
Note: Photograph taken before lockdown and respecting all pandemic measures