United Nations Youth Delegate Programme
Since 2015, the Department of Foreign Affairs and Trade and the National Youth Council of Ireland (NYCI) have partnered to provide the opportunity for young Irish people to participate in the UN Youth Delegate Programme. Each year, two UN Youth Delegates are chosen to form part of Ireland's official delegation to the United Nations General Assembly. The aim of this public diplomacy initiative is to provide a platform for young people from Ireland to be represented at the United Nations, and to facilitate greater engagement with Irish youth on national and foreign policy issues. This is a unique opportunity for those wishing to get involved in developing policies that affect young people.
To apply for this programme, please visit the National Youth Council Website for details.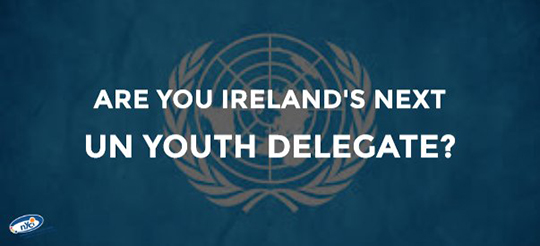 This is the fourth year that the Department of Foreign Affairs and Trade has sponsored the UN Youth Delegate Programme in partnership with NYCI.
In previous years, Ireland's UN Youth Delegates have worked with young people at home and abroad to bring the issues that matter most to them to national and international attention. UN Youth Delegates have worked closely with DFAT staff and have accompanied the Tánaiste and Ministers of State to events to help ensure that the voice of young people is heard. Some of these events have included:
UN General Assembly Ireland's UN Youth Delegates have addressed the Third Committee at the UN General Assembly in New York on issues affecting young people.
UN High Level Political Forum
UN Commission on the Status of Women
Human Rights, Democracy and the Rule of Law Forum
European Youth Forum
UN Commission for Social Development and ECOSOC Youth Forum
Web Summit
BT Young Scientist Exhibition
If you would like to learn more and stay up to date with news and information about the UN Youth Delegates work, you can follow at the DFAT and NYCI Twitter and Facebook accounts or on the NYCI website.
Please also see our dedicated webpage for the current UN Youth Delegates.