Delivering in the Asia Pacific Region to 2025
In line with the goals and commitments of Global Ireland, the Global Ireland: Delivering in the Asia Pacific Region to 2025 strategy draws the roadmap and sets out the milestones in how Ireland will structure and focus its relationship with this increasingly important region in the years ahead.
The strategy was published in January 2020, and was the result of extensive consultation by the Department of Foreign Affairs and Trade with other departments, the state agencies, civil society, business and academia. The strategic direction contained within it is informed by those consultations, and by the experience of Team Ireland on-the-ground.
Through the strategy, we aim to be recognised as a respected, informed and engaged partner; to significantly develop our trade and investment links; to be more engaged in people-to-people exchanges; to be more visible; and to ultimately yield more value from our engagement with the region across the whole span of government.
Global Ireland
Global Ireland sets out an ambitious strategy to double the scope and impact of Ireland's global footprint in the coming years and these efforts are already underway in Asia Pacific. The Asia Pacific region is home to many important regional and international actors. On a range of issues, from climate change to peace and security, to international trade and development, Ireland must build long-term, strategic relationships in the region to realise its goals. To realise these goals in Asia Pacific, Ireland has committed to expanding its diplomatic footprint in the region.
New Zealand
In 2018, Ireland opened its first resident mission in New Zealand. Under Ambassador Peter Ryan, the embassy is focused on developing our relationship with the large Irish diaspora in the country, and, increasing our trade and investment links. New Zealand reciprocated by opening its first resident mission in Ireland the same month, underlining the positive trajectory of Ireland-New Zealand relations.
Ireland enjoys special ties of kinship and history with New Zealand and our small island nations share many values, as reflected in our long-standing commitment to the United Nations, where we work together to advance fundamental freedoms, the rule of law and respect for human rights.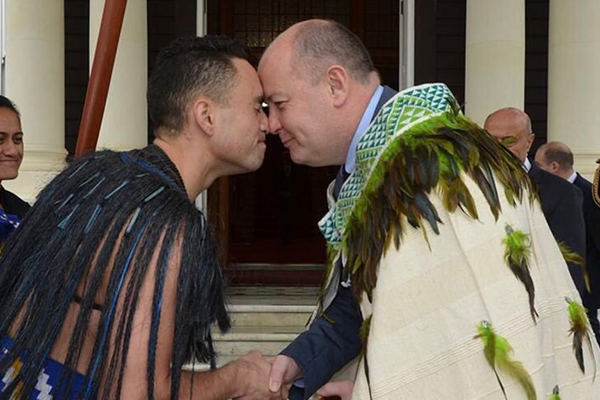 Ambassador Peter Ryan (R) presents his credentials as Ireland's first resident ambassador to New Zealand on 29 August 2018
Gateway of India takes part in Global Greenings

In March 2019, Ireland opened up a consulate in Mumbai, India, led by Consul General Gerry Kelly. The consulate will build on the work of Embassy New Delhi and enhance our ability to develop links with India's business community.
The Irish-Indian relationship has always had a strong focus on education; Irish expatriates founded and taught in many of India's best schools, and ever more Indian students are choosing Ireland for their third level and post-graduate studies. Business between our two countries is also growing; Indian companies are increasingly investing in Ireland while Irish investment in India is at an all-time high.
Philippines
With a population of over 100 million and strong historical links with Ireland, the Philippines is a natural choice for the next phase of expansion in the Irish mission network. Ireland's Embassy in Manila is projected to open in late 2020, and will build on strong people-to-people links and generate further momentum in our trade, tourism, cultural, political and economic relationship with this important South East Asian partner.
There is a significant Filipino diaspora resident in Ireland, greatly contributing to our society. There are also many Filipinos who have returned to their country with positive memories of living in Ireland. Our new Embassy will focus on establishing connections with these important friends of Ireland.
H.E. Mr. Antonio Manuel R. Lagdameo, Ambassador of the Republic of the Philippines presenting his letter of credence to the President at Áras an Uachtaráin on 19 April 2018.
Ireland-China 40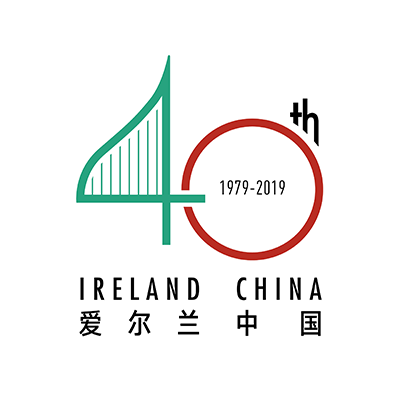 This year marks the 40th anniversary of the establishment of diplomatic relations between Ireland and the People's Republic of China, which we will celebrate a relationship that continues to bring great benefits to both countries. To celebrate the 40th anniversary of the establishment of diplomatic relations, Embassy Beijing is hosting a series of events to commemorate this momentous occasion including the publication of China and the Irish Volume II in March and supporting a production of Odyssey: The Return Art Exhibition, a contemporary interpretation of James Joyce's Ulysses while Ireland's Consulate General in Shanghai is hosting its largest celebration of Bloomsday to date. Throughout 2019 Embassy Beijing will also explore the many facets of the Ireland-China relationship on WeChat and tell the stories of the artists, writers and businesspeople who have shaped the relationship between Ireland and China.
Ireland and Japan
Ireland and Japan have enjoyed a long and enduring friendship, which saw us celebrate 60 years of diplomatic relations in 2017. The Government has now decided to step-up its ambitions, symbolised by constructing a new, state-of-the-art Ireland House at the heart of Tokyo. Once completed, Ireland House will serve as Ireland's Embassy, and office for our Team Ireland partners – Enterprise Ireland, IDA, Bord Bia and Tourism Ireland. Combined with the new EU–Japan Economic Partnership Agreement (EPA), Ireland's ties with Japan are entering an exciting new phase. For more information on Ireland's work in Japan please see our website. For more information on the Ireland-Japan relationship, please look this report.
Following on from a spirited Rugby World Cup campaign, which saw thousands of Irish fans travelling to support the Irish team in Japan, we look forward to the Tokyo Olympics 2020, and wish all our athletes the best of luck. We know that both the Irish team, and their supporters, will be warmly welcomed by our Japanese hosts. Please follow this link for all the consular information you will need to have a safe and enjoyable experience in Japan. Before booking your tickets, make sure to check that your passport is in date.The fastest and easiest way to renew your passport is through our Online Passport Renewal Service.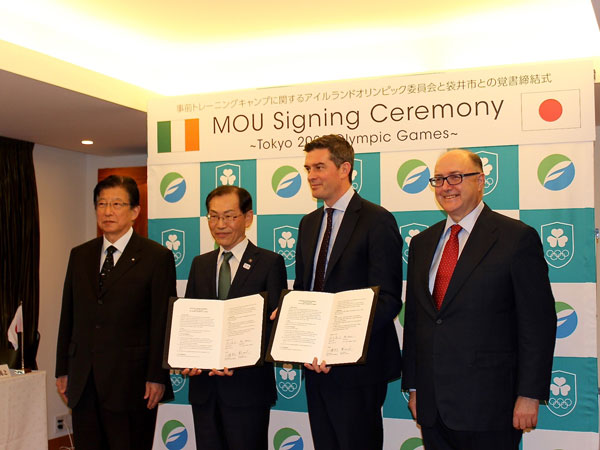 Irish Aid in Vietnam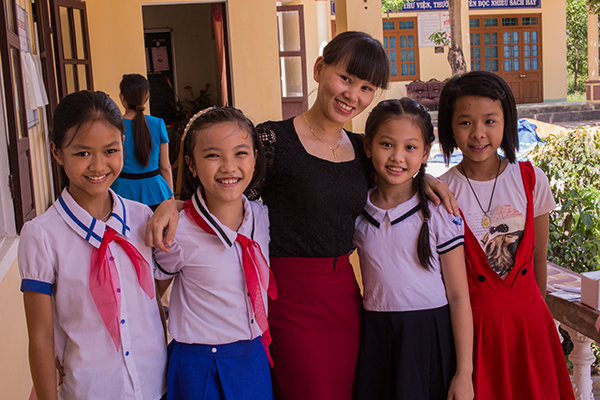 Teacher and Students at Vin Lamh Secondary School in Quang Tri Province where Irish Aid supports better access to clean water, sanitation and hygiene.
The Asia-Europe Meeting
The Asia-Europe Meeting, known as ASEM, is an intergovernmental process established in 1996 that fosters dialogue between Asia and Europe. It was established in 1996 and is comprised of 53 partners: 30 European and 21 Asian nations, the European Union and the ASEAN Secretariat. ASEM utilises an informal process of dialogue and cooperation to address political, economic, financial, social, cultural and educational issues of common interest in a spirit of mutual respect and equal partnership. The ASEM summit, which is held on a biennial basis sees a meeting between the ASEM Heads of State and Government, the President of the European Council, the President of the European Commission and the Secretary-General of ASEAN.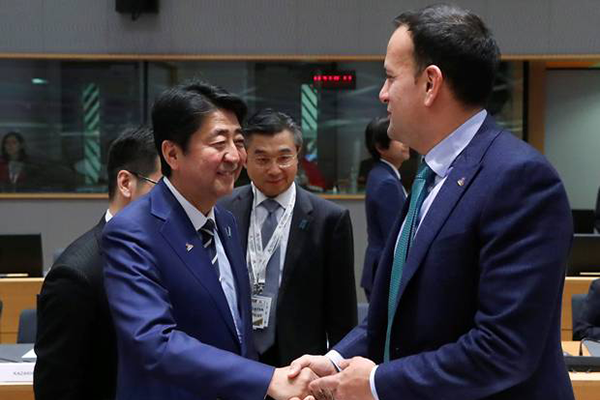 An Taoiseach Leo Varadkar (R) meeting the Prime Minister of Japan, Shinzo Abe (L), at the 12th ASEM Summit, 18 October, 2018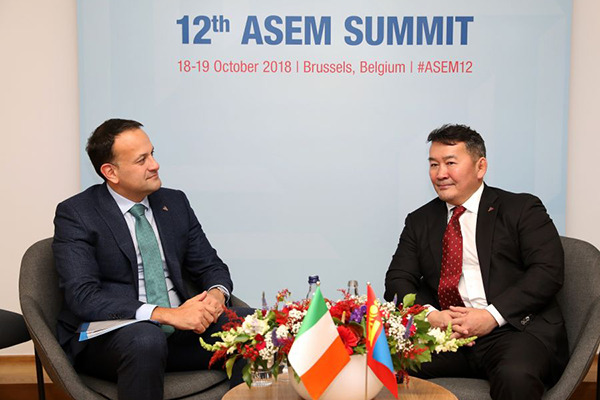 An Taoiseach Leo Varadkar meeting the President of Mongolia, Khaltmaagiin Battulgathe at the 12th ASEM Summit, 18 October, 2018
At the most recent ASEM summit in Brussels in October 2018, the Taoiseach engaged with peers from across Asia and Europe including Chinese Premier Li Keqiang, Russian PM Dmitry Medvedev, Japanese PM Shinzo Abe and German Chancellor Angela Merkel. The Taoiseach also held bilateral meetings with the President of Mongolia, Khaltmaagiin Battulgathe, the Deputy PM of Malaysia, Wan Azizah Wan Ismail, and the Prime Minister of Norway, Erna Solberg, during the ASEM summit. The three meetings were positive and provided the Taoiseach an opportunity to discuss areas of mutual interact and Ireland's candidacy for the United Nations Security Council.
For more information on ASEM please see the ASEM Infoboard, which contains information on ASEM's working practices and the pillars undergirding its work.
The Asia-Europe Foundation
The Asia-Europe Foundation, often referred to as ASEF, was created by the members of ASEM to strengthen Asia-Europe ties, create shared experiences for learning and dialogue, enhance mutual understanding between Europe and Asia, and, explore opportunities for cooperation between Asia and Europe. Since ASEF's founding in 1997, it has brought together over 20,000 people from Asia and Europe and overseen more than 700 projects focused on culture, economy, education, governance, public health and sustainable development.
ASEF runs more than 25 projects a year, consisting of around 100 activities, mainly conferences, seminars, workshops, lectures, publications, and online platforms, together partner organisations. Each year over 3,000 Asians and Europeans participate in ASEF's activities, and much wider audiences are reached through its various events, networks and web-portals.