GreenLight: New York Consular Region
News
25 September 2023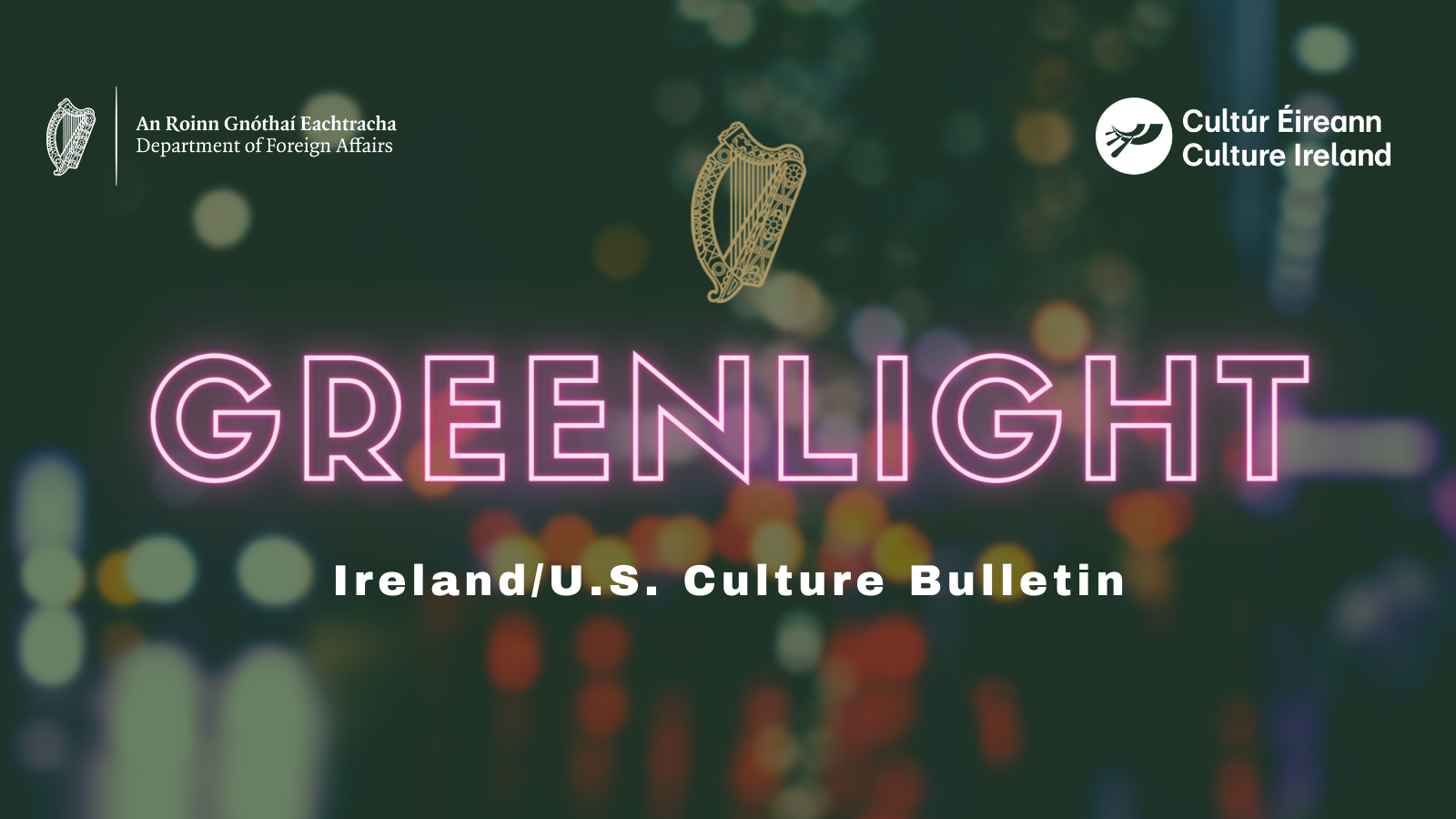 Read below for exciting Irish cultural events in New York and the surrounding region (Connecticut, Delaware, New Jersey, Ohio, and Pennsylvania). To receive more updates about Irish culture in the U.S. please sign up for our GreenLight bulletin and follow us on social media.
Ongoing Events
Through October 1: A.R. Gurney's Love Letters, directed by Ciarán O'Reilly, is returning for a limited run, with three new casts, including actors Matthew Broderick, Victor Garber, and Brooke Shields at Irish Repertory Theatre.
Through October 1: Elevator Repair Service's production of Ulysses premiere at the Fisher Center at Bard College.
Through October 3: Boann and the Well of Wisdom, a poetic drama written by John Kearns that is based on the myth of Boann, the Irish goddess of poetry, will be performed as part of double bill at Morningside Players Theatre for one week only.
Through October 8: Belfast-born artist Colin Davidson's exhibition of portrait paintings, Silent Testimony, will be on display at Irish Arts Center. The exhibition reveals the stories of eighteen people who are connected by their individual experiences of loss through the Troubles.
Through November 28: Dublin-based art dealer, gallery owner, and founder of Holocaust Awareness Ireland, Oliver Sears' exhibition, The Objects of Love, can be viewed at the 92nd Street Y. The exhibition, originally shown at Dublin Castle in Ireland, captures the story of one family torn apart in Nazi-occupied Poland through a curated collection of precious objects, photographs and documents.
Through January 7: New York-based Dublin born photographer Alen MacWeeney has an exhibition at the New York Public Library titled 'New York Subways 1977: Alen MacWeeney' with his collection of subway photographs. He will be in conversation with curator Maggie Mustard on September 29.
September Events
September 25: Irish poets Jane Clark, Catherine Phil MacCarthy, and Katie Donovan will host an event on poetry and sustainability at the Centre for Irish Studies at Villanova University *. They will also have two readings in Princeton on September 26th.
September 26 and 30: Irish artist, Mick Flannery, with special guest Jenn Grant, will be performing at Le Poisson Rouge on September 26th and at The Falcon on September 30th in New York*.
September 27: A Writing Speculative Fiction for Children Master Class will be taught by Ireland's Children's Literature Laureate, Patricia Forde at Irish Arts Center*.
September 28: NYU Glucksman Ireland House is hosting a lecture on Irish-American identity with Professor Patrick Griffin, the Madden-Hennebry Professor of History and Director of the Keough-Naughton Institute for Irish Studies at the University of Notre Dame.
September 28: The Man Booker Prize-winning author Anne Enright will be doing a reading and a Q&A session in celebration of the publication of her new book, The Wren, the Wren, at Irish Arts Center*.
September 28: Publisher Little Island Books and children's book authors Patricia Forde, Deirdre Sullivan, and Sam Thompson celebrate the release of their new books with readings and a discussion on children's and young adult book publishing.
September 29: Dublin-born musician, Ciara Mary-Alice Thompson, professionally known as CMAT, will be performing a sold-out show in Brooklyn.
September 29: Niall Connolly presents Big City Folk Song Club features an up-close performance with Chris Michael at Irish Arts Center*.
September 29 – October 15: The 61st Annual New York Film Festival will feature the world premiere of science-fiction drama film, Foe, starring famed Irish actors Paul Mescal and Saoirse Ronan on September 30 with a Q&A session with director Gareth Davis. The festival's main slate of films includes film, All of Us Strangers, premiering on October 1, which stars Irish actors Paul Mescal and Andrew Scott and Irish co-production film, Poor Things(premiering September 30).
September 29 and September 30: Grammy nominated Irish singer-songwriter, Hozier, has sold-out shows in Philadelphia and New York.
October Events
October 1: Hozier is a headlining act at the Sound on Sound Festival in Connecticut.
October 1: American writer and playwright, Kia Corthron, will be doing a book signing for her latest book, Moon and the Mars, a historical novel discussing the Black and Irish communities of Five Points, New York City in the 19th century at the Brooklyn Book Festival.
October 2: Irish American Writers and Artists present, How About I Be Me? A night to honor the fierce and fragile spirit of Sinéad O'Connor. Host Yvonne Cassidy will be joined by Quentin Fottrell, Rebecca Hart, Niamh Hyland, Cahir O'Doherty, Connie Roberts, and other guests.
October 2: Queen's University Belfast, the John Brademas Center of New York University, the Northern Ireland Bureau, Solas Nua and the Glucksman Ireland House present a special screening of the documentary, The Agreement, which examines the Good Friday Agreement.
October 4 – October 14: 'Druid O'Casey' featuring The Plough and the Stars, The Shadow of a Gunman, and Juno and the Paycock, runs at NYU Skirball Center, in partnership with The Public Theater.
October 4: New York Irish Center hosts a screening of the documentary, 'In the Name of the Son' and a discussion afterwards with Clincic Founder Mags Riordan, the film's director Mark Mc Loughlin, and Clinical Director Dr. Tendai Mussa.
October 5: iJuntos! A Podcast Launch Party will occur at Irish Arts Center. This new limited podcast will discuss Los San Patricios, a group of Irish American soldiers who defected and fought for the Mexican Army during the Mexican-American War*.
October 5: Professors Kristen Wright, John Waters, and Michael Dinwiddie will discuss Hansberry's famous, influential encounter with O'Casey's work in honor of the opening of Druid O'Casey in New York with a talk titled, 'In a Different Key': Sean O'Casey and Lorraine Hansberry at NYU Glucksman Ireland House.
October 6-10: Irish singer-songwriter Cian Ducrot's US tour will include a show in Brooklyn on October 6th, Ducrot also has a show in Philadelphia on October 7th and a sold out show in New York City on October 10th.
October 11 and October 12: The two day Irish trad showcase event,"Women of Note: A Celebration of Women in Trad, Folk and Roots Music", will feature series founder and curator Aoife Scott, Altan's Mairéad Ní Mhaonaigh, Lumbee/Tuscarora singer-songwriter Charly Lowry, and Grenadian-Canadian Kaia Kater at Irish Arts Center*.
October 13: Niall Connolly's Big City Folk Song Club features Jenna Nicholls at Irish Arts Center*.
October 16: Pulitzer Prize winning journalist, Dan Barry, will receive the 2023 Eugene O'Neill Lifetime Achievement Award from Irish American Writers & Artists.
October 16: Singer-songwriter, Sorcha Richardson, will be performing in Philadelphia. She also has a show on October 18th in Brooklyn.*
October 17- November 18: The Gingold Theatrical Group presents Bernard Shaw's Arms and the Man. Previews begin October 17, with the opening night on October 26 and closing on November 18.
October 17: Dead Rabbit in New York City will have their 'That's Deadly Comedy' show with Kilbeg comedian Justine Stafford from 6 pm.
October 18: Irish Arts Center is hosting a screening of the award winning 2023 Academy Awards, BAFTA, and IFTA Best Short Film, An Irish Goodbye. The event includes a Q&A session with the writers and directors, Tom Berkeley and Ross White, and the star of the film, James Martin.
October 18: Singer-songwriter Robert Grace will be performing a show in Brooklyn*.
October 19: NYU Glucksman Ireland House is celebrating the launch of the 25th Anniversary Edition of Kevin Kenny's book, Making Sense of the Molly Maguires.
October 19: Gilla Band, a rock band formed in Dublin, will be performing in Troy, New York, with special guest Bambara. The band will also be performing a sold-out show on November 9 in New York City.
October 20: The Black, Brown, and Green Voices Series from NYU Glucksman Ireland House continues with a virtual Zoom interview with author Dennis Lehane on his new book, Small Mercies.
October 20 - December 3: The debut production of Brian Friel's Translations will be performed at the Irish Repertory Theatre, as part of the Friel Project, which celebrates its 35th year of performing Friel's plays. Translations focuses on the importance of cultural identity and language in Ireland.
October 21 - November 5: The U.S. premiere of Michael Keegan-Dolan's acclaimed 'How To Be A Dancer in Seventy-Two Thousand Easy Steps' will take place at St. Ann's Warehouse
October 24 – November 18: The Mikel Murfi Trilogy, consisting of one-man shows written and performed by Mikel Murfi (The Man in the Woman's Shoes, I Hear You and Rejoice, and The Mysterious Case of Kitsy Rainey) will have a limited run at Irish Arts Center.
October 26: NYU Glucksman Ireland House celebrates the book launch of longlisted 2023 Booker prize novel, "The Bee Sting" by Paul Murray.
October 26 – October 29: Dublin-based Stoney Road Press will have an exhibition at the International Fine Print Dealers Association Print Fair in New York*.
October 29: An Irish Halloween/Oíche Shamhna is an afternoon full of fun and free children's activities, including a dance and storytelling workshop, a Halloween sing-along, and arts and crafts at Irish Arts Center. Reservations are required.
October 30: This month's edition of Pulitzer Prize-winning poet and songwriter Paul Muldoon's monthly jamboree at Irish Arts Center, Muldoon's Picnic, will feature performer Bill Irwin, singer-songwriter Amy Rigby, and Poet James Richardson*.
November Events
November 1: NYU Glucksman Ireland House's Black, Brown, and Green Voices virtual programme continues with an interview with journalist and NYU professor, Rachel L. Swarns, who will discuss her groundbreaking new book, The 272: The Families Who Were Enslaved and Sold to Build the American Catholic Church.
November 4: Irish folk singer-songwriter, Anna Mieke, returns to the US with an North American tour, with a stop in Brooklyn*.
November 4: LÁ GAEILGE, an in person Irish language workshop, will take place at NYU Glucksman Ireland House
November 6: 'What's Irish Now? An Evening with Fintan O'Toole' will consist of a lecture and Q&A session with the acclaimed columnist and author at Irish Arts Center*.
November 9 and 10: Band Far Caspian will be performing in Philadelphia on November 9 and New York City on November 10 for their Europe and US Tour.
November 9 and 12: Indie band, modernlove., as part of their US tour, will be performing in Brooklyn on November 9 and in Philadelphia on November 12.
November 10: Dead Rabbit's 'That's Deadly Sessions' continues this month with Dublin based singer-songwriter, Morgana at 7:30 pm*.

November 10: NYU Glucksman Ireland House launches the latest book of National Book Prize winning author, Alice McDermott, Absolution.
November 12 - 19: The acclaimed Irish dance tour, Lord of the Dance, returns to the US during their world tour with several stops in Connecticut, New Jersey, New York, and Pennsylvania. All tour dates and information can be found here.
November 13: November's Muldoon's Picnic at Irish Arts Center will feature singer-songwriter Laura Cantrell, author Louise Kennedy, and poet Elaine Equi*.
November 15: Garage Punk band SPRINTS will be performing in Brooklyn with special guest Flossing.
November 16: Presented by Poetry Ireland in association with Cave Canem and Irish Arts Center, 2023 Poetry Ireland International Residency poet Nithy Kasa will have an event with poet Safia Jama at Irish Arts Center*.
November 17 and 18: The US Premiere of the Michael Keegan-Dolan's MáM will take place at Fairfield University's Quick Center for the Arts for two nights only.

* Events Supported by Cultúr Éireann/Culture Ireland