Back for Business 4: Call for applications for entrepreneur mentorship programme
News
15 December 2020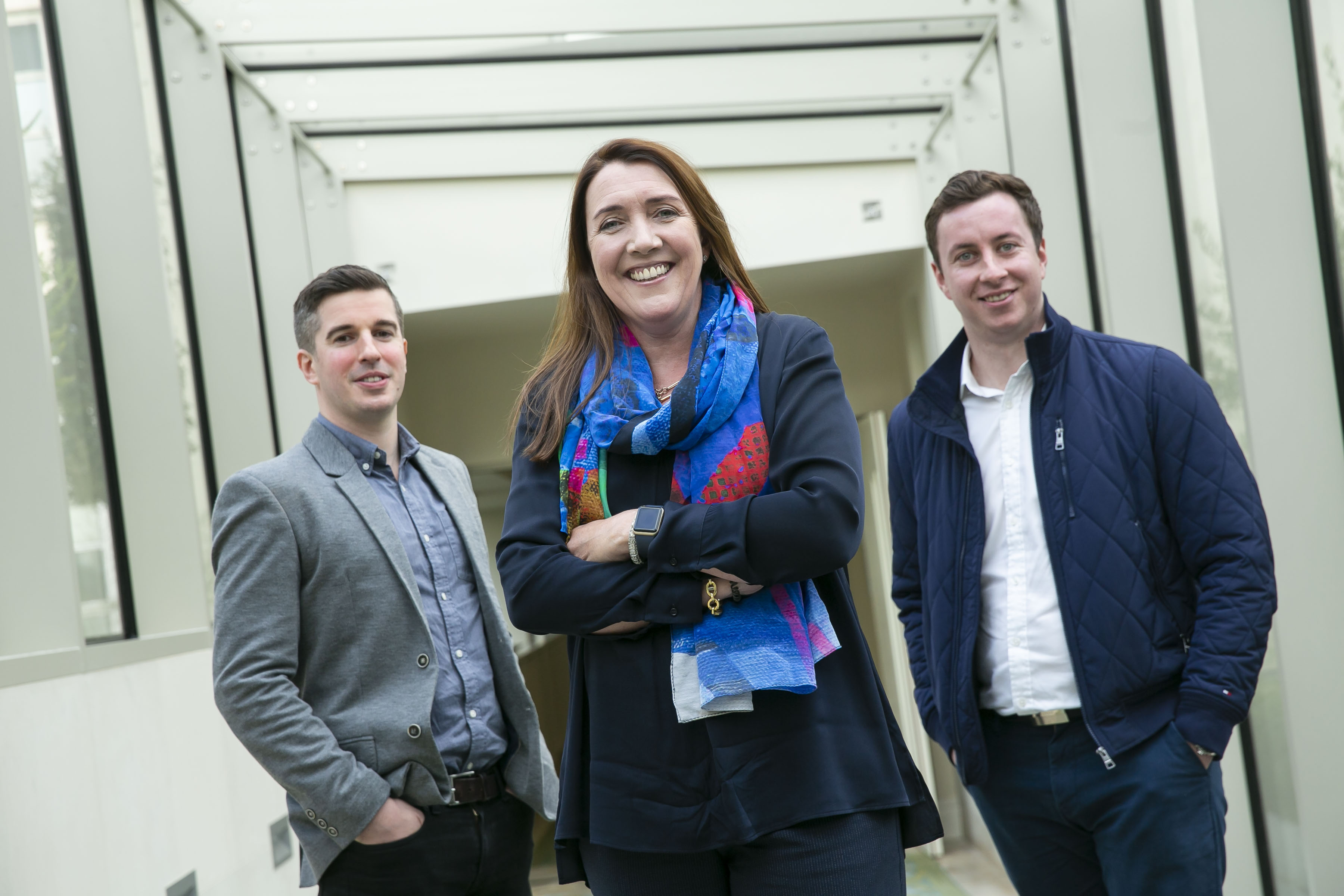 Past Back for Business participants Shane Bourke and Barra Kelly and Lead Entrepreneur Áine Denn
Back for Business has up to 40 places for the 4th year of Government-backed programme and up to 10 places for Further Development phase
Aimed at returned emigrants and those returning to Ireland in the near future
Initiative bridges the knowledge and network gap for those returning home
A call for applicants for a free initiative to help returned emigrants start and develop businesses in Ireland has been launched today by Colm Brophy T.D. Minister of State for Overseas Development Aid and Diaspora.

This is the fourth year of the highly-successful Back for Business developmental programme, which is funded by the Department of Foreign Affairs and Trade.

Past participants on the first three years of the programme have recorded increased sales, created new jobs, and won export contracts. The combined turnover of the 2020 group tripled during the programme – despite the Covid pandemic.

The Back for Business initiative was established to foster and support entrepreneurial activity among returned emigrants or those returning to live in Ireland. It addresses the challenges that all early-stage entrepreneurs encounter – as well as the additional barriers faced by those who have been living outside the country for some time.

Back for Business is aimed at those who have lived abroad for at least a year and have returned in the last three years or those planning to return to live in Ireland in the near future. (Eligibility criteria in notes below)

The call is open today for applications for the 2021 programme, which will run from February to July 2021. There is no charge for those selected to participate.

The closing date for applications is January 25, 2020. There are places this year for up to 40 entrepreneurs to participate for the first time in Back for Business, with an additional ten places being made available on a further development phase for those who completed a cycle previously. Those interested in learning more can download a brochure and register their interest in receiving an application form by logging onto www.backforbusiness.com

Launching the call for applicants today, Colm Brophy T.D. Minister of State for Overseas Development Aid and Diaspora said:

"I am proud of the achievements of the many start-up businesses which have participated in the Back for Business programme. Returning emigrants bring a wealth of experience and ideas on their return to Ireland, many of which are hugely beneficial to us. The Government is committed to supporting our citizens who are coming back to Ireland, and I welcome the contribution they can make to our national prosperity.

"Back for Business has been a great success in developing new businesses throughout Ireland in recent years, supporting start-up enterprises which provide investment and employment across the country. I welcome this opportunity for Irish citizens returning to Ireland to participate in this programme and look forward to their future success."

The Lead Entrepreneurs, who participate in a voluntary capacity, are the backbone of the Back for Business initiative. This year's Lead Entrepreneurs are: Áine Denn, co-founder and formerly of Altify; Heather Reynolds, co-founder of Eishtec, which has been acquired by Infosys BPM; Nikki Evans, founder of PerfectCard, now part of EML Payments; Thomas Ennis, founder of the Thomas Ennis Groupand Susan Spence, co-founder and President of SoftCo.

Those selected to join Back for Business this year will take part in round table sessions, focused on goals and milestones, and facilitated by voluntary Lead Entrepreneurs, who have experience of successfully starting and growing a business.

Áine Denn of Altify, which was acquired last year by US technology company Upland Software, has been a Lead Entrepreneur on Back for Business from the start. She said:

"Over the last three years I have seen Back for Business participants grow in confidence and successfully start and develop sustainable businesses. I am delighted to act as a Lead Entrepreneur to help these early-stage entrepreneurs as they gain the knowledge and networks to be successful in Ireland. It is a great platform for any ambitious returning or returned emigrant entrepreneurs."

Thirty-four participants, who had spent an average of seven years out of Ireland, completed Back for Business 3. Networking and re-establishing contacts were the barriers most frequently cited by applicants, when asked about the challenges of returning from abroad to develop a business in Ireland.

Shane Bourke of Irish Office Space, who was a participant on Back for Business 2, said:

"Starting a business is scary, especially when you have lived abroad for a number of years. This programme provides support, guidance and counsel. The workshops are a terrific asset and the round tables allow you to drill into your business strategy." Shane profile here

Barra Kelly of SHD Chartered Engineers was a participant on Back for Business 2 and has just successfully completed a Further Development phase. He said: "Back for Business has given me the confidence and support to aim higher with my new businesses." Barra profile here

Back for Business has been designed and is being implemented by Fitzsimons Consulting, specialists in areas related to entrepreneurship and growth.

The deadline for completed applications for Back to Business is January 25, 2021. For more information or to register your interest in receiving an application form, please see www.backforbusiness.com

Níl an leagan Gaeilge ar fáil go fóill, más maith leat an leagan Béarla a léamh féach thíos.