Diplomats in the Classroom
Diplomats in the Classroom aims to increase awareness, discussion and debate amongst senior cycle second level students on the work of the Department of Foreign Affairs and Trade, and on Ireland's place in a changing world. Officials from the Department visit schools to deliver interactive workshops designed to engage students on three key elements of Irish Foreign Policy: Our People, Our Interests and Values, and Ireland's Prosperity.
Drawing on their own personal experience of work in the Department, they will seek to provide an insight into how Foreign Policy is practiced. The workshop activities will build on the knowledge gained from Civic, Social and Political Education (CSPE) during the Junior Cycle. They will also touch on areas of the senior cycle curriculum including the History and Geography courses of the Established Leaving Certificate, and on elements of the Social Education curriculum in the Leaving Certificate Applied.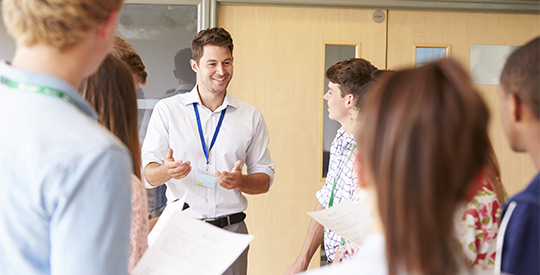 How to organise a visit
Details of 2018 visits will be announced before the end of December 2017.
To organise a Diplomats in the Classroom visit to your school please email diplomatsintheclassroom[at]dfa[dot]ie with the following information:
Name of the school and school address
Full name of teacher who will liaise with Diplomats in the Classroom team
Contact email address and phone number
Number of participants and what year they are in (Transition Year/ 5th/ 6th year/ combination). We recommend a group of approx. 30 students with a maximum of 60 per group. We can run a consecutive workshop where the group size is greater than 60
Workshop duration (we recommend 2 x 40 minute class periods or 3 x 40 minute class periods)
Whether your school has had a visit from Diplomats in the Classroom before
Please note that it may not be possible to facilitate every request; requests will be considered on a first come first served basis.
‌‌