Ireland: leading Europe in supporting peace
Ireland was the first European Union Member State to declare that a solution to the conflict in the Middle East had to be based on a fully sovereign State of Palestine, independent of and co-existing with Israel. That was in 1980, in a joint declaration by the Foreign Ministers of Ireland and Bahrain.
Since then, every Irish Government has given a high priority to the achievement of a "two state solution", which is now the accepted goal of all international efforts. The Middle East Peace Process remains a key foreign policy priority for the Government. Along with our EU partners, Ireland supports all efforts to restart comprehensive negotiations for an overall peace agreement.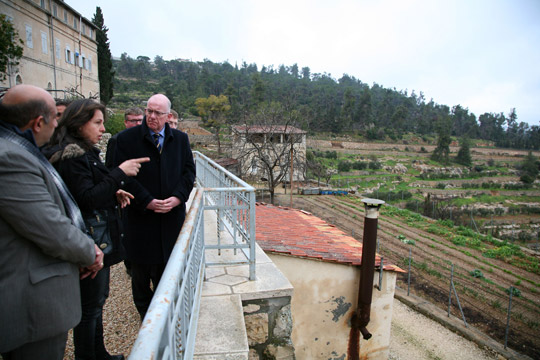 Human rights in occupied Palestinian territory
A final agreement to resolve the conflict will pose very real difficulties for both Israelis and Palestinians. However, we are especially conscious that while talks remain frozen with no real progress evident, continuing Israeli policies on the ground in the occupied territories are making peace more and more difficult to achieve.
Ireland has therefore for many years focused in particular on the injustices and infringements of human rights suffered by Palestinians in their homeland. These include the seizure of land for Israeli settlements, evictions of families, destruction of homes and farm buildings, of wells and water tanks, and of trees and crops, as well as movement restrictions and unequal treatment.
We believe that these critical issues cannot wait for an overall peace agreement, and action must be taken to ensure that the viability of a two-state solution is maintained.
A focus on the situation on the ground
In February 2015 Charles Flanagan, Minister for Foreign Affairs and Trade, visited Israel, the West Bank and Gaza to see for himself what was happening on the ground. With the viability of the two state solution jeopardised by continued settlement expansion, Minister Flanagan has been to the fore in calling for the EU to reappraise its approach to see how best it can contribute to creating the conditions for a resumption of purposeful negotiations aimed at the achievement of the two state solution and, in the meantime, ensuring the viability of a future Palestinian state.
Ireland's consistent support for the search for peace in the Middle East, and the achievement of a Palestinian state, has been demonstrated by our positions at the United Nations General Assembly, at the UN Human Rights Council, and elsewhere, including Ireland's vote in November 2012 in favour of Palestine becoming an Observer State within the UN.