Ambassador Of Ireland - St. Patrick's Day Award
Announcement
12 November 2021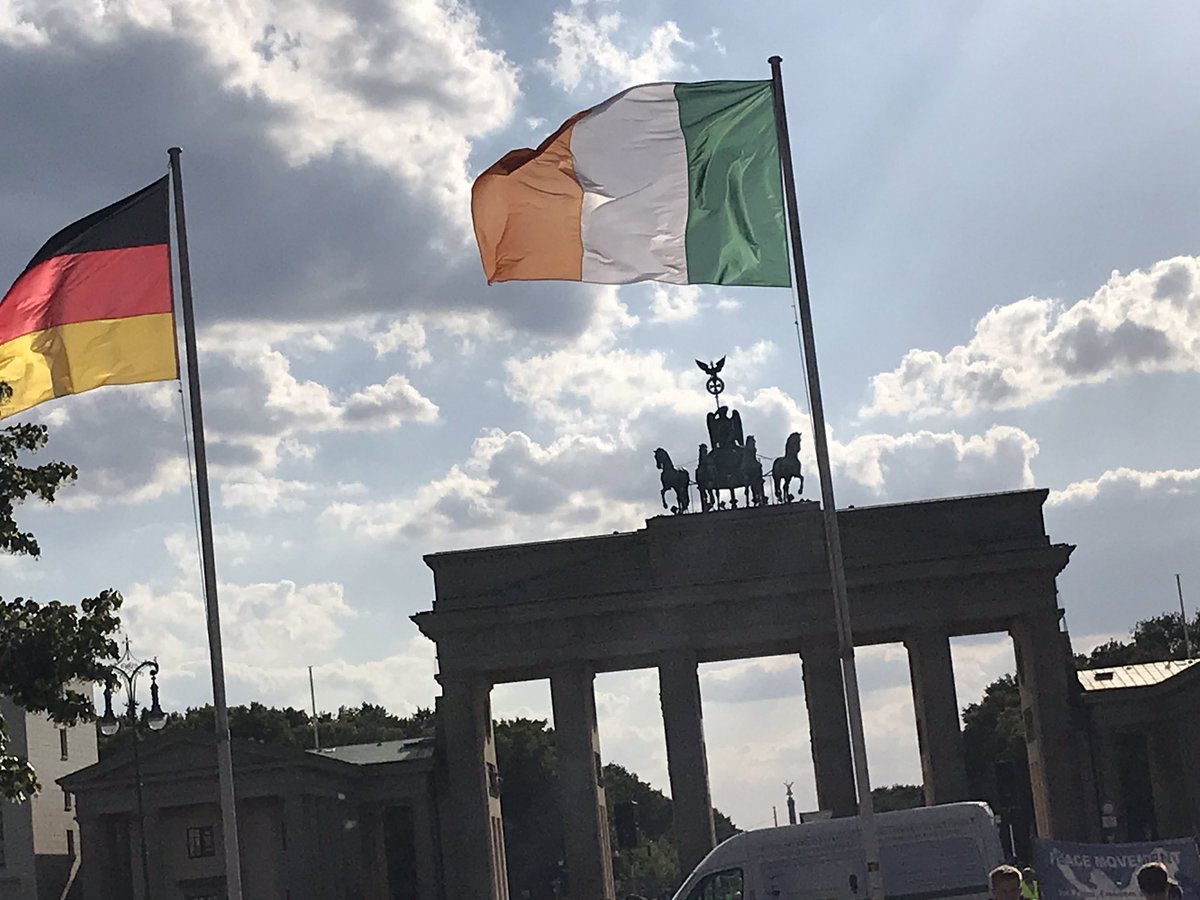 The Ambassador of Ireland - St. Patrick's Day Award for the Irish Affinity Diaspora in Germany
This accolade was first identified in the 2018 Review of Irish-German Relations, 'Ireland in Germany - A Wider and Deeper Footprint'.
The inaugural award was presented to René Böll in 2020.
The award
is intended for our "affinity diaspora" in Germany – persons who are not themselves Irish, but who have a special affinity for Ireland and who are habitually resident in Germany.
will be given in recognition of their work promoting Ireland in Germany or for having made a sustained and distinguished impact on German-Irish relations or the Irish community in Germany.
can be granted in acknowledgement of an activity over a long period, or in response to a specific activity or event.
Nominations for the next award are open from 15 November until 31 December 2021.
If you wish to nominate someone for the award, please send an e-mail with a summary of the person's achievements, as well as a short narrative on why you think they should receive the accolade to ambofficeberlin[at]dfa[dot]ie It should be noted that self-nominations are not eligible, nor are nominations of family members.
An Embassy panel chaired by the Ambassador, Dr. Nicholas O'Brien, will consider all applications in selecting the awardee.
The outcome will be announced in early 2022 and the person selected will receive the award during the Embassy's 2022 St. Patrick's Day celebrations.
The Ambassador of Ireland - St. Patrick's Day Award für die "Affinity Diaspora" in Deutschland
Diese Auszeichnung wurde erstmalig im 2018 erschienenen Bericht zu den irisch-deutschen Beziehungen mit dem Titel ''Irland in Deutschland - Ein breiteres und tiefergehendes Profil'' erwähnt.
Der Eröffnungspreis wurde im Jahr 2020 an René Böll verliehen.
Der Preis
- richtet sich an unsere "Affinity-Diaspora" in Deutschland - Personen, die nicht selbst Iren/-innen sind, aber eine besondere Affinität zu Irland haben und deren Hauptwohnsitz sich in Deutschland befindet.
- wird in Anerkennung von Engagement zur Förderung Irlands in Deutschland oder einem nachhaltigen und herausragenden Einfluss auf die deutsch-irischen Beziehungen oder die irische Gemeinschaft in Deutschland verliehen.
- kann als Anerkennung für eine Tätigkeit über einen langen Zeitraum oder als Reaktion auf eine bestimmte Aktivität oder ein bestimmtes Ereignis verliehen werden.
Nominierungen für den nächsten Preis sind vom 15. November bis zum 31. Dezember 2021 möglich.
Wenn Sie jemanden für den Preis nominieren möchten, senden Sie bitte eine E-Mail mit einer Zusammenfassung der Leistungen der Person sowie einer kurzen Begründung, warum Sie der Meinung sind, dass die Person die Auszeichnung erhalten sollte, an ambofficeberlin[at]dfa[dot]ie.
Bitte beachten Sie, dass Selbstnominierungen nicht zulässig sind, ebenso wenig wie Nominierungen von Familienmitgliedern.
Ein Gremium der Botschaft unter dem Vorsitz von Botschafter Dr. Nicholas O'Brien wird alle Bewerbungen bei der Auswahl des Preisträgers berücksichtigen.
Das Ergebnis wird Anfang 2022 bekannt gegeben, und die ausgewählte Person wird den Preis während der St. Patrick's Day-Feierlichkeiten der Botschaft im Jahr 2022 erhalten.