Ambassador Dr. Nicholas O'Brien Visits School in Villingendorf
News
22 November 2021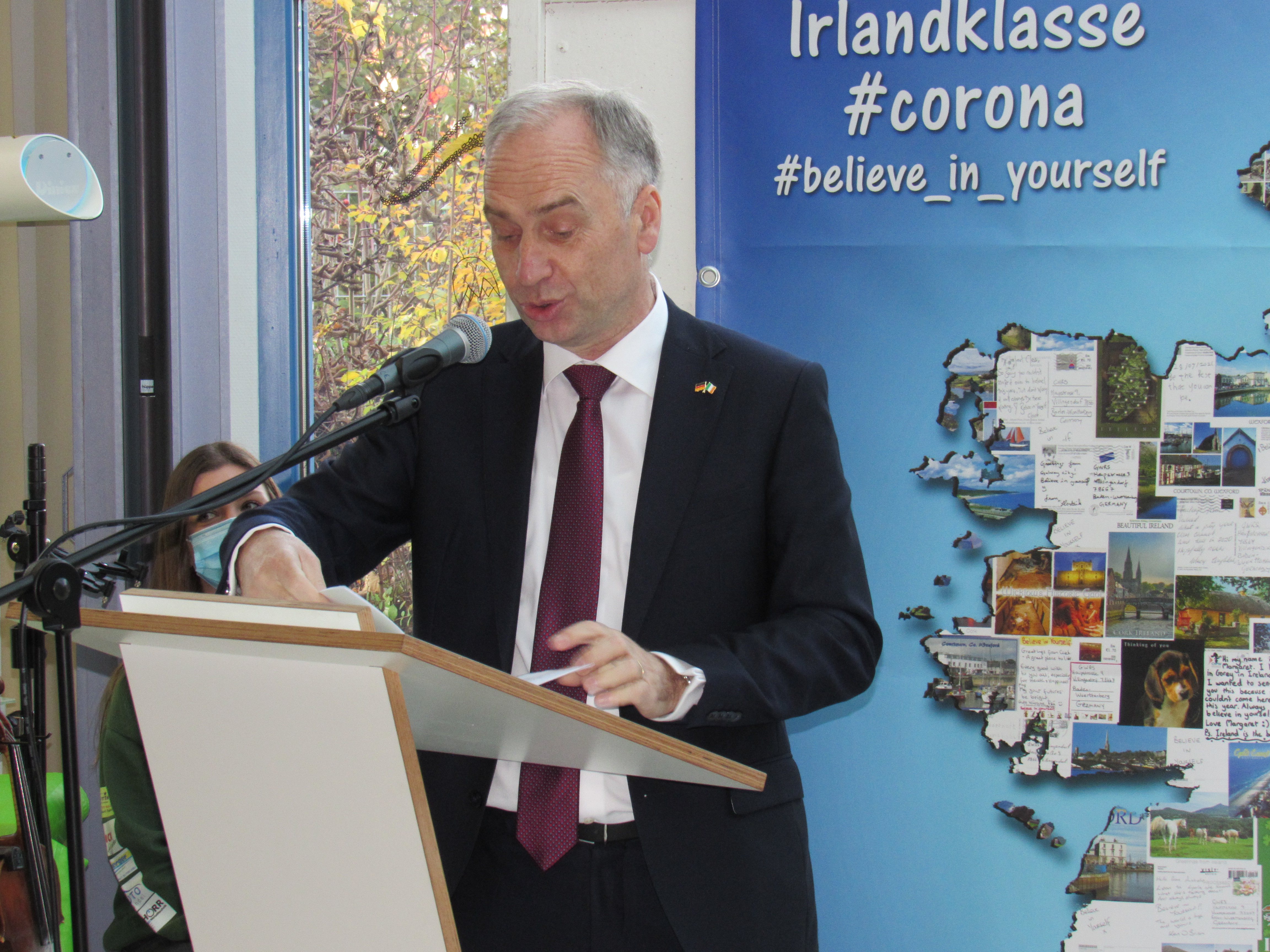 Ambassador Dr. Nicholas O'Brien visits School in Villingendorf
On 18 November 2021, Ambassador Dr. Nicholas O'Brien had the honour of visiting the Grund- und Werkrealschule in Villingendorf, in the German state of Baden-Württemberg. During his visit he met with local dignitaries and with the pupils of the "Irlandklasse", a self-organised student company.
The GWRS Villingendorf, located between the Black Forest and Swabian Alb regions, entertains a cordial and long-standing relationship with the Embassy of Ireland in Berlin. Since 2009, the school has been fielding its innovative "Irlandklasse" project in which pupils operate their own company to raise funds for a trip to Ireland. Originally initiated by the headmaster of the school, Mr. Rainer Kropp-Kurta, the "Irlandklasse" has grown into a respectable enterprise, comprising an online shop through which pupils manufacture, sell and distribute decorative gift items and merchandise. Students from grades 7 to 9 are involved in this endeavour, which has won numerous awards, e.g. the Würth Bildungspreis, the German Irish Business Award, An Duais and the Deutscher Lehrerpreis.
After having been welcomed with a traditional Swabian lunch (prepared by the students of the Irlandklasse), the Ambassador had the opportunity to familiarise himself with the project first-hand, speaking with schoolchildren about their motivations, expectations and experiences. Among the guests at the school were Villingendorf Mayor Mr. Marcus Türk, school board president Mr. Thomas Hecht, as well as the head of the local education authority Ms. Susanne Cortinovis-Piel. In his remarks, the Ambassador expressed his deep gratitude to all attendees and emphasised his amazement with the dedication of the students and the hospitality of the school.
Musical performances by singer-songwriter Lynda Cullen, who works as an English teacher at GWRS, as well as by the students offered a delightful, acoustic touch to a truly memorable visit.
Botschafter Dr. Nichiolas O'Brien besucht Schule in Villingendorf
Am 18. November 2021 hatte Botschafter Dr. Nicholas O'Brien die Ehre, die Grund- und Werkrealschule Villingendorf im Bundesland Baden-Württemberg besuchen zu dürfen. Während seines Besuches traf er sich mit lokalen Würdenträgern und den Schüler*innen der "Irlandklasse", einer selbstorganisierten Schülerfirma.
Die GWRS Vilingendorf befindet sich zwischen dem Schwarzwald und der Schwäbischen Alb und sie unterhält seit geraumer Zeit eine äußerst positive Beziehung zur Botschaft von Irland. Seit 2009 ist das innnovative Projekt "Irlandklasse" ein integraler Bestandteil dieser Schule und eine Gelegenheit für Schüler*innen, ihre eigene Firma zu betrieben, um Gelder für eine Reise nach Irland aufzubringen. Das Projekt wurde ursprünglich vom Rektor der Schule, Herr Rainer Kropp-Kurta, ins Leben gerufen und ist mittlerweile zu einem respektablen Unternehmen herangewachsen, in welchem die Schüler*innen dekorative Geschenkartikel und Merchandise über einen Online-Shop produzieren, verkaufen und vertreiben. Die Jahrgangsstufen von der 7. bis zur 9. Klasse sind an dieser Schülerfirma beteiligt, die bereits mehrere Auszeichnungen gewonnen hat, wie z.B. den Würth Bildungspreis, den German Irish Business Award, An Duais und den Deutschen Lehrerpreis.
Nach einem herzlichen Willkommen mit einem traditonellen schwäbischen Mittagessen (zubereitet von den Mitgliedern der Irlandklasse), hatte der Botschafter die Gelegenheit, sich mit dem Projekt persönlich vertraut zu machen. Dabei sprach er direkt mit den Schulkindern über ihre Motivationen, Erwartungen und Erfahrungen. Unter den geladenen Gästen in der Schule fanden sich auch der Bürgermeister Villingendorfs Herr Marcus Türk, Schulpräsident Herr Thomas Hecht (Regierungspräsidium Freiburg), und die leitende Schulamtsdirektorin Frau Susanne Cortinovis-Piel. In seiner Ansprache brachte der Botschafter seine tiefe Dankbarkeit gegenüber allen Anwesenden zum Ausdruck und er betonte, wie berührt er von der Hingabe der Schüler*innen und von der Gastfreundschaft der Schule sei.
Musikalische Einlagen von der Sängerin Lynda Cullen, die als Englisch-Lehrerin an der GWRS arbeitet, sowie von den Schüler*innen boten einen wundervollen, akustischen Ausklang für diesen unvergesslichen Besuch.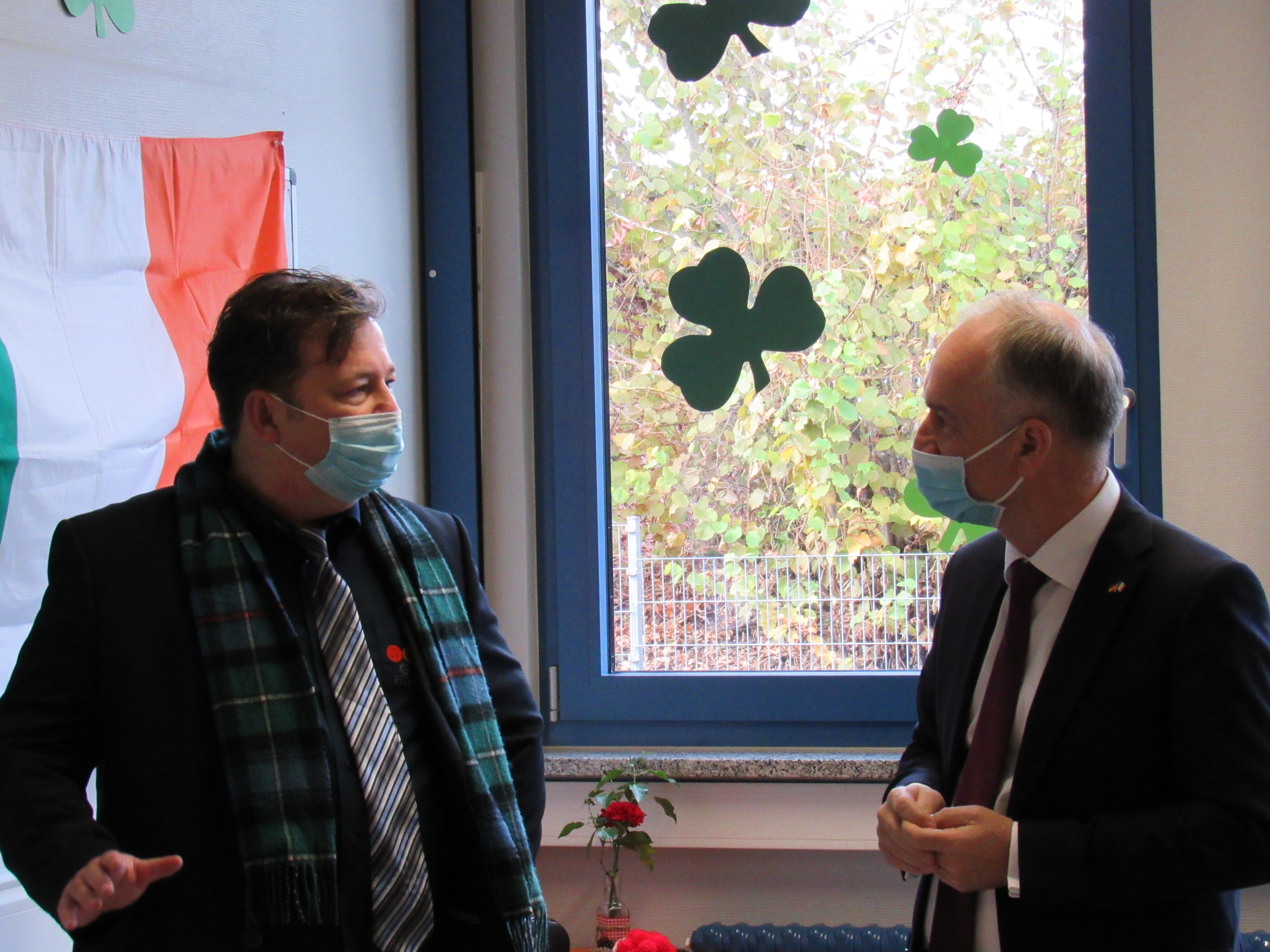 Ambassador O'Brien speaks with headmaster Mr. Rainer Kropp-Kurta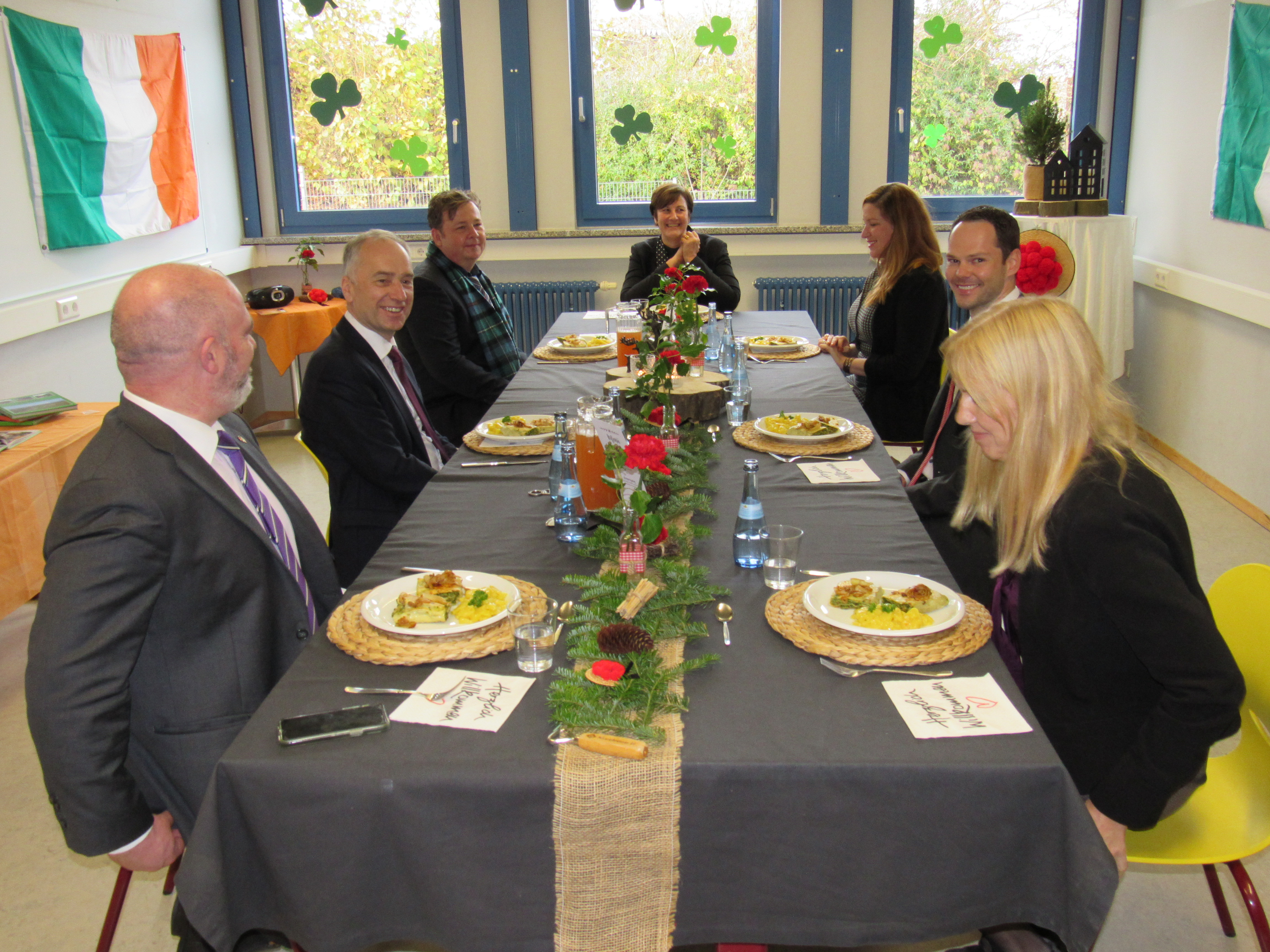 Lunch meeting with traditional Swabian fare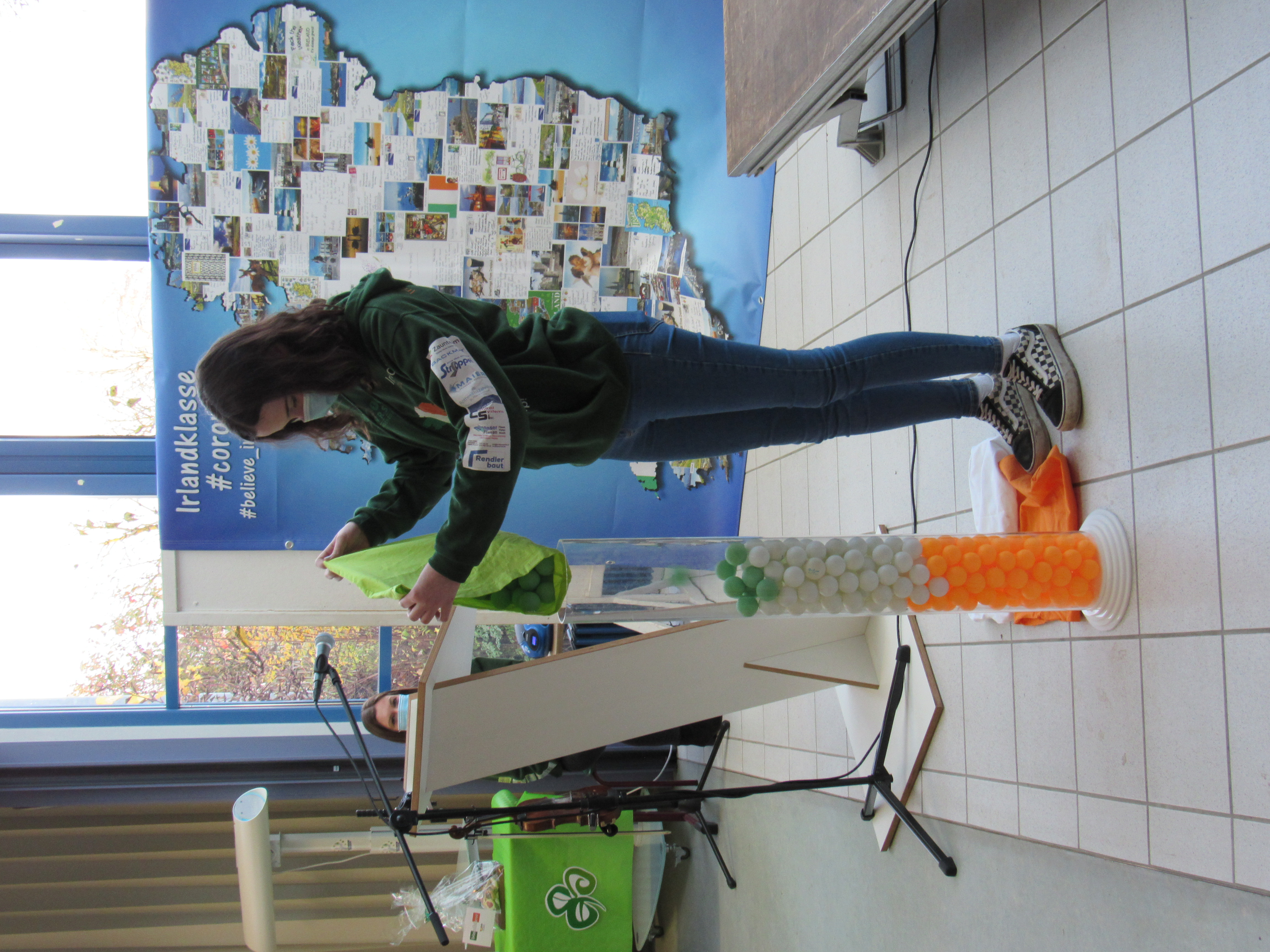 The Irlandklasse continues working towards its goal - a trip to Ireland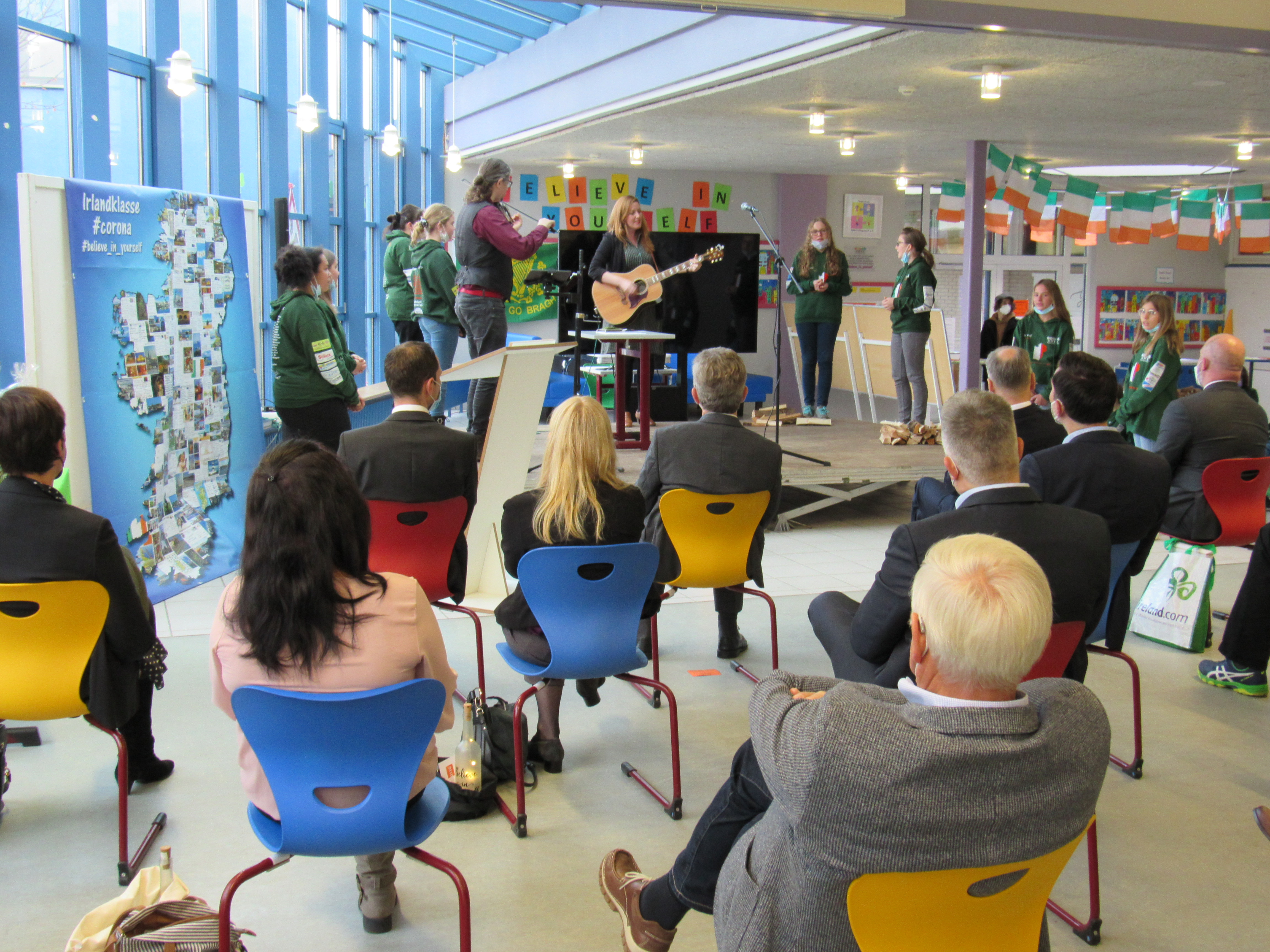 English teacher and singer Lynda Cullen performs for the guests
Ambassador O'Brien converses with members of the Irlandklasse