Austria - Ireland Relations
The rich relationship between Austria and Ireland in the present day has deep roots in history.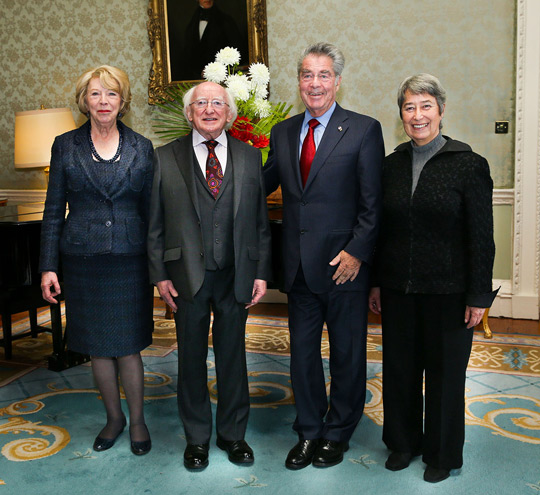 Longstanding bilateral ties between Ireland and Austria have been further strengthened by our common membership of the European Union and the eurozone. Ireland and Austria share a common perspective on many fundamentally important policy issues at European level, including the importance we attach to strengthening Europe's capacity to grow and create more and better jobs.
At a wider international level our shared values are evident in terms, for example, of our support for multilateralism; our commitment to the peaceful resolution of conflicts; our record of involvement in UN peacekeeping missions.
Equally important are the inter-personal links between the two countries, whether at the level of cultural expression, tourism or trade. In these and other day-to-day activities our mutual interests are considerable and growing all the time.
Austria – Ireland: A Relationship Rooted in History
The relationship between Austria and Ireland has deep roots in history, which remain vibrant down to the present day.
Irish missionaries such as Saints Columbanus in Bregenz, Virgil (Fearghall) in Salzburg and Koloman (Colman) in Lower Austria played important roles in Austrian medieval history. So too did the Irish (Scoti) who established the Schottenstift (Irish Abbey) in 12th century Vienna- an institution that is still regarded with fondness and pride by the Irish community here.
We remember, too, the contributions made from the 17th century onwards by Irish political exiles – the Wild Geese (Na Géanna Fiaine)- and their descendants. Many served with distinction at the highest levels in Austria's military and diplomatic services and a number held high political office.