Structure of the OSCE
Negotiating and decision making bodies
All decisions within the OSCE are made on the basis of consensus. The OSCE decision making bodies are:
Summits: OSCE Heads of State or Government meet to set priorities and provide orientation at the highest political level. To date there have only been six summits held, the most recent of these took place in Astana on 1 December 2010.
The Permanent Council: The Permanent Council convenes weekly in Vienna to discuss developments in the OSCE area and to make appropriate decisions. Ambassadors of the 57 participating States are present during these meetings.
Ministerial Councils: OSCE Foreign Ministers meet once a year in December to consider issues relevant to the OSCE and take appropriate decisions. During periods between summits, decision-making and governing power lies with the Ministerial Council.
Forum for Security Cooperation (FSC): meets weekly in Vienna to discuss and make decisions regarding military aspects of security in the OSCE area, in particular confidence- and security-building measures.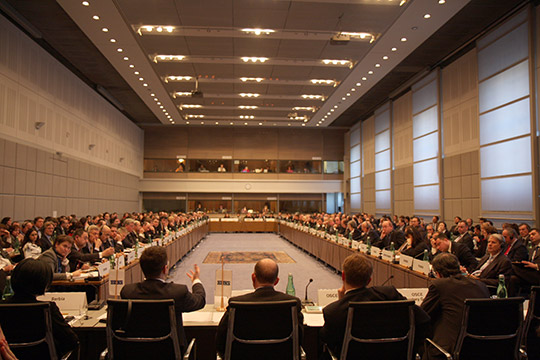 Structures and Institutions
The OSCE has developed several institutions and structures to follow-up on the political decisions negotiated by the participating States:
Chairperson-in-Office: A different participating state holds the Chairmanship of the OSCE for one year and bears overall responsibility for executive action and co-ordination of OSCE activities. The Chairperson-in-Office is the acting Foreign Minister of the participating State that holds the Chairmanship.
Secretariat: Under the direction of the Secretary General (currently Lamberto Zannier of Italy) the Secretariat provides operational support to the organisation. The Secretariat's mandate involves: support of OSCE field activities, maintaining contacts with international and non-governmental organisations, co-ordinating OSCE economic and environmental activities, OSCE activities in the politico-military field, administrative, financial and personnel services, conference and language services, information technology and press and public information.
Parliamentary Assembly: Consisting of over 300 parliamentarians from OSCE participating states, it seeks to promote parliamentary involvement in the activities of the organisation.

Office for Democratic Institutions and Human Rights (ODIHR): is the principal institution responsible for the promotion of human rights and democracy in the OSCE area, and is based in Warsaw. ODIHR also deploys election observation missions to OSCE participating States to assess the implementation of OSCE commitments relating to elections.
High Commissioner on National Minorities (HCNM): seeks early resolution of ethnic tensions that might endanger peace, stability or friendly relations between OSCE participating States, and is based in The Hague.
Representative on Freedom of the Media (RFOM): observes media development in OSCE participating States and provides early warning on violations of freedom of expression, and is based in Vienna.
OSCE Field Operations: OSCE field operations are known as the jewel in the crown of the organisation. There are currently 16 field missions. These Missions work closely with local authorities and civil society to assist with political processes, prevent or settle conflicts and promote human rights, fundamental freedoms and the rule of law.