The History of the OSCE
The Organization for Security and Co-operation in Europe (OSCE) began as the Conference on Security and Cooperation in Europe with the signature of the Helsinki Final Act in 1975 by 35 Heads of State or Government from NATO, Warsaw Pact and neutral countries. The Act also established ten fundamental principles (the 'Decalogue') governing the behaviour of States towards their citizens, as well as towards each other.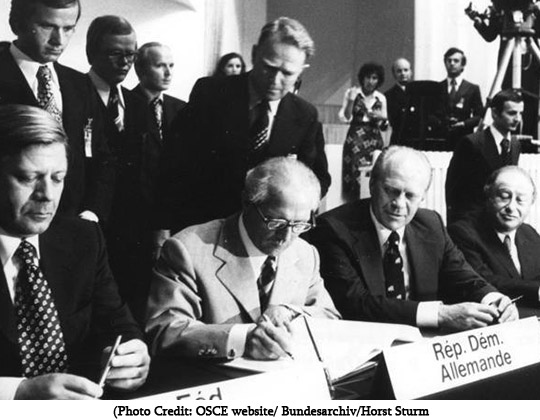 Initially the CSCE was designed to find common ground between the two opposing systems in Europe. The eruption of conflicts in the former Yugoslavia and within newly independent states obliged the international community to revisit security policies. In the Charter of Paris for a New Europe, the CSCE was called upon to play its part in managing the historic change taking place in Europe and responding to the new challenges of the post-Cold War period, which led to its acquiring permanent institutions and operational capabilities.
As part of this institutionalisation process, the name was changed from the CSCE to the OSCE by a decision of the Budapest Summit of Heads of State or Government in December 1994.The OSCE developed a broad range of new policies and institutions such as the Office for Democratic Institutions and Human Rights, the High Commissioner for National Minorities, and the Forum for Security Cooperation, to deal with the new security environment.
Watch the video
Watch '35 Years from Helsinki', a video covering the history of the OSCE from the time of its inception.