Information on Job Opportunities within the OSCE
More than 2,500 people work for the OSCE in 22 different duty stations in field offices in Europe and Central Asia and in the Institutions in Vienna, The Hague and Warsaw. Nationals of the 57 OSCE participating states are eligible to apply to the OSCE.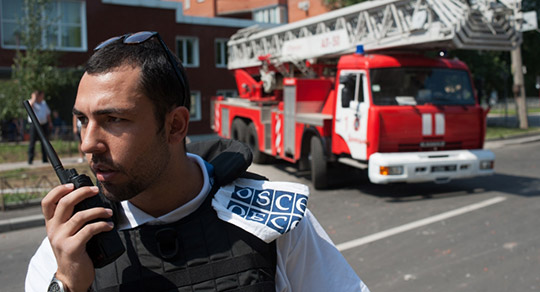 There are two main types of employment in the OSCE - Contracted and Seconded positions. Contracted staff are hired and paid by the OSCE. Seconded staff are pre-selected, nominated and financed directly by their respective States. Seconded staff in the OSCE field missions receive a Board and Lodging Allowance (BLA) while seconded staff in the Secretariat and the Institutions do not. Given that Ireland does not provide any remuneration to seconded staff and there is no BLA for seconded personnel working in the OSCE Secretariat and Institutions, the Irish Mission is unable to nominate candidates for consideration for these positions.
Internships
The OSCE offers internships to individuals under the age of 30 according to the current needs and facilities of various Departments. Internships usually last between two to six months and do not constitute a commitment to future employment with the OSCE.
Consultants
The OSCE recruits consultants to provide advisory services and expert assistance on a short-term and ad-hoc basis.
Short-term positions
The OSCE offers short-term positions on an ad-hoc basis.
Junior Professional Officer Programme (JPO)
The OSCE offers a limited number of positions to young professionals under the age of 30 to gain experience in the OSCE Secretariat, Institutions, and field operations. JPOs gain practical experience in different subject areas during a three month period at the Secretariat followed by a six-month period in the OSCE's field operations/ Institutions. Vacancy notices for the JPO Programme are issued twice a year, normally in November/December and May/June.