Study in Ireland Virtual Fair - 2nd October 2021
Event
16 September 2021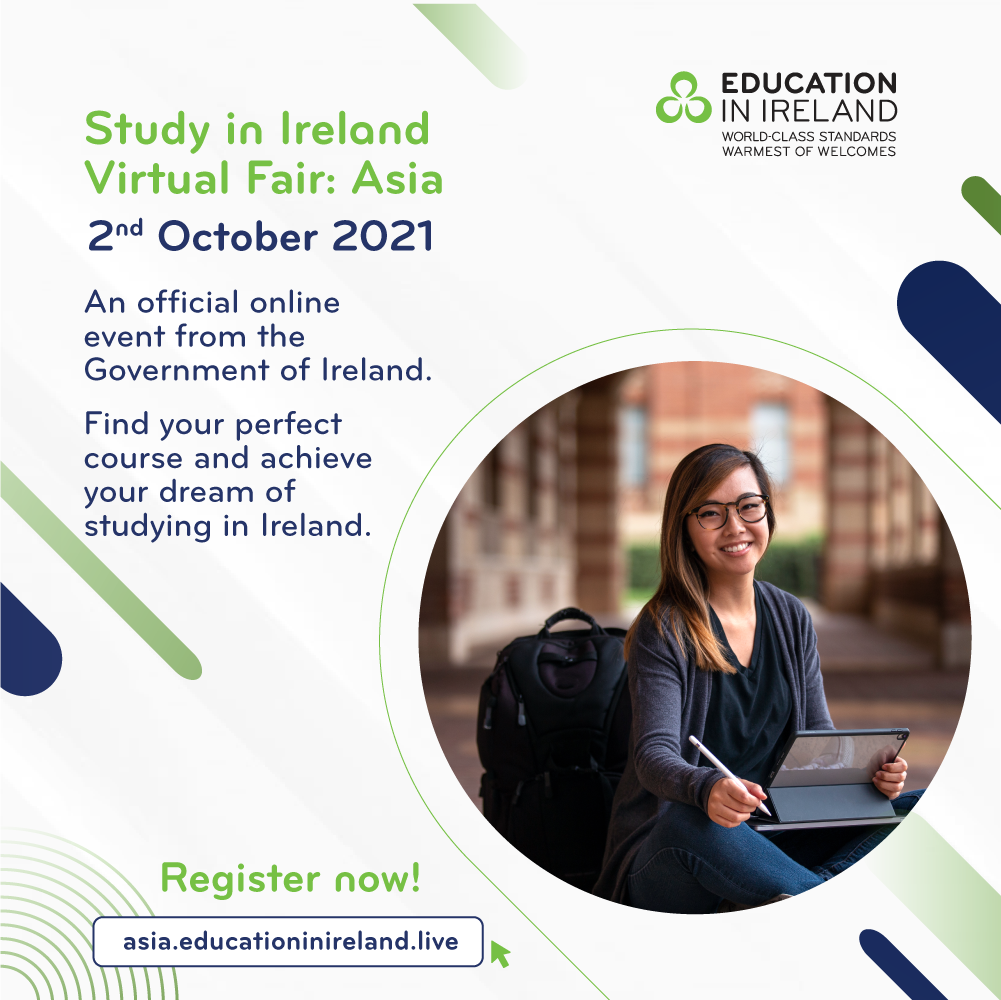 Study in Ireland Virtual Fair - 2nd October 2021
Study in Ireland Virtual University Fair
Saturday October 2, 2021
Malaysia 4pm - 8pm
Learn more and register for free at
https://asia.educationinireland.live/
The Official Study in Ireland Virtual University Fair Comes to Asia. Held exclusively for students in Asia who are interested in studying overseas, the Study in Ireland Virtual Fair is a free, official event of the Government of Ireland. It offers a unique chance for students to meet privately with Ireland's top universities and colleges and get personal advice on the spot. In one convenient online event, students will discover all the perks of earning an undergraduate or postgraduate degree in Ireland.
You will be able to:
• Chat one-on-one via text, video, and audio calls from a phone or desktop.
• Find internationally acclaimed programs at Ireland's highly ranked institutions.
• Get advice from Irish universities, colleges, and official government representatives.
• Attend live, detailed seminars and info sessions on studying in Ireland.
All of Ireland's universities are ranked in the top 5% globally, which presents an incredible opportunity for Asian students to get a world-class education in a dynamic, English-speaking EU country. Another advantage of studying in Ireland is that it gives international students the ability to stay on after graduation and gain work experience for up to two years. With over 1,000 multinational companies based in Ireland and a well-earned reputation as the "Silicon Valley of Europe", students will have plenty of options to launch their career on the global stage thanks to their Irish education.
By registering for the Study in Ireland Virtual Fair, students will also gain access to a customised online hub, with streamlined info packs and videos specifically aimed at Asian students to help them study in Ireland. Participation in the Study in Ireland Virtual Fair is free of charge but students must register in advance online. The website also gives a complete list of all the participating institutions and the schedule of live seminars which will take place throughout the event.
Study in Ireland Virtual Fair PDF