New Tourism Ireland Country Manager for China announced.
Tourism Ireland has announced the appointment of James Kenny as its Country Manager for China. This is a new position, to strengthen the organisation's presence in the Chinese market. James will be based in Shanghai.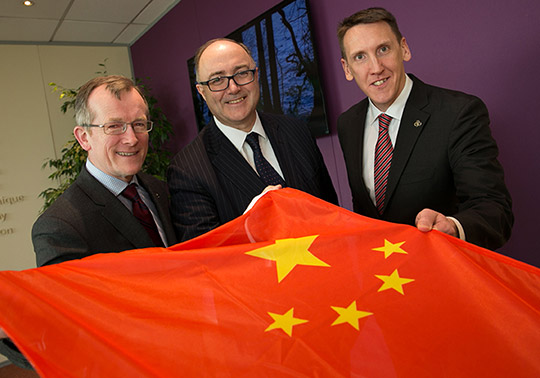 A native of Dublin,James Kenny has spent a number of years working and living in China and is fluent in Mandarin. He holds a master's degree in Chinese Language, Culture and Teaching Chinese. He has an extensive experience in Sino-Irish relations; is a member of, and former Assistant Director of, the UCD Conficius Institute for Ireland; and has most recently been involved in bringing Chinese students and tourists to the island of Ireland.
According to the latest data from the UNWTO (United Nations World Tourism Organization), China is now the world's largest outbound travel market - with some 120 million people travelling overseas each year, spending $165 billion. In 2015, we welcomed more than 45,000 Chinese visitors to the island of Ireland. And just last week, Ireland was named a 'best travel destination' in the world, at an awards ceremony in Shanghai organised by Travel & Leisure magazine.
Commenting on the appointment, Niall Gibbons, CEO of Tourism Ireland, said: "I am delighted to welcome James Kenny to this key role in our organisation. He joins Tourism Ireland at an exciting time when we are working to increase awareness of the island of Ireland to help secure a greater share of the 4 million Chinese visitors to Europe each year. James brings with him a wealth of knowledge and experience and will play a pivotal role in implementing our Strategy in the Chinese market".
James Kenny said: "This is a fantastic role and an exciting opportunity for me. China is an important emerging travel market and one that I know Tourism Ireland is committed to growing over the coming years. I am confident that there is plenty of potential yet to be unlocked. Our aim is to grow the number of Chinese visitors to the island of Ireland to 50,000 per year, by 2017. I look forward to working closely with our tourism partners, on the island of Ireland and in China, to help deliver that growth".
Tourism Ireland has offices in Shanghai, Beijing, Guangzhou and Chengdu. In May, Tourism Ireland will undertake a week-long sales mission to China, targeting top travel agents and tour operators, as well as key travel and lifestyle journalists, in key cities like Beijing and Shanghai. As well as working closely with Chinese travel journalists, the organisation also undertakes co-operative promotions with key-partners - including airlines and the travel trade.