Minister for Agriculture, Food and the Marine Michael Creed
Recognising the importance of China for Ireland, Minister for Agriculture, Food and the Marine Michael Creed T.D. decided to make China the first place that he led a trade mission since taking office.
China offers enormous potential for the Irish food and drinks industry to realise the targets set in Ireland's FoodWise 2025 strategy. Diversification of markets is a key goal of this strategy. Exports to China alone grew by 16% in 2015 maintaining its position as Ireland's fifth most important market and the second largest for dairy and pork.
Minister Creed met with Zhi Shuping, the Minister responsible for AQSIQ and discussed market access and registration issues of key concern to Ireland, Creating a platform for further technical engagement between experts from both sides on these issues. The Minister also met with Ms Mingzhu Wang, Vice- Minister for the Chinese Food and Drug Administration (CFDA). The Ministers co-hosted a major seminar on sustainability and food security. The Ministers agreed that they would continue to co-operate closely, including through the implementation of an internship programme which will see Chinese officials come to Ireland to spend time in the Department and its agencies in order to familiarise themselves with Irish Food Safety systems.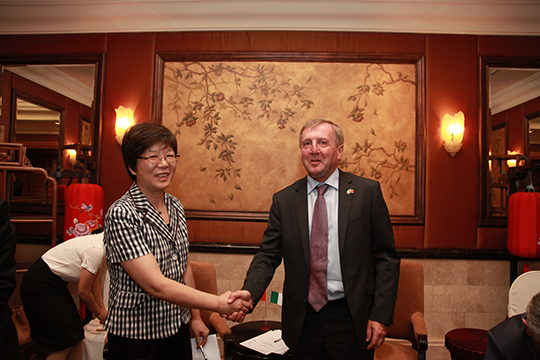 The Minister's visit was designed to:
Showcase Ireland as a source of high quality sustainably produced dairy products;
Progressing market access for Irish meats;
Expanding opportunities for our seafood sector;
Promoting Ireland as strategic partners for agri-food and agri-services; and
Facilitating and fostering increased business opportunities for Irish companies.
The visit was also a celebration of the tenth anniversary of a very successful internship programme for Chinese interns in Ireland which has seen some 40 Chinese officials receive training in Ireland.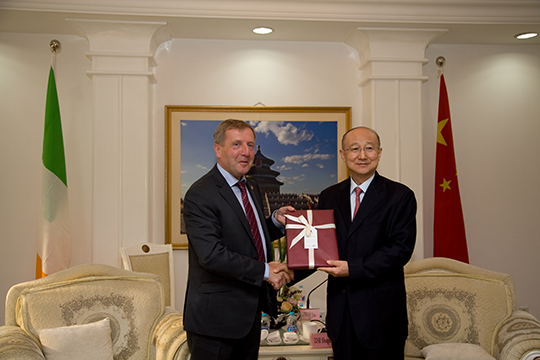 The "China-Ireland Global Food Partners" event in Beijing focused on further increasing Ireland's profile as an exporter of sustainably produced premium food. Bord Bia CEO Aidan Cotter outlined the assurance Origin Green gives to Chinese buyers and Enterprise Ireland and Sustainable Food Systems Ireland set out the expertise it can bring to the Chinese agri-food industry.
A Pork and Seafood Showcase with 200 guests was held in the Irish Embassy to highlight the role of meat and seafood exports to China, providing an opportunity to develop business connections between Irish companies and the select group of invitees from the Chinese food industry. Both our seafood and pigmeat sectors have seen their exports double in the last three years while our dairy exports now mark China as our second largest export market after the UK.
A website for the Chinese market promoting Origin Green, Ireland's unique food sustainability programme was launched by Minister Creed in Shanghai. Origin Green provides a crucial evidence base proving Ireland's credentials concerning environmental sustainability, making Ireland the world leader in this field 95% of our total food and drink exports, have registered to take part the Origin Green programme.
Minister Creed also witnessed the further development of business relations between Sanyuan and and Irish Dairy companies. This company has a history of trading with Irish dairy processors. Minister Creed remarked "I am delighted that Dairygold and Teagasc, were able to sign a Memorandum of Understanding with Sanyuan. This is a fitting testament to the quality and reputation of the entire Irish dairy industry."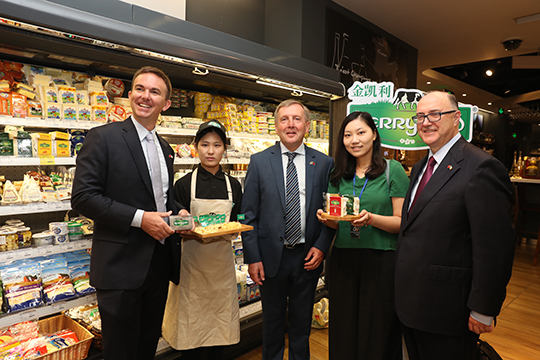 The Minister also held a successful meeting with the China National Cereals, Oils and Foodstuffs Corporation (COFCO). The COFCO Group is China's largest food processing, manufacturing and trading company, with revenues of more than €40 billion, and already purchases a significant volume of Irish food. In addition the Minister met with China Animal Husbandry Group and held a number of meetings with local and Irish companies during his visit.