First graduation at Beijing Dublin International College
On 4 July, the Ambassador attended the first graduation ceremony at Beijing Dublin International College. BDIC is a joint venture between University College Dublin and Beijing University of Technology with students receiving a degree from both institutions.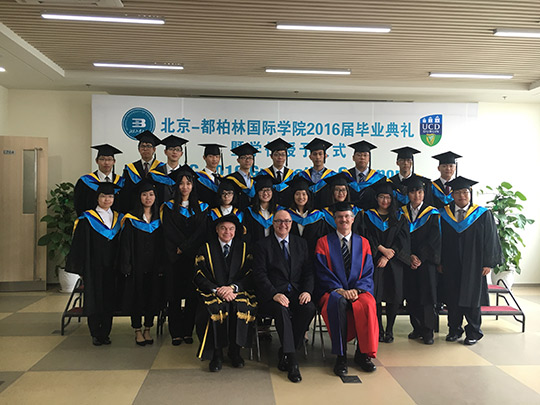 The development of the college followed the twinning of Dublin and Beijing in July 2011 and its establishment has received enthusiastic support from the Irish and Chinese authorities.
The signing of the contract to progress the project was witnessed by the then Vice-President Xi Jinping and An Taoiseach Enda Kenny during the Vice-President's visit to Ireland in February 2012. BDIC was formally launched in March 2013.
Teaching is jointly delivered by BJUT and UCD at BJUT's campus in Beijing. Graduates receive degrees from both institutions.
During its first academic year in 2012/2013, a small cohort of 24 students was recruited to a new degree programme, the Internet of Things Engineering, based on Electronic Engineering, Computer Science, and internet-enabled sensor and communications technologies. 20 graduated yesterday. 730 students are currently enrolled in the college, in three degree options across Electronic Engineering, Computer Science and Business.
Ambassador Kavanagh addressed the university and college leadership, faculty, graduates, and their parents during the ceremony.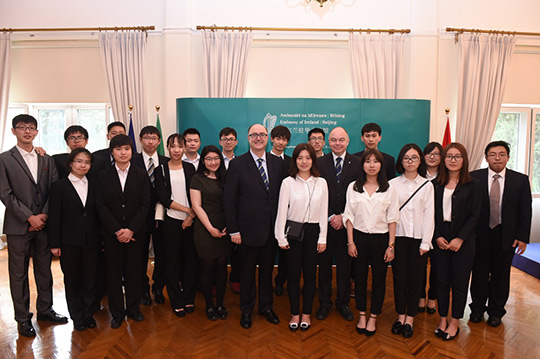 The graduates visited the Embassy in the afternoon for a reception at which they were encouraged by the Ambassador to consider Ireland for further education and future career opportunities in the technology sector.