China Education Mission led by Minister Bruton
Minister for Education and Skills Richard Bruton TD visited Beijing from 19-20 October. The Minister was accompanied by officials from his own Department, the Embassy, Enterprise Ireland, and senior representatives from 19 Higher Education Institutes.
Minister Bruton had a bilateral meeting with the Chinese Vice Minister for Education Mr Hao Ping (in charge of international education) during which it was agreed that increasing numbers of Chinese students should be encouraged to choose Ireland for higher education and that further efforts be made to increase the numbers of Irish students undertaking exchange programmes and further studies in China.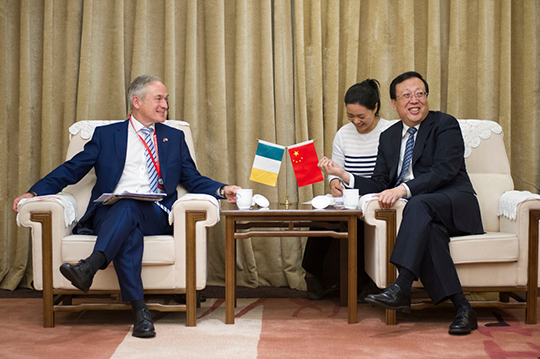 During the visit Ireland received the 'Country of Honour' award at the leading international education expo in China in 2016 (China Education Expo) from the China Education Association for International Exchange (CEAIE). The Minister delivered opening addresses at the plenary session and gala reception during which there was also a Culture Ireland presentation.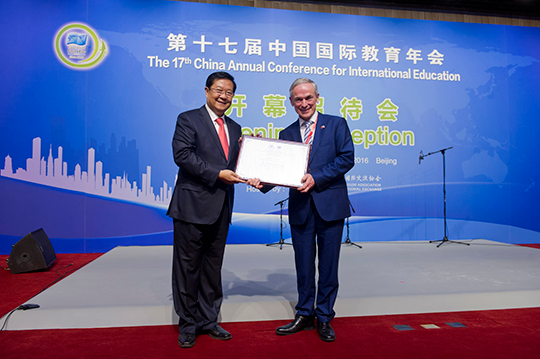 The Minister designated Deputy Secretary General Mary Doyle from the Department of Education and Skills to lead the delegation during the remainder of the visit in Beijing and Wuhan between 21 and 24 October.
At the China Education Expo, Education in Ireland organised and oversaw the presentation of 19 Irish Higher Education Institution stands which were visited by over 3,500 parents and students in Beijing, Shanghai and Guangzhou. Irish musicians and dancers 'Meitheal' provided entertainment and colour at the Irish pavilion throughout the two days in Beijing.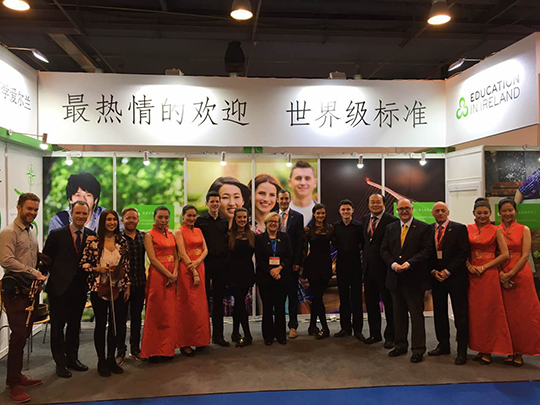 28 MoUs were signed between Irish and Chinese HEIs in the presence of the Minister, Deputy Secretary Doyle, Ambassador Paul Kavanagh and Head of Education in Ireland, Giles O'Neill. These included UCD's extended cooperation agreement with Beijing University of Technology which expands the number of programmes to five and students numbers to over 1,000 at Beijing Dublin International College, and a scholarship agreement between the D/ES, TCD, UCD and Beijing Foreign Studies University.
The delegation traveled to Wuhan in support of partnerships founded with local universities by TCD, DCU, AIT, LIT and GMIT. Hubei is located in central China and has over 1 million students in higher level education. The delegation was hosted during the visit by the Hubei Provincial authorities and the Wuhan Municipal Government.
Messages conveyed to Chinese audiences during the visit included showcasing Ireland as a safe, green, clean, English-speaking country, with excellent employability prospects for graduates due to the strong links between HEIs and industry.