Painting the town red! Dublin landmarks illuminated
In an historic first, the Mansion House and City Hall in Dublin were illuminated in red this week, to mark the 2016 Chinese New Year and welcome the Year of the Monkey‌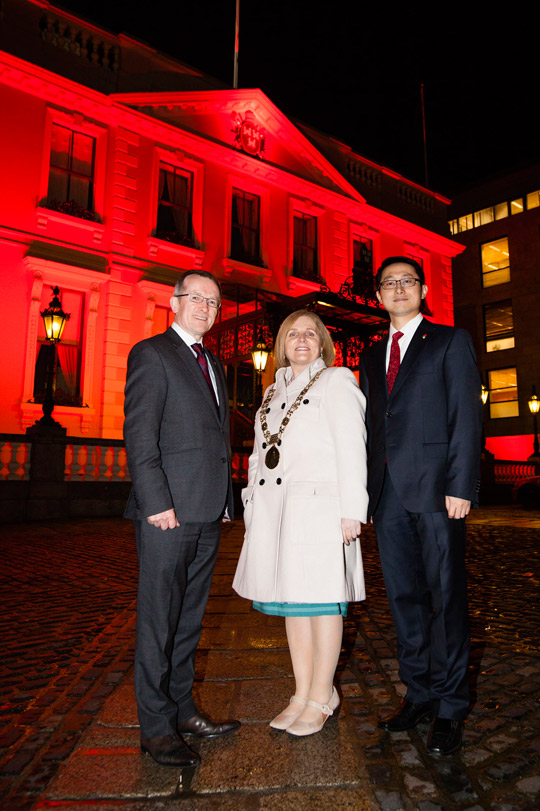 Dublin City Council and Tourism Ireland arranged for the two important civic buildings to be illuminated in red, in appreciation of Beijing's agreement to turn the iconic Great Wall of China into the 'Green Wall of China' over the past two years. The installation of green lights on the famous wall has been made possible by the combined efforts of the Irish Embassy and the Tourism Ireland team in China, as well as the Beijing Municipality Government.
HE Mr Jianguo Xu, Chinese Ambassador to Ireland, said: "I'm absolutely delighted to learn of the plan of Dublin City Council and Tourism Ireland to have the City Hall and the Mansion House lit up in red in honour of Spring Festival, which is also known as Chinese New Year.
"I commend Dublin City Council and Tourism Ireland for doing this in appreciation of, and in reciprocity for, Beijing's agreement to light up the Great Wall in green on St Patrick's Day since 2014. Red is China's national colour, and most appropriate for a festive occasion like the Lunar New Year.
"In my view, this is a historic gesture of genuine friendship, because this is the first time in the history of Ireland-China relations. I will convey the good news to China. I'm sure that the people in China will be delighted and they will regard turning iconic buildings red in Dublin as new evidence of friendship and good will, as well as a strong desire of the Irish Central and Local Governments to further enhance the positive and productive strategic partnership between Ireland and China.
"I'd like to take this opportunity to wish the Irish people a joyful, successful and fruitful Year of the Monkey!"
Ambassador of Ireland to to China, HE Paul Kavanagh, said " I'm thrilled to learn of this new development in Dublin which in response to the greening of the Great Wall in Beijing over the past two years. It is a significant gesture of friendship and solidarity by the Irish authorities towards the Chinese people and Dublin's twin relationship with Beijing. I have already shared the good news with my Chinese hosts and look forward to further opportunities during St Patrick's Day in March to demonstrate Ireland's warm relationship with China."
Niall Gibbons, CEO of Tourism Ireland, said: "Tourism Ireland was delighted to co-operate with Dublin City Council, to arrange for City Hall and the Mansion House to 'go red' this week. This is the seventh year of Tourism Ireland's Global Greening initiative and the fact that a major UNESCO World Heritage site like the Great Wall of China is taking part is a major triumph.
"China is an important emerging travel market and one that Tourism Ireland is committed to growing over the coming years. In 2015, we welcomed more than 45,000 Chinese visitors to the island of Ireland. Our aim is to grow the number of Chinese visitors to 50,000 per year, by 2017."
Peter Finnegan, Dublin City Council's Director of International Relations, commented: "Dublin and Beijing are sister cities. The Chinese community in Dublin is an influential and important part of our city. As China salutes our national holiday by lighting the Great Wall green, Dublin celebrates the Spring Festival and greets the Chinese New Year by turning our historic civic buildings red."‌