Iveagh House joins Dublin Pride celebrations
News
21 June 2019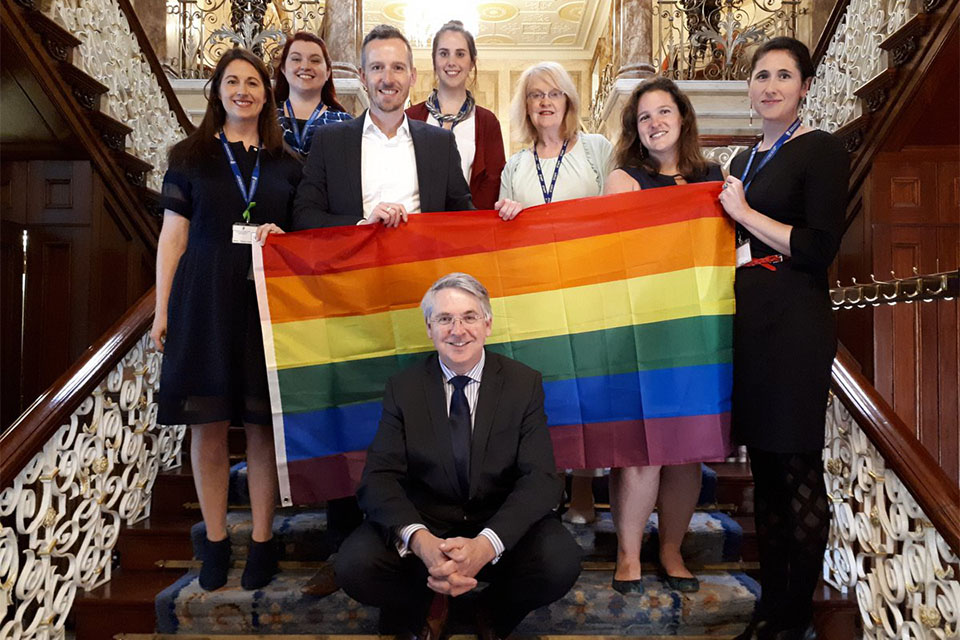 To mark the LGBTI+ Dublin Pride festival – June 20-29th 2019 – Iveagh House, the headquarters of the Department of Foreign Affairs and Trade will be lit up in the colours of the Pride flag.
Around the world, Irish Embassies and Consulates cooperate closely with EU delegations and Embassies of the other EU Member States to advocate for the rights of LGBTI+ persons, including advocating for the decriminalisation of homosexuality where it exists and against its criminalisation where this is contemplated.
During the month of Pride, our network of Consulates and Embassies will be participating in Pride parades, and hosting talks, workshops and events to celebrate the contribution and support the rights of the LGBTI+ community. Our Consulate in New York will be participating in World Pride, with over 400 members of the Irish community joining the parade there. Making Ireland's support visible through these initiatives and sharing Ireland's experience is an important part of ensuring that the rights of LGBTI+ people continue to be recognised and protected.
Internationally, Ireland continues to support initiatives condemning violence and discrimination on the basis of sexual orientation or gender identity as well as promoting the rights of LGBTI+ individuals in international fora by regularly making comments and recommendations on issues relating to sexual orientation and gender identity at the Human Rights Council, the Universal Periodic Review (UPR) and the Third Committee of the General Assembly.
In 2019, Ireland was proud to join the Equal Rights Coalition (ERC), an intergovernmental coalition dedicated to the protection of LGBTI people.
This year, DFAT LGBT staff, family members and allies will join over 550 other civil and public servants marching in the Dublin Pride parade. This is the first time that the civil and public service is participating in Pride.