Global Schools Programme launches around Ireland
Press release
10 January 2019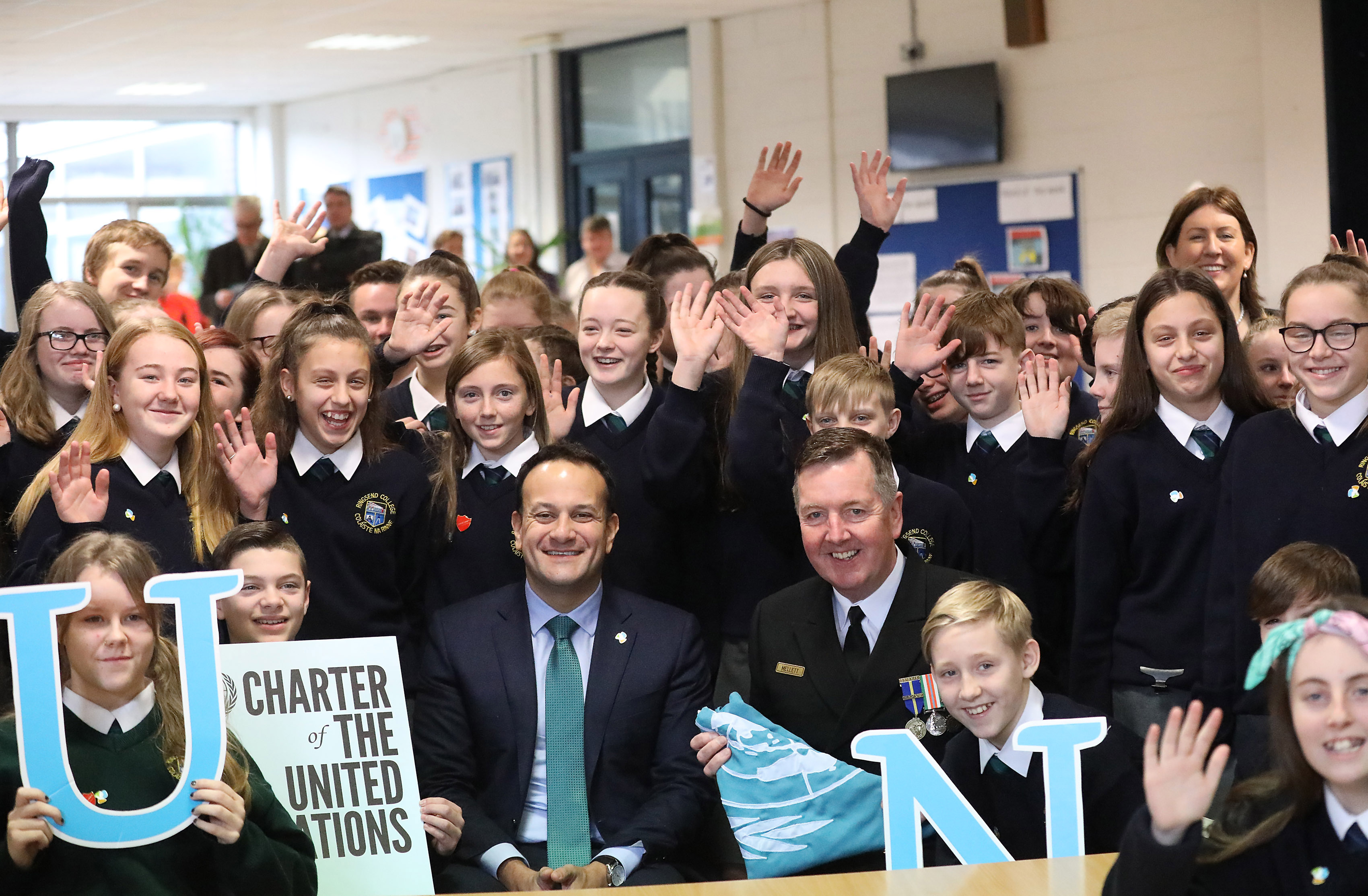 Today, Thursday 10 January, Irish Ambassadors and peacekeepers will begin the first phase of the 'Global Schools' programme, with visits to over 40 secondary schools around Ireland. This will give students around the country the chance to learn about our role in a changing world from diplomats and peacekeepers who have served Ireland abroad.
The 'Global Schools' programme will bring a deeper understanding of how UN membership has been central to our foreign policy, and has played a significant role in Ireland's history. Each school will be presented with a UN flag and a copy of the preamble of the UN Charter, in recognition of Ireland's contributions to addressing the biggest challenges facing our world today through peacekeeping, international development, human rights and disarmament.
This forms part of the 'Global Ireland' programme – the Government's strategy for doubling Ireland's international impact by 2025. In conjunction with the Departments of Education and Skills, and Defence, the 'Global Schools' programme will run throughout 2019, with staff from the Department of Foreign Affairs and Trade and Irish UN peacekeepers who have served abroad visiting secondary schools to engage students in the scope and ambition of 'Global Ireland'.
Speaking about the 'Global Schools' programme, Tánaiste and Minister for Foreign Affairs and Trade, Simon Coveney T.D., said:

"Through our peacekeeping operations around the world, the work of our diplomats, state agencies, and international development programme, Ireland has always proven that a small country can have a strong and decisive impact on the international stage.

"Although we are an island, Ireland has never been isolated, and must continue to show that we are part of that bigger world which exists beyond our borders.

"Because the shared challenges we face today also exist beyond borders, they cannot be solved by countries acting in isolation. Migration, climate change, armed conflict and hunger are global issues that require multilateral solutions.

"In 'Global Ireland', we set an ambitious target as a country to double our global impact and our footprint around the world by 2025. The 'Global Schools' initiative plays an important role in this by highlighting to secondary school students how our membership of the United Nations and European Union have affected Ireland's history, as we celebrate the centenary of our presence as an actor on the international stage.

"My hope is that this programme can inspire those students to realise the potential they have to make a real impact; be it in their schools, their local communities, or in the wider world."
ENDS
Press Office
10 January 2019
Notes to Editors
• Taking an All-of-Government approach, the 'Global Ireland' programme will double Ireland's global footprint in three key areas by 2025; how we trade, the bilateral and multilateral partnerships we build, and our wider contribution to the world.
• In line with this ambition, a core theme of 'Global Ireland' is ensuring that Ireland maintains a strong presence across multilateral organisations, and continues a proud record of active participation and achievement in the United Nations and the European Union.
• 2019 is the Centenary of Ireland as an independent international actor. The 'Global Ireland' programme includes marking this important milestone and aims to ensure strong citizen engagement with Ireland's long-term international policy objectives.
• The 'Global Schools' programme is a means of engaging second-level students across the country in the central elements of 'Global Ireland.'