Minister Cannon & the Design & Crafts Council of Ireland launch a new platform for Irish Designers
Press release
04 December 2018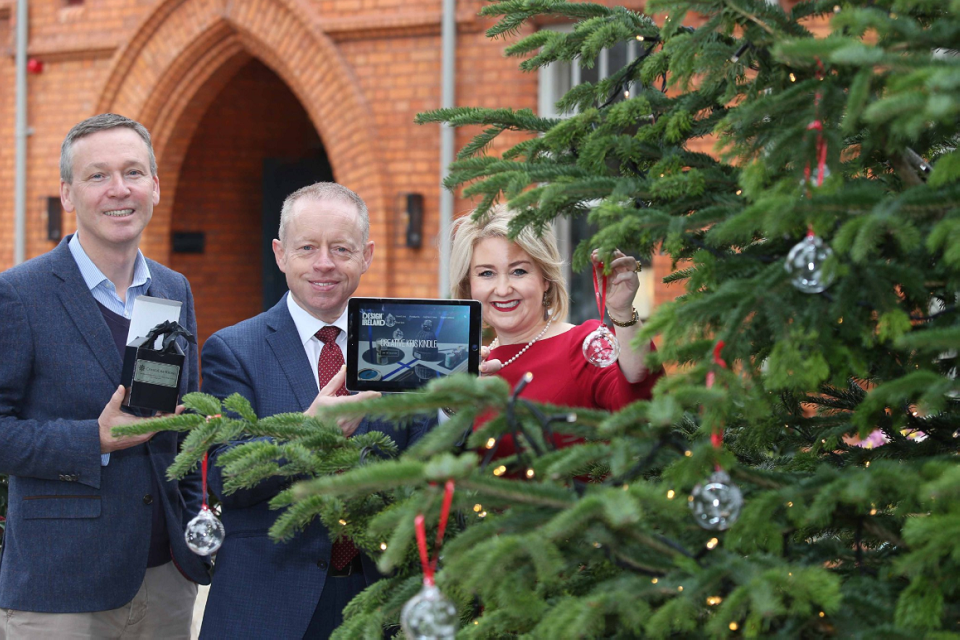 A new place for Ireland's diaspora to buy
design and craft products from their native county
Unique gifts now easy to source direct from the maker through DesignIreland.ie
Ireland's most talented designers and craftspeople to benefit from greater access to the Irish overseas thanks to this innovative initiative from the Department of Foreign Affairs and Trade (DFaT) and Design & Crafts Council of Ireland (DCCoI)
The Minister of State for the Diaspora and International Development, Ciarán Cannon TD today announced a new initiative that makes discovering and purchasing the work of the very best craftspeople and designers just a click away for the Irish abroad.
Research has shown that Ireland's diaspora are more and more seeking to find products from their native county. Up to now, this has been a challenge with no single place where this could be done.
DesignIreland.ie, the online selling platform presented by the Design & Crafts Council of Ireland, now offers an easy-to-use, by-county, searchable database to enable the Irish abroad to source unique products made in their home county and also to explore maker workshops they can visit on their next holiday to Ireland.
DesignIreland.ie is the definitive digital showcase for 180 of the very best designers and makers producing authentic jewellery, homewares, textiles, fashion, and giftware in counties across Ireland. Consumers can choose to buy online from trusted retail partners or direct from the maker's studio in their home county.
As online sales grow internationally it is crucial that Ireland's makers respond by making their work available to a global audience. DesignIreland.ie is a powerful tool to enable those abroad with an interest in Ireland to seek and discover the very best of what the country has to offer.
In addition, as part of this exciting cooperative initiative, DCCoI and DFaT have created a special log-in area on the site aimed at Irish Embassies abroad that will enable them to discover and purchase the work of these beautiful authentic Irish brands, direct from the makers.
Minister of State for the Diaspora and International Development, Ciarán Cannon TD, commented:
"Connection with place is of immense importance, not only to our emigrants but to people of Irish heritage around the world. This website enables our diaspora to go to their county of heritage and find genuine Irish crafts, from local designers and makers, which represent in a real and tangible way that powerful sense of connection with home".
Karen Hennessy, CEO of the Design & Crafts Council of Ireland, also commented: "Since its launch in November 2016 this online platform has been growing and developing steadily, linking consumers directly with Irish makers and designers both in this country and internationally. We are now also delighted to work with the Department of Foreign Affairs and Trade to provide this additional service to embassies worldwide through DesignIreland.ie, and look forward to seeing these important connections continue to grow."
Some of the brands featuring on DesignIreland.ie this holiday season are:
From County Clare:
Artisan perfumer, the Burren Perfumery launches the The Winter Woods Eau de Toilette, inspired by the hidden woodlands of the Burren and by herbal notes inspired by the trees, ferns and mosses of the area.
From County Dublin:
Textile designer and maker Jennifer Slattery has been designing and creating textile products for the home from her studio in Dublin since 2011. Her cosy lined lambswool scarf launches this winter.
From County Galway:
Rowan Beg Design Studios: From her Connemara studio, Nicola McGuinness has designed and created three all natural soy wax candle collections and bespoke pebble art. All made of the highest quality with a real emphasis on sustainability.
From County Donegal:
Triona, a fifth-generation tweed clothing brand based in Ardara, County Donegal. Established in 1984, Triona is dedicated to maintaining the heritage of Donegal Tweed through modern, contemporary design.
From County Waterford:
Criostal na Rinne, the craft maker of hand-cut crystal, based in the Waterford Gaeltacht of An Rinn launches a new mouth-blown, hand-cut glass bauble that would make a wonderful addition to any home, at Christmas time hanging from a tree or all year round as a decoration inside a window where it reflects the light beautifully.
Full collections of gift ideas and featured makers can be viewed at DesignIreland.ie
ENDS
Press Office
4 December 2018