669,806 Irish passports and 13,538 new Passport Cards issued in 2015 – Minister Flanagan
04 January 2016
669,806 Irish passports and 13,538 new Passport Cards issued in 2015 – Minister Flanagan
June and July were the busiest months for passport applications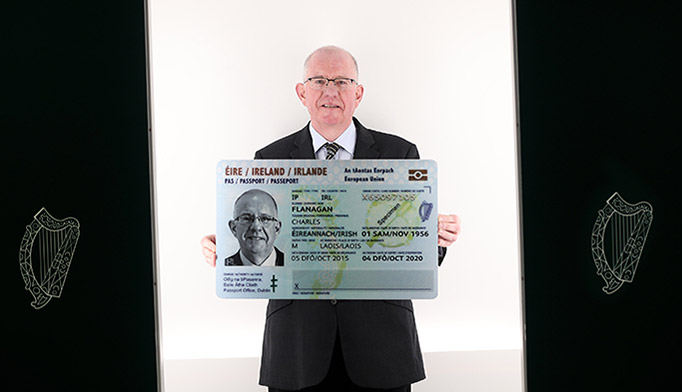 The Minister for Foreign Affairs and Trade, Charlie Flanagan TD, has announced details of the number of passports issued in 2015 and highlighted the success of the innovative new passport card.
Minister Flanagan said:
"2015 has been a very busy year for the Passport Service with a record number of passports issued. This represents a growth of 6.41% over 2014 and we expect this trend to continue in the coming years.
"This has also been a special year with the launch of new passport card in October of which I am particularly proud. The application process via our website and specially designed app reflects the Government's commitment to the expanded provision of online public services. The card has been an Irish-led and Irish-designed project that uses cutting edge technology and security features to provide high levels of convenience to customers.
"The card is valid as a passport in all 27 other EU Member States along with Norway, Iceland, Liechtenstein and Switzerland.
"Already over 13,500 cards have issued, of which almost 85% to men and the average age of applicants is 43. Three quarters of the applicants are based in Ireland with the majority of others based in the UK or the rest of Europe. I would encourage people to apply for a passport card, particularly those who travel frequently within Europe and those who have their passports at embassies for long periods awaiting visas. It is also useful for age-identification purposes."
The card complements but does not replace the Passport booklet.
The Minister went on to outline allocation of significant resources, as announced within Budget 2016, to reform and modernise the passport service:
"There have been significant improvements in customer service in recent years including the introduction of rapid renewal passport services, an appointments system in our passport offices and on-line tracking of applications. Further significant improvements are on the way.
"The passport reform programme – to which I will allocate €4m in 2016 - will see a more streamlined system to process passport applications in the coming years."
The Minister took the opportunity to remind citizens of services available and of the need to check the expiry date of passports and to apply outside the peak season:
"The Department has worked hard in recent years to ensure we provide a modern, secure and quick passport service.
"For those who need to travel at short notice (3-10 working days) the passport appointments service allows them to book an appointment online rather than queuing up to renew their passport.
"Customers can now track their application online and can also sign up for our reminder service to receive an alert three months before their passport expires."
Minister Flanagan encouraged Irish citizens to check the expiry date of their passport and to remember that many countries require incoming visitors to hold passports which are valid for at least six months.
On the seasonal surge in applications, the Minister commented:
"Almost 50% of applications for passports are generally received between April and July. Citizens who plan to renew their passport in 2016 are strongly advised to do so in the off-peak period to ensure the shortest renewal time."
Passports by Numbers in 2015
669,806 passports issued in 2015.
413,194 passports issued to adults.
480,829 applications Received through Passport Express, which represents a 3.67% increase over 2014.
68,416 applications were received through the London Passport Office.
55,059 applications were received through the Northern Ireland Passport Express service.
The Irish Embassy in Canberra had the highest demand for passports, issuing 6,436.
The following diplomatic offices had the highest demand after Canberra: New York (5,799); Sydney (3,630); San Francisco (3,430); and Pretoria (3,317).
85,239 passports issued in July 2015 and 80,083 passports issued in June 2015 – these were the busiest months.
ENDS
Press Office
4 January 2015
Notes to Editors:
A guide to How to Apply for a Passport, which takes Irish citizens through each step of their passport application and answers the most frequently asked questions, is available at https://www.dfa.ie/passports-citizenship/how-to-apply-for-a-passport/
On the Department of Foreign Affairs website, you can also access a Passport reminder service and a Passport Tracking service to allow customers to track the status of their application.
Details on the Passport Card, including eligibility and validity are available at https://www.dfa.ie/passportcard/.
The Passport Card can be used as a Passport document in the following countries: all 27 other EU Member States along with Norway, Iceland, Liechtenstein and Switzerland.
An appointment service is in operation at the Passport Office in Dawson Street, for those travelling at short notice (within 3-10 working days). Customers not travelling within 3-10 working days should use Passport Express. Priority at public counters is given to those travelling at short notice and the fastest turnaround time for such applications is three working days.
Passport Express is an easy-to-use, courier type service operated by An Post exclusively for passports. It is available throughout the post office network and has been in use since 1995.
Applications reach us quickly and more securely.
It costs less than ordinary mail or over-the-counter applications.
The Passport Service aims to have passports back in 10 working days from the day we receive it (this is subject to the demand at the time). For first time applicants or those who are replacing lost or stolen books, the processing time can take up to 15 working days, provided the application has been submitted correctly.
Better tracking of your application so you can plan your trip