Minister Flanagan commends positive bilateral talks with Minister Ayrault
01 December 2016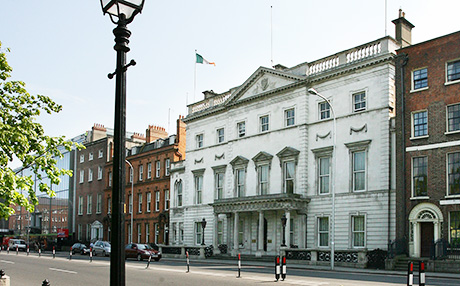 Minister Flanagan commends positive bilateral talks with Minister Ayrault
The Minister for Foreign Affairs and Trade, Charlie Flanagan, has concluded a two day visit to Paris focussed on bilateral relations, enhanced trade opportunities and EU and international matters, including Brexit.
This morning (Thursday), Minister Flanagan had a lengthy meeting with French Foreign Minister Jean-Marc Ayrault at the Quai d'Orsay. Following his meeting Minister Flanagan stated:
"Minister Ayrault and I had a very good discussion this morning about the most urgent foreign policy challenges facing our two countries. We reaffirmed our shared commitment to the EU, to our common values and to enhancing the already strong relations between our two countries which stretch back over 1400 years."
"I was reassured by Minister Ayrault's strong understanding of Ireland's unique situation in the context of Brexit, his commitment to supporting our Peace Process and the strong bonds of friendship between our governments and our countries."
"As well as Brexit and the EU more generally, we also discussed the tragic conflict in Syria, the situation in Ukraine and France's ongoing efforts to progress the Middle East Peace Process."
Later in the day the Minister addressed a group of Ireland's key business contacts in France and engaged with the State agencies with a presence in France including EI, the IDA and Bord Bia. Minister Flanagan said:
"I fully share Enterprise Ireland's view that there is enormous potential for Irish companies in France. While my EI trade mission focussed on the high potential and lucrative Cleantech sector, my other discussions made clear to me that there is great scope for our high quality food products to increase their market share in France."
The Minister also visited the Petit Palais which is currently hosting a very successful Oscar Wilde exhibition. The Minister was shown around the exhibition by Merlin Holland, grandson of Oscar Wilde. He said:
"I am delighted with the great success of this stunning exhibition - a wonderful showcase for Oscar Wilde's work and also for the Irish literary tradition. I congratulate all involved in bringing this initiative to fruition."
Minister Flanagan also met the Director of the Centre Culturel Irlandais; and was interviewed by France 24 for its "Talking Europe" show.
Ends
Press Office
1 December 2016
Note to Editors:
On Wednesday, Minister for Foreign Affairs and Trade Charles Flanagan TD led an Enterprise Ireland Trade Mission to Lyon focussed on the high potential cleantech sector, including a visit to Pollutec, one of the world's largest cleantech exhibitions, which featured seven Irish Clean-tech companies: Grant Engineering, Offaly; Galu, Kildare; Airsynergy, Longford; Greentech Biofuels, Kildare; FLI Group, Waterford; Ecocem Ireland, Dublin; and Tricel, Kerry.
In 2015, Enterprise Ireland clients generated €0.914Bn in exports to France
More information (in English) on the Oscar Wilde exhibition can be found at www.petitpalais.paris.fr/en/expositions/oscar-wilde
More information on the Centre Culturel Irlandais available at www.centreculturelirlandais.com/en/