Minister Sherlock leads trade mission to London
27 May 2015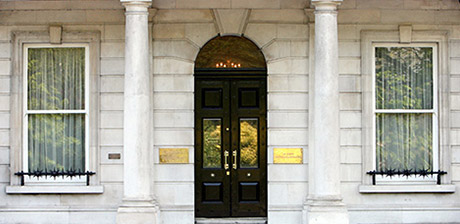 Minister of State Sherlock on aviation-focussed trade mission to the UK organised by Enterprise Ireland
The Minister of State for Development, Trade Promotion and North-South Co-operation, Seán Sherlock, TD, is today (Wednesday) leading an Enterprise Ireland trade mission to the UK, which will focus on increasing export opportunities for Irish companies in the aerospace, aviation and advanced engineering sectors.
The 13 Irish Enterprise Ireland client companies who will participate in this two-day trade mission collectively employ 793 people and recorded turnover of over €160 million in 2014, of which more than €21 million was exported to the UK market.
There are over 250 companies active in the aviation sector, contributing approximately €4.1 billion to GDP and supporting 42,000 jobs in Ireland. 150 companies are Enterprise Ireland clients, accounting for 18,000 jobs.
The importance of trade between Ireland and the UK is highly significant as the UK continues to be the single most important export market for Irish-owned businesses. Exports from EI client companies to the UK increased by more than 9% in 2014.
Speaking in advance of the trade mission, Minister Sherlock said:
"Ireland has a long tradition in aviation and aerospace which has led to the development of a wide range of skills and competencies in aircraft maintenance and airline support services.
"Our capacity to offer turn-key solutions for many leading airlines means that Ireland is now seen by the global aviation industry as a market leader.
"Irish companies, such as those present on this mission, have won business in seriously challenging market conditions and to do so have invested in understanding the market and the requirements of some of the toughest professional procurement and business teams in the world. They are part of Ireland's continuing success story."
Marina Donohoe, UK & Northern Europe Manager, Enterprise Ireland added:
"The focus of this trade mission is to grow the level of exports by Enterprise Ireland client companies into the UK aviation and aerospace sectors, and consequently increase employment in Ireland.
"Ireland's established aviation industry includes six of the top ten aircraft leasing companies which are based in Ireland. Remarkably, over 40% of the €83 billion managed by aircraft leasing companies worldwide is managed from their Irish headquarters.
"Ireland is also leveraging its experience in aviation by expanding its supply chain capability in aerospace to support unprecedented growth in this industry."
ENDS
Press Office
27 May 2015