Minister Flanagan concludes Enterprise Ireland trade mission to South Africa
29 May 2015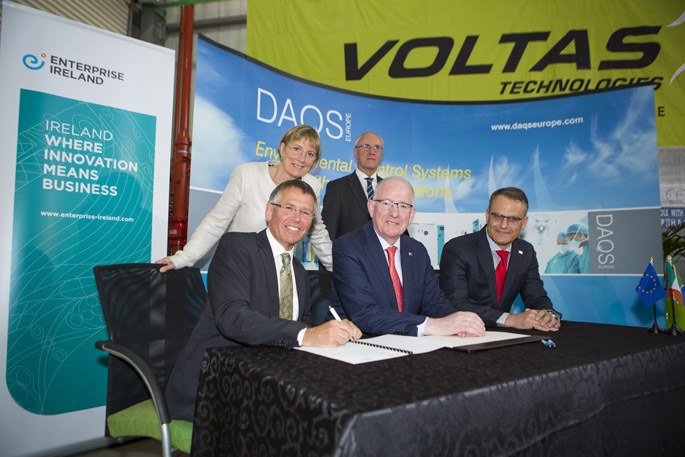 Minister Flanagan concludes Enterprise Ireland trade mission to South Africa
Minister Flanagan concludes Enterprise Ireland trade mission to South Africa
In excess of €12 million in contracts for Irish companies among initial, immediate results of South Africa trade mission – Minister Flanagan
Contracts worth over €12 million for Irish companies are among the initial results of the trade mission to South Africa, led by Minister for Foreign Affairs and Trade, Charlie Flanagan, TD, this week. Minister Flanagan is today (Friday) concluding a four-day Enterprise Ireland trade mission to the South Africa.
Dozens of leads for Irish exporting companies have been created or progressed during the 4-day mission in which 34 Irish companies from all over Ireland participated in over 200 one-to-one meetings with South African companies targeting export opportunities across the technology, telecommunications, aviation, engineering, energy, food and financial services sectors.
Today Minister Flanagan also visited a school participating in the Amawele schools-twinning project which is supported by Irish Aid.
Speaking from South Africa, the Minister remarked:
"I have been particularly struck by the energy, enthusiasm and innovation of the Irish companies participating in this trade mission, and the positive reception they have received here in South Africa. This is testament to the high level of preparation of the companies themselves, their strong networking abilities and the firm groundwork laid by the Embassy of Ireland, Pretoria and Enterprise Ireland over many years.
"We see South Africa as the gateway to sub Saharan Africa and this trade mission has showcased Ireland as the gateway to the EU market of 500 million consumers.
"I was delighted to have the opportunity during this visit to visit the Vuyani Primary School in the Gugulethu township on the outskirts of Cape Town and to meet with the children participating in the Amawele schools-twinning project which has been supported by my Department. I also met with the team managing the Amawele project here in South Africa and joined the children for a video-call with their twin-school in Ireland, St Columba's National School in the North Strand, Dublin."
A number of contracts and partnership signings were announced during the trade mission, including partnership agreements between College Ireland Aviation Services (CIAS) and Mega Aviation Training Academy (MATA), Johannesburg, for the delivery of aviation training and academic programmes in Southern Africa, and between AuBren DAQS and Voltas Technologies, to introduce AuBren's special brand of precision air handling systems to Africa. The latter is understood to have a value of €3m to €5m over the next four years and should see Portlaoise-based AuBren increase its international staffing by fifty per cent.
Julie Sinnamon, CEO, Enterprise Ireland, who is accompanying Minister Flanagan on the trade mission concluded:
"A key element of Enterprise Ireland's strategy is to grow indigenous Irish companies on a global scale. Ministerial-led trade missions provide a strong platform to promote Ireland and Irish companies as strategic partners across multiple sectors in key international markets. This trade mission has put a spotlight firmly on the range of great products and services coming out of Ireland. It has also highlighted the significant opportunity that exists within the African markets for innovative Irish companies. Of the 34 companies who participated on this mission, some have signed contracts. Others have made important contacts and will progress these in the coming months. Enterprise Ireland will continue to work closely with these companies as they grow their export sales in African markets and create jobs in Ireland."
ENDS
Press Office
29 May 2015