Statement by Minister Flanagan regarding developments at Stormont
10 March 2015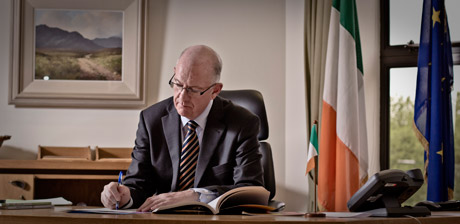 Statement by Minister Flanagan regarding developments at Stormont
During the course of the day, the Minister for Foreign Affairs and Trade, Charlie Flanagan, TD, closely monitored developments in Stormont and spoke to the deputy First Minister, Martin McGuinness, the Secretary of State for Northern Ireland, Theresa Villiers and SDLP Leader Alasdair McDonnell.
Speaking this evening, Minister Flanagan stated:
"Today's developments in regard to the Welfare Bill in the Northern Ireland are deeply disappointing. While the content of this Bill is primarily a matter for the parties in the Northern Ireland Executive and the British Government, an agreed way forward on welfare was a key component of the Stormont House Agreement. Failure to implement this aspect could have a corrosive impact on the wider implementation of the Agreement.
"Accordingly, I call on the Northern Ireland parties, and in particular Sinn Féin and the DUP, to avail of the time and space provided by the deferral of the Bill to work together to find a solution to the current difficulties on welfare. Such a solution can only be found by patient and mutually respectful dialogue.
"It would be a great shame if the gains of the Stormont House Agreement were compromised by today's developments. The prospect of a new beginning offered by that agreement is still available if political leaders in Northern Ireland have the courage and determination to recommit to its full and faithful implementation. The Irish Government will support all good faith efforts to achieve such implementation."
ENDS
Press Office
9 March 2015