Minister highlights potential for increased trade with Scotland
05 February 2015
Minister Flanagan highlights potential for increased trade with Scotland and benefits of EU membership in keynote address to the University of Edinburgh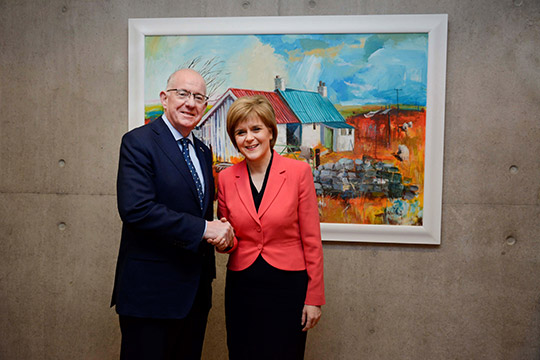 ‌
Minister for Foreign Affairs and Trade, Charlie Flanagan TD, today highlighted the potential for increased trade between Ireland and Scotland and set out the Government's position on the UK's EU membership in a keynote address to the Europa Institute in Edinburgh.

Minister Flanagan, who is in Scotland on his first official visit, is also meeting with Scottish First Minister Nicola Sturgeon, Fiona Hyslop, Secretary for Culture, Europe and External Affairs and Secretary of State for Scotland, Alistair Carmichael, as well as representatives from the Irish, business, academic and cultural communities.

In his address to the Europa Institute at the University of Edinburgh, he said:

"The UK is Ireland's most important trade partner, with two-way business valued at € 1 billion per week. Within the framework of the British-Irish relationship, our links with Scotland are particularly important. The Irish and Scottish economies have much in common. Our economies are open and diverse, and growth is closely linked to our performances in terms of exports and tourism. We thus share an interest in free trade and competition.

"The level of business exchange between Ireland and Scotland is robust and growing. Irish companies such as AIB, Bank of Ireland, Glennon Brothers, Sisk, Roadbridge and many others are heavily engaged in generating business and jobs in Scotland. In all, more than 250 indigenous Irish companies are exporting goods and services to Scotland. In Ireland, Scottish-based companies like SSE - Scottish and Southern Electricity - which owns Airtricity, are making an enormous contribution to our economy.

"The Low Carbon economy is very much a part of Ireland's bilateral agenda with Scotland and I expect to see particular growth in trade, investment, and collaborative research in this area. There is great potential synergy between the business sectors of Scotland and Ireland in the fields of renewable energy, clean-tech, water and waste treatment, and other sustainable technologies.
"I firmly believe that there is scope and demand for greater research collaboration across our university sectors and linking higher education institutions with industry. Work is ongoing to explore and identify concrete ways in which Ireland and Scotland can collaborate in the context of the EU's Horizon 2020 programme, building on the strong connections between our research communities."
Addressing the benefits of EU membership, Minister Flanagan said:
"Being in the EU - together - has facilitated commercial links between our two countries. It has helped our respective businesses forge sustainable and enduring relationships with one another, to the benefit of both of our economies. The EU has boosted tourism and travel, making Ireland and Scotland better connected while simultaneously opening us to the world beyond.

"But the advantages of EU membership extend beyond improving relations between the Irish and Scottish people. In Ireland, the EU has simply been a force for good, in economic, social and political terms. And it has exerted an especially positive influence on Northern Ireland, helping to both encourage peace and reconciliation as well as contributing jobs and growth to its people.

"That is not to say we are blinkered when it comes to assessing the utility and effectiveness of the EU. We know it is not perfect and that there is plenty of room for improvement. It is simply that - from our experience - the net benefits of membership far outweigh any perceived negatives.

"It will come as no surprise to you, therefore, to hear me say that we in Ireland want the UK to remain firmly within the EU. The Taoiseach and I, and our colleagues in the Irish Government have been clear and upfront in expressing this position over the last number of months. I know that Scotland values EU membership and that it recognises its particular importance in the context of the Scottish-Irish relationship. Cabinet Secretary Hyslop made that point very candidly when she was in Dublin last week, and I am grateful to her for doing so.

"There will undoubtedly be much more debate, both in Scotland and across the UK, on the merits of the EU and the UK's place in it. Ireland has made clear where it stands on this debate. Like no other platform, like no other community, the EU amplifies our voice, our values, and our influence in the world."

Minister Flanagan's programme also includes a meeting with Enterprise Ireland client companies now operating in Scotland. Cultural elements will include a meeting with the National Museum of Scotland and the launch of the Yeats2015 celebration of the 150th anniversary of WB Yeats' birth.
ENDS
Press Office
February 5, 2015