Visit highlights scale and potential of trade between Ireland and Scotland
06 February 2015
Minister Flanagan's Edinburgh visit highlights scale and potential of trade between Ireland and Scotland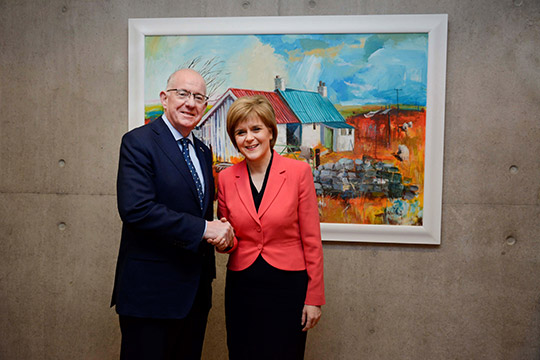 Following a first day focused on political and education links, including a meeting with First Minister Nicola Sturgeon, Minister Charlie Flanagan focused the second day of his visit to Scotland on Ireland and Scotland's economic and trading relationship.
This morning the Minister met with three Enterprise Ireland client companies with operations in Scotland, AGEC, Coastway Surveys and Clandillon Consulting, all expanding companies in the geo-surveying and engineering sectors.
The Minister said:
"These three companies, pursuing and winning business in the infrastructure and renewable energy sectors, represent the kind of dynamic Irish entrepreneurs who make great partners for Scotland. With well over 300 Irish companies now exporting to Scotland and with that figure growing each year, such business partnerships can only grow and grow".
Latest full-year figures show that Enterprise Ireland client companies achieved at least €270 million (food and non-food) in exports to Scotland in 2013. The products and services supplied by these Irish companies are diverse in nature, while construction services, electronics and clean technologies are the leading exports accounting for almost 50% of this figure. Coupled with other key sectors such as tourism (with Scotland accounting for 10% of visits from Great Britain to Ireland), the potential for growth is clear.
The Minister added:
"Like the Irish, the Scottish people are developing and growing their economy through trade, with impressive growth in recent years. Ireland and Scotland can grow bilateral trade even further, building on the natural friendship that has existed for years, the increased transport links and fact that Ireland's recovery is now firmly underway.
To support this activity, I'm determined to ensure a steady flow of visits to Scotland by government representatives and for those visits to include strong trade elements. Later this month, my colleague Minister Alex White will visit with a business delegation for the Low Carbon Scotland event, while I will be arranging for ministerial representation in Scotland for St Patrick's Day".
The Minister also noted the scale of Scottish investment in Ireland in sectors such as financial services (e.g. Standard Life) and energy (e.g. SSE Airtricity).
ENDS
Press Office
6 February 2015