Minister Flanagan meets Secretary of State for Northern Ireland
11 February 2015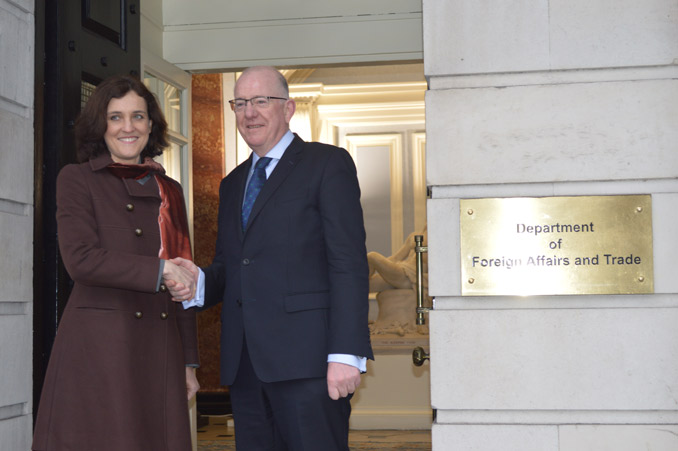 The Minister for Foreign Affairs and Trade, Charlie Flanagan, TD, will today (11th February 2015) meet with the Secretary of State for Northern Ireland, Theresa Villiers, in Iveagh House.
The meeting is part of the on-going consultations between the Irish and British Governments on Northern Ireland issues in general, and on follow-up to the Stormont House Agreement of last December in particular.
Speaking ahead of the meeting, Minister Flanagan said:
"I am glad to welcome Secretary of State Theresa Villiers to Iveagh House once again to continue our work together on Northern Ireland issues. The particular focus of our discussions today will be on the on-going implementation of the Stormont House Agreement of 23rd December 2014.
"I am very pleased that when Theresa Villiers and I met with the Northern Ireland Executive parties on 30 January that a comprehensive implementation timeline was agreed with the Northern Ireland Executive party leaders. The success of the Agreement is contingent on the faithful implementation of the totality of its provisions. I would encourage all the Northern Ireland party leaders who subscribed to the Stormont House Agreement to maintain that full support during the implementation phase, as the Irish Government will do also."
ENDS
Press Office
11 February 2015