Minister Flanagan to open a 'new chapter' in Irish-Scottish Relations
05 February 2015
Minister Flanagan to open a 'new chapter' in Irish-Scottish Relations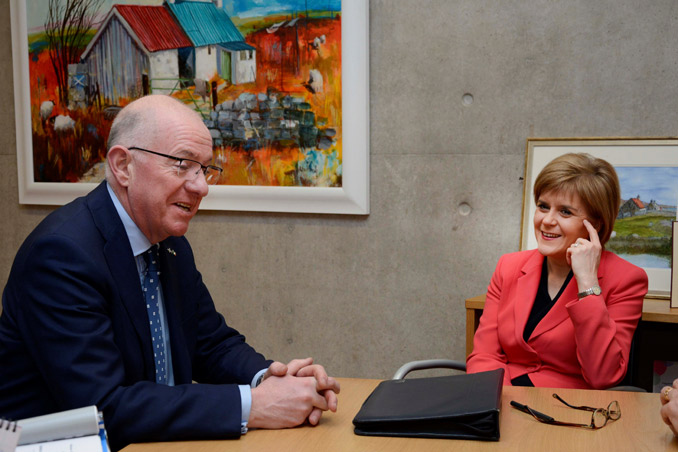 Minister for Foreign Affairs and Trade, Charlie Flanagan TD, today (Thursday) will meet with Scottish First Minister Nicola Sturgeon as part of his first official visit to Scotland. Minister Flanagan's visit marks the opening of a new chapter in Irish-Scottish relations and the two-day official programme will emphasise Ireland's interest in expanding trade, business, research and cultural links with Scotland.
Minister Flanagan will also meet with Fiona Hyslop, Secretary for Culture, Europe and External Affairs and Secretary of State for Scotland, Alistair Carmichael, as well as representatives from the Irish, business, academic and cultural communities.
His programme will include a meeting with Enterprise Ireland client companies now operating in Scotland. Cultural elements will include a meeting with the National Museum of Scotland and the launch of the Yeats2015 celebration of the 150th anniversary of WB Yeats' birth.
Speaking ahead of his meetings with the Scottish Government and Secretary of State for Scotland, Minister Flanagan said:
"I will be sharing with First Minister Sturgeon, Cabinet Secretary Hyslop and Secretary of State Carmichael our determination to make the most of the great potential offered now by Ireland's relations with Scotland. Just as Ireland completes its transition from austerity and recession to recovery and job creation, Scotland moves forward following its extraordinary national debate leading to the referendum of last September".
The Minister will also deliver a keynote public address at the Europa Institute of the University of Edinburgh, entitled "Irish-Scottish Relations: a New Chapter".
The Minister said:
"I intend to set out some elements of what we can add now to Ireland's strong and important relationship with Scotland. We want to see more two-way trade and investment, more tourism exchange, more research collaboration, more exchange of people and ideas.
Government support will be provided for these, including through official visits and exchanges and through the assignment of an additional diplomatic officer to Ireland's Consulate General in Edinburgh."
More than 250 indigenous Irish companies are exporting goods and services to Scotland while Scotland accounts for almost 10% of all visitors from Great Britain to Ireland. It is intended to seek new growth in the Irish-Scottish business relationship, especially in high-potential sectors such as renewable energy, clean-tech, water/waste treatment and other sustainable technologies.
ENDS
Press Office
05 February 2015