Ministers Flanagan & Sherlock meet FM Robinson & dFM McGuinness at NSMC in Belfast
News
25 February 2015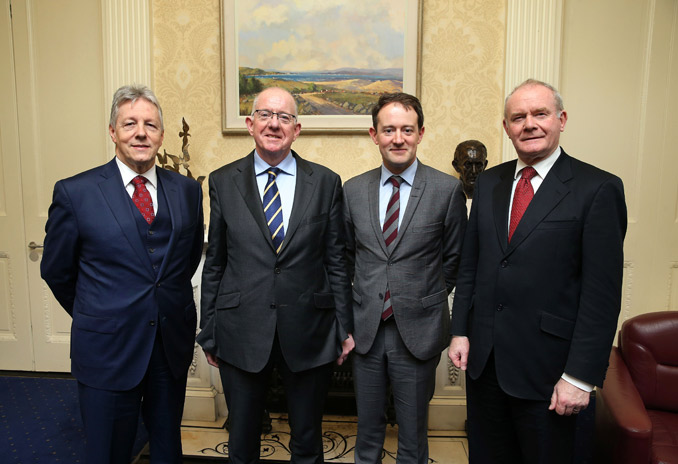 Ministers Flanagan & Sherlock meet FM Robinson & dFM McGuinness at NSMC in Belfast
Ministers Flanagan & Sherlock meet FM Robinson & dFM McGuinness at NSMC in Belfast
The Minister for Foreign Affairs and Trade, Charlie Flanagan, TD, and the Minister of State for Development, Trade Promotion, and North South Co-Operation, Seán Sherlock, TD, met in Belfast today with the First Minister, Peter Robinson, and deputy First Minister, Martin McGuinness, for a North South Ministerial Council Institutional Meeting. In this format, the NSMC considers institutional and cross-sectoral issues, including in relation to the EU.
The positive meeting included discussion on new priorities for North South co-operation, in line with the Stormont House Agreement of last December. It was also agreed that there would be meeting of Ministers from both Administrations in May in the North West that will focus on the future strategic approach to the region.
The meeting also featured discussions on general North South economic issues as well as issues relating to the functioning of the Council and North South Bodies.
Speaking from Belfast today, Minister Flanagan said:
"North South cooperation is going from strength to strength. In 2013 cross-border trade broke the €3 billion mark, which was a 7% increase on the previous year. At today's meeting in Belfast, we delivered on one of the commitments we made at Stormont House last December by agreeing a report on new priorities for North-South co-operation. It is clear that there is significant scope for greater co-operation in areas that deliver tangible benefits to the people of this island such as higher and further education, agri-food, energy, climate change, creative industries and sport.
"Through our work to make the commitments of the Stormont House Agreement a reality and through making significant decisions on North South matters, we are ensuring that this new co-operation can happen."
Minister of State Sherlock added:
"I am particularly pleased that we saw progress today on planning for the North West Gateway Initiative meeting. This will be a key opportunity for Ministers from both North and South to bring a strengthened focus to the North West region. I know from my visits to Derry that it will be a welcome development for everyone living in the region."
ENDS
See: www.northsouthministerialcouncil.org
Press Office
25 February 2015