Minister Flanagan highlights value of trade with Britain
05 September 2014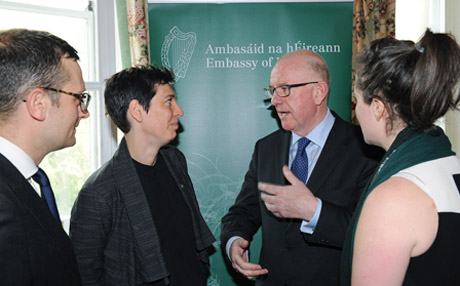 Minister Flanagan meeting representatives of Irish business networks on his first official visit to London
Minister for Foreign Affairs and Trade Charlie Flanagan T.D., highlighted the importance of trade with Britain to Ireland's economic recovery during his first official visit to London today.
Two-way trade in goods and services is worth almost €1 billion per week and the UK remains Ireland's largest export market.
Minister Flanagan met Enterprise Ireland and the IDA in London to discuss the Government's ongoing work to boost trade across the Irish Sea. The Irish Ambassador to Britain heads up Ireland's market team in the UK, which includes representatives of State Agencies and is crucial to maintaining and growing this trade.
Speaking at the Irish Embassy, the Minister said:
"The economic relationship with Britain is stronger today than at any time in history and continues to flourish as a result of the hard work, innovation and networking skills of Irish companies and the Government supports which assist them to grow. Additionally, 50,000 Irish people are directors on UK boards.
"The UK accounted for 42% of our exports in food and drink last year. It is also the largest recipient of Irish services exports. The Dublin-London air route is the second busiest international corridor in the world, with 3.6 million passengers in 2013. The Government is committed to ensuring that Ireland's embassy network, together with our State Agencies, continue to deliver for Ireland.
Minister Flanagan also praised Irish business networks for the role they have played in Ireland's economic recovery. He met a number of Irish business networks, whose membership reflects a range of professions including finance, law and construction.
He also met Irish community organisations and thanked them for the strong voice they provide for Irish people in Britain.
The Minister commented:
"The Irish Government places great value on the Irish abroad who act as ambassadors for Ireland – encouraging colleagues to do business in Ireland, to visit Ireland, to invest in Ireland. You've played a major role in our comeback story and we'll support you to be part of our future story'
Later this evening, the Minister will meet with a small group of members of the Global Irish Network, the international network of influential Irish and Irish-connected business people which advises the Government and works closely with our Embassies around the world.
Tomorrow the Minister will visit Ruislip, the home of London GAA, and will deliver the keynote address at the annual conference of the British Irish Association in Oxford.
Press Office, 5th September