Ministers meet all NI Executive Parties in Belfast as first phase of Talks is completed
30 October 2014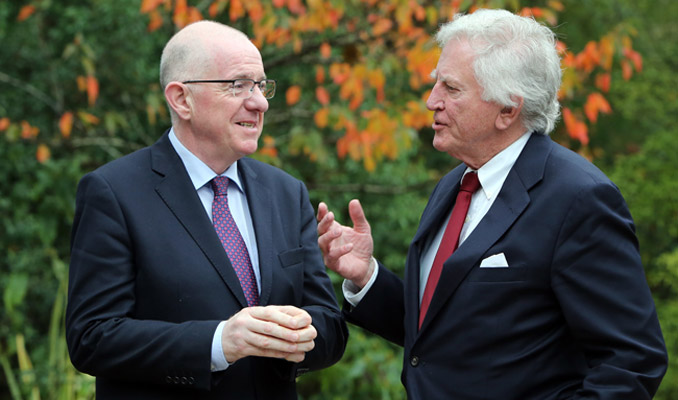 Minister for Foreign Affairs and Trade, Charlie Flanagan, and Minister of State, Seán Sherlock, spent Wednesday and Thursday engaged in meetings with all of the NI Executive Parties, with the Secretary of State for Northern Ireland, and with the US Secretary of State's Personal Representative, Senator Gary Hart.
Speaking from Belfast, Minister Flanagan said:
"Today the first round of the Talks process was completed. My sense from my meetings with each of the NI Executive parties and with the Secretary of State is that we go into next week with renewed energy and positive commitment.
"This afternoon, I had a very good first meeting, in the context of the Talks, with First Minister Peter Robinson and his DUP team. Before that, Minister of State Seán Sherlock and I met with Senator Gary Hart, whose presence in Belfast this week has been helpful in focusing minds on the work at hand and on the need for continued progress over the coming weeks.
"Political discussion has now taken place across the four work streams of the Talks. The Secretary of State and I are agreed that progress has been made on identifying areas for the next phase of Talks.
"I will be returning to Belfast next week, when it is proposed that there will be a collective review of the process so far, and to set out next steps in these Talks."
Speaking today, Minister of State Seán Sherlock said:
"This week I had constructive meetings with a number of the Executive parties, who made clear that, notwithstanding the significant challenges, substantive work has begun. In the Statement of Priorities last July the Government set out our commitment to securing an agreement in Northern Ireland that is comprehensive, lasting, and that deals with all the necessary issues. We will continue to work with the British Government, the parties in Northern Ireland, and Senator Hart to achieve that."
ENDS
Press Office
30 October 2014