South Africa Gaels visit highlights support for global GAA
27 March 2014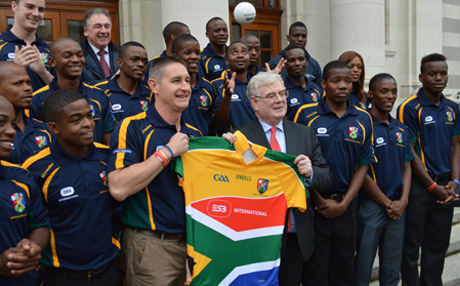 South Africa Gaels present the Tánaiste with a jersey at Government Buildings. The Gaels toured Ireland in advance of the Gulf Gaelic Games
South Africa Gaels recently dropped by Government Buildings to present the Tánaiste with a jersey. They are one of a number of clubs to receive grants under the Global Games Development Fund for 2014 - a joint initiative of the GAA and the Department of Foreign Affairs and Trade to promote our national games in new locations around the world.
The South Africa Gaels are a touring side largely made up of young men drawn from 3 GAA teams in the Johannesburg township of Alexandria. Their Irish trip showcases the new African GAA and involved games in Dublin and in Belfast, together with trips to Croke Park, Áras an Uachtarán, Government Buildings and Stormont.
The Gaels received a grant of €7,300 under the Global Games Development Fund so support their activities in 2014. The aim of the Fund is to support GAA projects abroad, outside of traditional bases in Britain and the US.
The aim of the Global Games Development Fund is to support the growth of the GAA outside traditional bases in Britain and the US.
The development of the game in South Africa brings it to a new playing audience and also furthers the objectives of our Emigrant Support Programme by providing a social outlet for established Irish communities. The Gaels are strongly supported by the Irish South African Association and Business Ireland South Africa.
Following games against St Marys College Belfast, St Vincents and Ballyboden St Endas in Dublin, the South Africa Gaels travelled onwards to Dubai to participate in the 2014 Gulf Gaelic Games.
Global Games Development Fund
Projects under the Global Games Development Fund are funded 50% by the GAA and 50% from the Emigrant Support Programme. The following projects have been funded for 2014:
| | | |
| --- | --- | --- |
| Asia | Myanmar Celts GAA | €4,000 |
| | Suzhou Eir Og, China | €3,000 |
| | Asian County Board | €8,000 |
| | Hong Kong GAA | €5,000 |
| | | |
| Australasia | Queensland GFHA | €6,000 |
| | | |
| Canada | Ottawa Gaels | €1,500 |
| | Toronto Camogie Summer League | €2,000 |
| | St John's Avalon Harps GAA | €5,000 |
| | Montreal Shamrocks GAC | €2,500 |
| | Regina Gaels GAA | €6,000 |
| | Wolfe Tones GAA | €1,000 |
| | Vancouver ISSC | €4,000 |
| | | |
| Europe | Vienna Gaels | €1,500 |
| | Slovak Shamrocks GAA | €1,000 |
| | Munchen Colmcilles GAA | €7,500 |
| | Moscow Shamrocks GAA | €2,000 |
| | Den Haag GAA | €3,500 |
| | Tolosa Gaels | €2,500 |
| | Brussels GAA | €2,500 |
| | | |
| Middle East | Middle East County Board | €10,000 |
| | | |
| Africa | South Africa Gaels | €7,300 |
ENDS
Press Office
27 March 2014