Gilmore in Washington to discuss undocumented Irish
18/6/14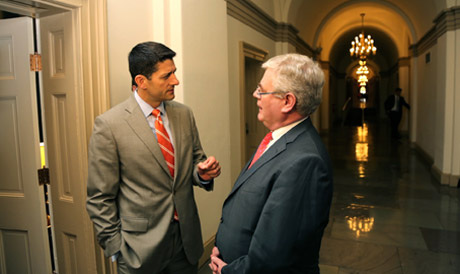 The Tánaiste on Capitol Hill in discussion with the former Vice-Presidential candidate, Congressman Paul Ryan
The Tánaiste and Minister for Foreign Affairs and Trade, Eamon Gilmore, T.D., is beginning two days of meetings in Washington D.C. to highlight the plight of over 50,000 undocumented Irish people currently living in the U.S.
The Tánaiste will meet with several influential Republicans and Democrats on Capitol Hill, including former Vice-Presidential candidate Congressman Paul Ryan, to push for reform of the American immigration system.
During his meetings, the Tánaiste will also discuss the establishment of a visa regime for future legal migration between Ireland and the US as part of a comprehensive reform package.
Last year the US Senate approved a comprehensive immigration reform bill which would allow for a so-called "path to citizenship" for the almost 12 million undocumented migrants living in the US.
Since then, the focus has been on the Republican-controlled House of Representatives, where it is hoped cross-party support can still be secured for proposed reforms of the immigration system.
Speaking ahead of his departure, the Tánaiste said:
"We are focussed on trying to end the great hardship and uncertainty faced by undocumented Irish people living in the US, and by their families at home in Ireland.
Securing overall agreement on US immigration reform will continue to be a complex and difficult process, but I am here to make sure that the Irish dimension to this debate is kept to the fore."
While in the US, the Tánaiste will also discuss the political talks in Northern Ireland with members of Congress and with Richard Haass. The Tánaiste will underline the need for progress in advance of the summer marching season and the importance of ongoing US engagement in the process.
ENDS
Press Office
18 June 2014
Note to Editors:
Full list of the Tánaiste's scheduled meetings:
Working Dinner on Immigration Reform
Commemoration of 150th Anniversary of Death of Irish Immigrants Killed in Washington Arsenal Explosion
Meeting with Cong. Paul Ryan (R-Wisconsin)
Meeting with Cong. Luis Gutierrez (D-Illinois)
Meeting with Cong. Mick Mulvaney (R -S. Carolina)
Meeting with Cong. Mark Amodei (R-Nevada)
Meeting with Congressional Friends of Ireland
Working Dinner on Irish Diaspora Matters
Meeting with White House Domestic Policy Director Cecilia Munoz
Meeting with Cong. Xavier Becerra (D-Calif)
Meeting with Cong. Mario Diaz-Balart (R-Florida)
Meeting with Senator Pat Leahy (D-Vermont)
Contact Details
---
Tel: +353 (0)1 408 2268
Tel: +353 (0)1 408 2274
Tel: +353 (0)1 408 2276
Tel: +353 (0)1 408 2280