Minister Joe Costello signs Double Taxation Agreement in Botswana
11 June 2014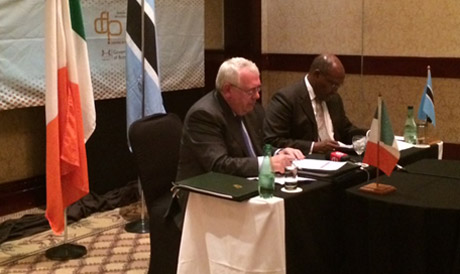 Minister Costello and the Botswana Minister of Finance and Development Planning both signed the Double Taxation Agreement on behalf of both countries
Minister for Trade and Development, Joe Costello TD has signed a Double Taxation Agreement with Botswana to increase two-way trade and investment.
Minister Costello said:
"Double Taxation Agreements are a critical piece of fiscal infrastructure for developing trading and investment opportunities between countries. This agreement will now allow for further trade and investment between Ireland and Botswana, which in 2013 was worth almost €3.5 million."
The Minister was in Botswana as part of a three-day visit which also includes a trade-focused programme in South Africa.
During his visit, Minister Costello met the Minister of Finance and Development Planning and the Minister for Foreign Affairs of Botswana, and representatives from Irish companies working in South Africa.
Minister Costello's visit to South Africa builds on the work done during the Trade Mission which he led to the country in November 2013.
Increasing two-way trade and investment with Africa is a key goal of the Department of Foreign Affairs and Trade's Africa Strategy, which recognises Ireland's maturing political, trade and economic relations with the continent.
ENDS
Press Office
11 June 2014
Notes to Editor:
The purpose of a double taxation agreement is to avoid double taxation and prevent fiscal evasion. Double taxation arises when the same income or capital gain is taxed by two jurisdictions. This normally occurs where income arises in one country and is paid to a resident of another country.
Double taxation agreements seek to allocate taxing rights to one or other country, or where the income or gain remains taxable in both, to provide that the country of residence of the taxpayer will either exempt the foreign income from tax or will grant credit against its own tax for tax paid on the same income or gain in the other country.
In 2013, Ireland's merchandise trade with Botswana was worth €3.44m. Exports were valued at €3.4m and imports at €300,000. This represents an increase of €0.5m in terms of exports compared to 2012.
Minister Costello and the Botswana Minister of Finance and Development Planning both signed the Double Taxation Agreement on behalf of both countries.
The Department of Foreign Affairs and Trade's Africa strategy can been seen at https://www.irishaid.ie/about-us/our-policies/africa-strategy/