Department of Foreign Affairs and Trade issued more than 630,000 passports in 2013
3/1/14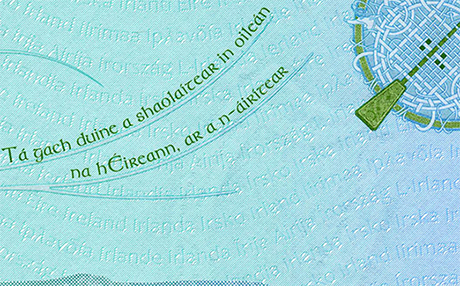 The Department continued to improve services with the introduction of a new appointments service and an online guide to applying for a passport.
The Department of Foreign Affairs and Trade issued more than 630,000 passports in 2013, with the months of May and July recording the highest demand.
Outside the island of Ireland, the greatest numbers of passports were issued by the Department's offices in London, Canberra, New York, Sydney, San Francisco and Ottawa.
The Department also launched a newly-designed passport booklet with enhanced security features during the year. In addition, the Department continued to improve services with the introduction of a new appointments service and an online guide to applying for a passport.
Tánaiste and Minister for Foreign Affairs and Trade, Eamon Gilmore T.D. said:
"The Department strives to provide a quick, secure and affordable passport service. With an increasing number of people using the Passport Express service, we have been able to meet a high level of demand with quicker turnaround times.
In September, I launched a new passport booklet, which combines the latest security technology with a design featuring images of Ireland. The new passport represents our culture, our history and our people."
The Tánaiste reminded Irish citizens to check the expiry date of their passport and to bear in mind that many countries require incoming travellers to hold passports which are valid for at least six months:
"We work to ensure that passports can be issued quickly in emergencies, but we encourage you to get applications in well in advance – even if you do not have imminent travel plans."
In 2013 the Department introduced an online appointments service, which allows customers to avoid queuing by booking an appointment in our Molesworth Street offices in Dublin. Priority is given to those who need to travel within 3 to 10 days.
Passport demand in Ireland is seasonal. Almost 50% of all passport applications are received in the four months from April to July. Currently the passport service is receiving 8,000 applications a week compared to 19,000 applications per week in July.
The Tánaiste commented:
"I strongly advise citizens who are planning to renew their passport in 2014 to do so in the off-peak period."
Passports by Numbers in 2013
631,186 passports issued in 2013
385,914 passports issued to adults
449,033 Passport applications were received through the Passport Express service, representing a 5% increase over 2012
46,195 applications were received through the London Passport Office
44,453 applications were received through the Northern Ireland Passport Express service
The following diplomatic offices had the highest demand after London: Canberra (6,101); New York (5,104); Sydney (3,366); San Francisco (3,083) and Ottawa (2,599)
89,898 passports issued in July 2013; 82,797 in May 2013 – these were the busiest months
ENDS
Press Office
03 January 2014

Note to Editors
A guide to How to Apply for a Passport, which takes Irish citizens through each step of their passport application and answers the most frequently asked questions, is available at www.dfa.ie
On our website, you can also access a Passport reminder service and a Passport Tracking service to allow customers to track the status of their application.
A new appointment service is in operation at the Passport Office Dublin, for those travelling at short notice (within 3-10 working days). Customers not travelling within 3-10 working days should use Passport Express. Priority at public counters is given to those travelling at short notice and the fastest turnaround time for such applications is three working days.
Passport Express is an easy-to-use, courier type service operated by An Post exclusively for passports. It is available throughout the post office network and has been in use since 1995.
Applications reach us quickly and more securely
It costs less than ordinary mail or over-the-counter applications
Guaranteed turn-around time (currently 10 working days)
Better tracking of your application so you can plan your trip
The newly designed passport features images of iconic Irish landmarks including the Croagh Patrick and Kylemore Abbey, in addition to drawings depicting Irish music and dance and Gaelic games.
Contact Details
---
Tel: +353 (0)1 408 2268
Tel: +353 (0)1 408 2274
Tel: +353 (0)1 408 2276
Tel: +353 (0)1 408 2280