Launch of Market Access Grant Scheme & St Patrick's Day "Promote Ireland" programme
17 February 2014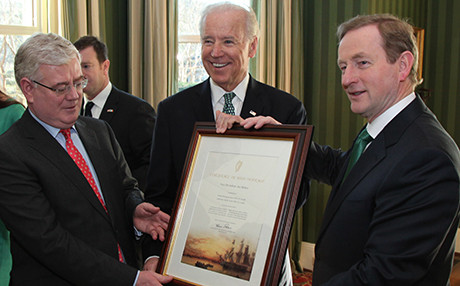 Intensive programme of Ministerial trade missions and international trade events for 2014 announced by Tánaiste and Minister for Jobs
Enterprise Ireland launches new Market Access Grant Scheme to assist companies internationalise their businesses and announces intensive international programme of 118 trade events including 18 Ministerial-led trade missions
St Patrick's Day "Promote Ireland" programme will see 27 Ministers taking part in over 100 business events and 80 high-level political meetings in 23 countries
The Tánaiste and Minister for Foreign Affairs and Trade, Eamon Gilmore TD and the Minister for Jobs, Enterprise and Innovation, Richard Bruton TD today launched the year-long programme of ministerial-led events targeting trade and investment for Ireland in 2014.
Today's announcement includes details of the Government's St. Patrick's Day 'Promote Ireland' programme of international activity which will see 27 Ministers taking part in over 100 business events and 80 high-level political meetings in 35 cities across 23 countries.
The announcement also includes details of Enterprise Ireland's year-long programme of trade missions and international activity for 2014 as well as a major new Enterprise Ireland Market Access Grant Scheme which will help companies succeed more quickly and effectively in new markets.
The announcement took place in Ergo, a highly innovative exporting Irish IT company offering infrastructure services and software development solutions.
Delivering an intensive programme of ministerial-led trade missions is a key commitment in the Government's Action Plan for Jobs. The number of ministerial-led Enterprise Ireland trade missions has more than doubled since 2011.
Launching the St. Patrick's Day programme, the Tánaiste said:
"2014 is all about recovery. Now that we have exited the EU/ IMF bailout and made a successful return to the bond markets, it is more important than ever that we leverage the opportunity presented by the St. Patrick's Day period to further boost trade, tourism and inward-investment with a view to creating more jobs at home.
The Government, supported by our embassy network and State agencies, will be sending a clear message that Ireland is a stable, vibrant and innovative country with which to do business. Our exit from the bailout and return to economic stability will form an important part of the international narrative around the St. Patrick's Day period this year.
As our number-one export market and the source of 80 percent of all foreign direct investment to Ireland, North America features heavily in the programme again this year with ministers taking in 11 US and two Canadian cities over the St. Patrick's Day period.
I look forward to working with our embassies and consulates all over the world and the State agencies – Enterprise Ireland, the IDA, Tourism Ireland and Bord Bia – to make the most of this crucial period for the Irish economy."
Announcing the Enterprise Ireland programme, Minister Bruton said:
"At the heart of the Government's Action Plan for Jobs is our drive to provide better supports for exporting companies so that they can sell more of their products and services abroad and help create the jobs we badly need.
As part of that drive we have put in place a range of new supports, including the establishment of a new division in Enterprise Ireland focused on potential exporters, 14% extra staff for EI in foreign markets and tax breaks for companies to put staff on the ground in target countries. In the past two years we have started to see the results, with a total of more than 20,000 extra jobs added by exporting companies during that time. Companies like Ergo here today show just what can be achieved by innovative Irish companies that are strategically focussed on driving their export business.
Today we are announcing the Enterprise Ireland programme of international activity for 2014. The number of ministerial-led missions will remain at 18 – consistent with 2013 levels, and more than double the numbers during 2007-2011 when the average was 8.5. We are also announcing a significant new scheme to support internationalisation to support companies in developing new markets, worth up to 150k per company. By continuing to develop and implement new supports for exporting companies I am convinced we can build on these and support exporting companies to create more jobs in the coming years".
Kevin Sherry, Head of International Sales and Partnering at Enterprise Ireland, added:
"Exports create and sustain jobs in Ireland and the programme of trade missions and events we have put in place is designed to build on export growth in markets where Irish companies are strong and can continue to grow, as well as high growth markets where we can win new business.
Ministerial-led trade missions are a key part of Enterprise Ireland's strategy to grow Irish export sales and are of great benefit in opening doors, making high-level introductions and helping our client companies to exploit the opportunities that exist in global markets. Year on year Irish companies continue to increase their export sales, and we expect another strong performance in the coming year, supported by Enterprise Ireland and this very intensive programme of international events."
Enterprise Ireland International Programme
The Tánaiste and Minister Bruton also today launched a major new Enterprise Ireland Market Access Grant Scheme which will help companies succeed more quickly and effectively in new markets. This new scheme, under which companies can receive grant support of up to €150,000 to develop new markets, is a very significant addition to the trade mission activity and the wide range of supports which Enterprise Ireland already provides for exporting companies.
This scheme is aimed at companies that are investigating new markets that demonstrate strong potential and will provide funding support to develop marketing strategies to capitalise on these opportunities.
This year, over 1000 EI client companies will take part in a series of 118 international events including 18 ministerial-led trade missions to major export markets including North America, Europe, Asia, the Middle East, Africa and Latin America. These trade missions and events are a central part of Enterprise Ireland's drive to support Irish companies seeking to exploit new international business opportunities, target and secure new international customers and grow their sales. These activities are key to helping companies build their export markets, creating and sustaining much-needed jobs in Ireland and further increasing Ireland's indigenous companies exports from their current record level.
St. Patrick's Day "Promote Ireland" programme
The St. Patrick's Day period is a cornerstone of the Government's efforts to promote trade, tourism, inward-investment and culture abroad in order to foster economic growth and job creation at home.
This year will see 27 Ministers visiting more than 35 cities in 23 countries across Europe, the Americas, Asia and the Middle East for a series of trade, tourism and investment-focused programmes. Ministers will take part in hundreds of business events and dozens of high-level political meetings as part of an intensive "Promote Ireland" programme.
Among the destinations included in this year's St. Patrick's Day programme for the first time are Mexico and Vietnam – two important emerging markets identified in the soon-to-be-published Review of the Government Trade, Tourism and Investment Strategy. Mexico and Vietnam have a combined population of more than 200 million people with total Irish exports to the two countries up by 8 percent and 41 percent respectively between 2010 and 2012.
Russia is also back on the St. Patrick's Day agenda for the first time since 2010, reflecting the impressive growth of Irish exports to the country in recent years. Goods exports to Russia have increased by 69 percent since 2010.
The Tánaiste will travel to France for a comprehensive programme of trade, tourism and investment-focused events as well as high-level political meetings. Coordinated by Embassy Paris, the three-day programme in Ireland's sixth largest export market, will include a business event organised by IDA Ireland, promotion of Bord Bia and EI clients at the Wabel Frozen Food Summit and a number of contract signings by Enterprise Ireland client companies.
Minister Bruton will travel to Italy where he will lead events in Rome and Milan. As well as community and cultural engagements, the Minister will be supporting Irish companies at major networking events and targeted meetings in our ninth largest merchandise trade partner. His programme will involve a focus on technology, engineering, investment, food and tourism.
It is expected that ministers will participate in more than 80 high-level political meetings, including bilateral meetings with President Obama and Prime Minister Cameron. They will also attend over 100 business events and participate in cultural, networking and Irish community events throughout the St. Patrick's Day period.
ENDS
Press Office
17 February 2014
NOTES TO EDITORS

St. Patrick's Day "Promote Ireland" programme:
| | |
| --- | --- |
| France | Tánaiste |
| Canada | Minister Michael Noonan |
| China | Minister Brendan Howlin |
| Italy | Minister Richard Bruton |
| New York | Minister Joan Burton |
| San Francisco | Minister Jimmy Deenihan |
| London and Birmingham | Minister Pat Rabbitte |
| United Arab Emirates | Minister Phil Hogan |
| Mexico | Minister Alan Shatter |
| New Zealand and Eastern Australia | Minister Simon Coveney |
| Japan and Korea | Minister Frances Fitzgerald |
| Boston and Cleveland | Minister James Reilly |
| Atlanta and Savannah | Minister Leo Varadkar |
| Washington DC | Attorney General Máire Whelan SC |
| Lebanon | Minister of State Paul Kehoe |
| Scotland | Minister of State Jan O'Sullivan |
| Pittsburgh and Philadelphia | Minister of State Dinny McGinley |
| Spain | Minister of State John Perry |
| Netherlands | Minister of State Michael Ring |
| Vietnam | Minister of State Kathleen Lynch |
| Germany | Minister of State Fergus O'Dowd |
| Chicago and Kansas City | Minister of State Sean Sherlock |
| Romania | Minister of State Ciaran Cannon |
| Western Australia | Minister of State Alan Kelly |
| Russia | Minister of State Alex White |
| Norway | Minister of State Tom Hayes |
| Belgium  and Luxembourg | Minister of State Paschal Donohoe |


St Patrick's Day 2013
Enterprise Ireland programme of international activity
About Ergo