Minister Flanagan meets Secretary of State to discuss next steps in Talks
12 December 2014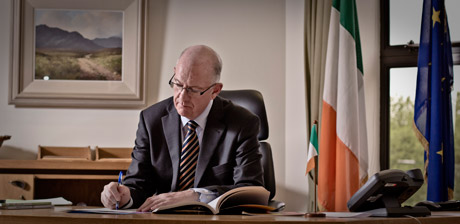 Minister Flanagan meets Secretary of State to discuss next steps in Talks
Speaking this morning in Belfast, Minister for Foreign Affairs and Trade, Charlie Flanagan, TD, said:
"After nine weeks of talks and in excess of 80 meetings, which I led with the Secretary of State, Theresa Villiers, I am in no doubt that good progress has been made on many of the most difficult but significant challenges.
"However, there are decisions related to welfare reform and broader issues around budgets that remain to be resolved. I am anxious that the parties come together on those issues so that a comprehensive agreement to address the legacy of the past and to secure a prosperous future for the people of Northern Ireland can be achieved.
"Following this morning's roundtable meeting, chaired by the Taoiseach and Prime Minister Cameron, the Secretary of State and I had a useful meeting to discuss how we can best assist the process in the coming days.
"Minister of State Sean Sherlock and I remain available, ready and willing to continue to assist in this work."
ENDS
Press Office
12 December 2014